Tarot – the most common divination tool – is often used as guidance to help people cope with important issues in their life. By reading cards that are selected unseen from a deck, an expert Tarot reader can interpret the interaction of the cards and their positions in a spread. Do you want to learn how to do a Tarot reading for yourself? At first glance, you may find it hard to understand; in fact, it's quite easy to get started reading the cards yourself.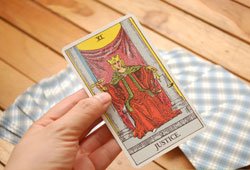 Tarot is centuries old. Considered as a card game in French parlors and all across Europe, it became a tool of divination around the year 1600. The name Tarot is said to come from Egyptian roots, and reference the Book of Thoth. Nowadays, you can find various kinds of decks on the market – the most widely used is the 'Rider-Waite' deck which images symbolize the mysticism and esoterica helping us associate with Tarot. Learning reading cards is not too difficult; unfortunately, few Tarot books explain it simply. They overload the novice with too much information: psychology, astrology, numerology, symbolism, etc.
Guide to Do Tarot Reading for Yourself
Can you give yourself a Tarot reading? What should you do? Let the Tarot teach you – you, firstly, have got to decide with deck you want to work with. We strongly recommend you the Rider-Waite pack which advantages are that the cards retain much of the traditional symbolism; also, all of the cards have a picture to guide and lead you to the right path.
Before starting, you must practice getting to know the cards. Look at each one and determine what it is trying to tell you. How would you interpret the card in a reading? There are two ways to get insights from Tarot cards: 1/ memorizing all the Tarot card meanings that are listed in your Tarot book; or, 2/ using your intuition and psychic abilities to interpret the cards. It's much better if you can do both – not only knowing and understanding the meanings of the cards, but you also should guide them by availing your intuitive feelings. A standard reading would take HOURS as you need to analyze many elements and aspects.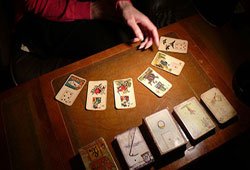 You should prepare yourself in advance – retiring to a quiet room and tuning yourself in; importantly, doing a few breathing exercises can help healing your body and mind. When you're relaxed and your soul is peaceful, the soft voice of your intuition can be heard. Make sure you are sitting comfortably with your deck of Tarot cards in the front, and a notebook and pen nearby.
Shuffling your Tarot cards to remove all residual feelings
Asking your questions either silently in your mind or out loud
Using your left hand to cut the deck in-half and place the top-half on the left
Taking notes carefully to gain accurate insights into your life (first impression, body messages, characters, etc.)
Noticing the cards' color, actions, and symbols, and saying the card's name out loud.
By knowing how to do a Tarot reading for yourself, you'll be able to understand yourself and find the answer for the challenges you are facing with. Put your faith to Tarot and you can get deep information for your questions.
---