A Tarot deck includes a total of 78 cards; and for centuries, the cards have brought curiosity, fascination, wonder, and fear into humans' life. When having any trouble, you can go to see a professional Tarot reader for a reading (also known as a type of fortune telling). The cards' meanings offer useful ideas and directions so that you enable to change your future in a healthy, better way. Well, it's good to have a Daily Tarot cards Reading each day – let's find out The Wanderer Tarot Card Meaning, since the Wanderer is a perfect card for you today.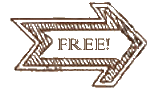 Yes or No Tarot Reading
The Wanderer (0) belongs to the Wildwood Tarot deck – a complete re-conception and redesign of the popular Greenwood deck. As you may know, this card here is the Fool (Major Arcana) in other decks.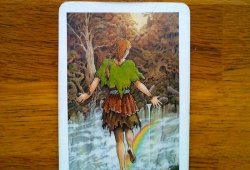 Taking a look at the card image, you can see a young person (either male or female) who is walking out toward the edge of a cliff. His (her) arms are spreading and reaching the clouds (or waterfall) in front, while one foot is getting ready to step over the rainbows. Across the way is an ancient forest fill with trunks and hues of green, yellow, and brown. Observe carefully, you will catch that some gnarled roots have faces – they are the woods' watchers. When looking slightly higher, the clear sky slowly displays between the trees.
According to the Wanderer Tarot Interpretation & Meaning, the Fool is always full of optimism, hope, as well as freedom to explore any journey without having any preconceived ideas or notions. If you have this card, let's prepare yourself for a fresh start, a clean slate, or a new adventure filled with excitement. However, before embarking on a discovery, it also reminds you to watch for hidden dangers.
Don't ever give up yourself to the future – even though there's no certain thing in life (the truth can be hidden), light may be somewhere in your journey. It's much better to walk forward with open arms and face new challenges & experiences. Embrace all new possibilities and don't let doubt or fear hold you back.
For more information regarding "The Wanderer Tarot Card Meaning", feel free to leave your comment in the contact box.
---
Popular Searches:
gain tarrot card
tarot card the wanderer meaning
the wander card
the wanderer wildwood tarot deck meaning