Have you ever tried doing a tarot reading with playing cards? Well, it's quite easy to learn and is also a good way to get further insight into a particular situation or relationship for yourself or the person you are reading for. In order to master reading playing cards, you need to know the meaning behind the cards, and soon you can discover the story behind what's going on.
Playing cards can be used for divinatory readings in much the same way that Tarot cards are. The same layouts that are used for Tarot spreads can be utilized for playing card spreads. But, because a deck of Tarot has 78 cards and a deck of playing cards has 52 cards, there are, of course, some differences between reading Tarot and interpreting playing cards. The art of telling someone's fortune with playing cards is known as 'cartomancy'. When doing a free playing cards reading, the most important part is to understand the meanings behind all the cards' numbers and suits and develop a reading system that works for you.
How to Read Tarot with Regular Playing Cards?
Do you realize that each king in a deck of playing cards represents a great king from the history? The Club card indicates Alexander the Great, the Spades is King David, the Heart represents Charlemagne, and the Diamond denotes Julius Caesar. Reading with playing cards is not hard because the Tarot layouts and divinatory meanings are easy to adapt to reading regular playing cards.
Clubs (Wands in Tarot) represent action and activity
Spades (Swords in Tarot) represent thinking and communication
Hearts (Cups in Tarot)  represents emotions and feelings
Diamonds (Pentacles in Tarot) represents the material world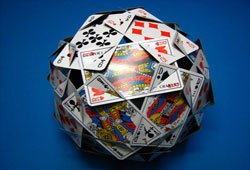 In fortune telling playing cards, there are associations with both the suits and the numbers; i.e. Heart is very emotional and can symbolize pain and suffering, Diamond indicates difficulties and financial problems, Club denotes a person's friends and relationships, and Spade is usually taken to be a warning. In addition, understanding the properties of numbers will give you a solid framework on which to base all card readings. Remember that each attribute has both positive and negative aspects (ex, the Four means stability but it also means feeling stuck).
* The Ace – Beginnings, the Two – Balance, the Three – Connection, the Four – Stability, the Five – Disturbance, the Six – Harmony, the Seven – Mystery, the Eight – Movement, the Nine – Growth, and the Ten – Completion.
To do a reading, simply shuffle and cut in your usual method, and then, deal the spread of your choice. The most common spread is the Three-Card Spread: the seekers can give the cards any association that you like. You just have to be sure to clarify with yourself what each position will be after shuffling the cards. The playing cards are laid out from left to right in three positions (past – present – possible future).
Start simple, by doing tarot reading with playing cards, you can always make it as basic or as complex as you want. But don't try to make things too serious until you feel confident with your abilities. You'll get the best results if you do what feels right to you!
---
Popular Searches:
tarot with playing cards download guide
how do you do tarot readings with a regular deck of cards
how to do a tarot reading
how to memorize playing card taro
how to read playing cards
playing cards tarot guide
reading tarot in regular playing cards