How long have you been single? Have you ever dreamed of being in a relationship?
I believe we all wish for love to make way towards us. Some might have been single for years and started yearning for a company. Some might have been hurt from the previous relationship but now decided to give themselves another chance to be loved again.
For single individuals having questions about love, tarot readings can be a perfect solution. In today's article, let's check out love tarot spread for singles to see when you can find or attract love.
Top ­4 Easy Tarot Love Spreads for Singles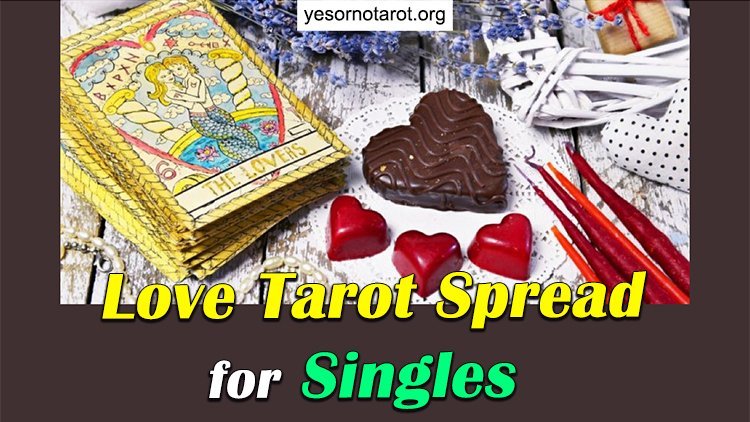 In a tarot reading, you need to lay out the cards in a particular pattern called "spread" so that you can do the interpretation. If you want to receive guidance and learn more aspects about your romantic life, have yourself a love reading with tarot cards.
Tarot spreads are varied depending on your situations and questions. They can help you get prepared well for a love relationship, check the compatibility between two persons, and (in this case) finding a relationship.
There are so many different tarot love spreads out there!
See also: Justice yes or no
But here we're going to show you some love tarot spreads for singles:
1. Are you ready for love relationship?
This is a spread to check your readiness for love relationship.
Sometimes we watch a romantic movie and randomly wish to have a lover without considering if our mind, body, and soul are ready for that. Entering a relationship means you have to deal with emotional attachments and commitment.
Are you ready for all the responsibilities?
This thought often pops up in mind of people single for so long, or those who've just been through breakups. The idea of healing your broken heart with a new relationship is not uncommon. However, there are also lots of things you must consider as well.
Card 1: What's the desire of my heart?
Card 2: What lessons did I learn from my previous relationships?
Card 3: What is blocking me from finding and attracting the love I want?
Card 4: How to know if I'm ready for a new relationship?
Card 5: How to know if I'm mentally ready to deal with everything coming with a relationship?
Card 6: What should I do for my spirit to achieve its higher purpose in love?
This 6 card pyramid spread helps reveal your inner wishes so that you can prepare well for a healthy relationship.
2. How to find a love relationship?
The next spread is also about finding a love relationship!
When it comes to looking for your true love, there are various possibilities to try. Love comes to you through not only one but many doors, not just doors but also windows, so don't give up. With this spread, you'll find the answer to those possibilities and get a glimpse into what awaits you ahead.
Card 1: How to know if I'm ready for a new relationship?
Card 2: What are the characteristics of my potential lover, both good and bad?
Card 3: How will our first encounter be like?
Card 4: What will be the dynamics of this potential relationship?
Card 5: What is the outcome of this relationship?
Click here to discover 5 methods to shuffle tarot cards
3. How compatible is my love relationship?
Falling in love is not the real challenge; in fact, the difficulty of love relationships is to find someone who can make you fall hard and stay forever. In order to maintain a relationship, you need more than just pure attraction.
With the compatibility relationship spread here, the tarot cards will shed light into different facets of your current romance. This 7-card tarot spread also includes the guidance on how to keep your partner by your side for a long term as well as what to do to avoid obstacles in the future.
Card 1: What do I expect in a relationship?
Card 2: What does my potential lover want in a relationship?
Card 3: What differences might cause arguments and conflicts between us in the future?
Card 4: What common things do we have that harmonize the relationship?
Card 5: How can I determine if we're emotionally compatible?
Card 6: How about our physical compatibility?
Card 7: What connects us intellectually?
4. Where am i standing in my relationship?
If you've just started dating for a couple of days or weeks, you usually have this question in mind. For the answer, simply do the relationship analysis tarot spread! With the layout up to 10 cards, you can gain detailed information regarding your relationship.
The meaning behind each tarot card allows you to view the relationship from different perspectives. They can answer any of your love questions and give ideas helping you analyze potential issues between you and your mate.
This spread also comes with a list of internal and external factors that likely influence the bond of you two.
Card 1: What energy should I bring in to my relationship?
Card 2: What should I do to perceive my potential lover?
Card 3: What does the universe want me to know about my current situation?
Card 4: What advice do my spirit guides want me to know about my potential relationship?
Card 5: How to keep the flame alive in my relationship?
Card 6: How can I perceive relationships in general?
Card 7: How to clear all the obstacles blocking my intimacy using my subconscious?
Card 8: What is stopping me from fulfilling my romance?
Card 9: What to look forward to in the future?
Card 10: What is the potential outcome of my relationship?
Check out this relationship tarot spread:
In Conclusion
That's all for love tarot spread for singles!
If you're single, why don't grab this chance to welcome healthy love? Now that you've known some love tarot spreads, what do you think? Are you dreaming of being in a relationship with the person you've loved for a while?
Tell us your tarot love spread readings and how they've influenced you (if any)! Common below other love spreads that you can't find from the list above.