Are you curious about the Queen of Wands Love meaning?
What if this card shows up in your yes no tarot love reading? Is it a good omen for your love life or a warning? Well, according to professional readers, Queen of Wands represents happiness, confidence, and ambition. Its presence will bring positive energy to your relationship.
In today's article, we're going to discuss the basics of this card when it comes to love.
But firstly, let's check out some of its keywords…
Upright: vivaciousness, optimism, confidence, determination, passion
Reversed: jealousy, selfishness, vengefulness, demand, temperament
What is the connection of Six of Wands with love?
Let's find out!
Overview of Queen of Wands in a Love Reading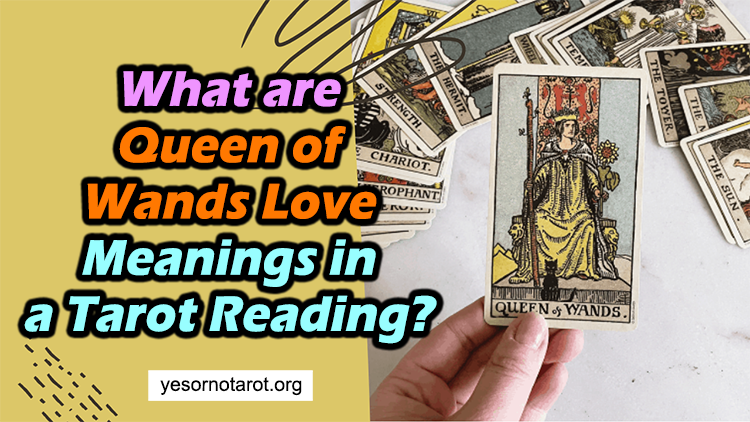 When you want to ask tarot about your love life and Queen of Wands appears in the spread, it means there's a large amount of feminine energy surrounding you at this moment. This is the right time to take part in fun social gatherings in order to meet the right person (in case you're still single). If you're in a relationship, then it's a good idea to hold parties with your partner, family and close friends.
See also: Six of Wands meaning in love readings
I. Upright Queen of Wands
On the bright side, Queen of Wands indicates independence, the openness in relationship, or a cheerful and confident lover.
1. You're in a relationship…
If you see Queen of Wands, then you're in a typical situation of a love relationship: full of color and affection, strong, and healthy.
It's not that much to the perfect level; however, you and your partner won't face any challenge or hardship as well. The card gives off positive energy implying you should keep fulfilling the relationship.
Remember the feminine energy mentioned above?
It will add much intensity to your passion and romance as well as your partner's so that both can feel strongly loved by one another.
Queen of Wands, in a tarot love reading, can also signify the inner thoughts of your partner about you. The image of the queen means your image is strong and captivating in their eyes. Perhaps you're one of the most irresistible persons they've ever met. But, they may also think that you're the stubborn type and not the one to mess around.
2. You're still single…
For those who are single, Queen of Wands is definitely a hint letting you know that some around are interested in you. It's better to observe how your acquaintances behave and see if any of them tries to impress you. In some cases, due to your boldness and socialiability, people probably feel nervous to make the first move.
In addition, you can also tell the personality of your love interest via this tarot card.
Instead of asking them out, it suggests that you should just be friend with that person. They may be full of charms, intellectual, and great in general, later they will show their domination. Yup, like the queen in the card, they want to have the power and control in the relationship.
It's useless to argue because you won't be able to change their mind. If you're thinking about committing to someone, Queen of Wands asks you to consider again. In the future, they can be too much to handle.
Don't let anyone become your boss, especially in love.
II. Reversed Queen of Wands
On the dark side, Queen of Wands denotes jealousy, arguments, or a selfish, dominating and demanding lover.
1. You're in a relationship…
Once Queen of Wands is reversed in a tarot reading, it seems to be a sign that you've crossed the line. Something is out of control, such as you're involved in heated arguments or toxic relationship. The negativity is generated by jealousy, selfishness, insecurity, rudeness and aggression causing damages to your love life.
At this moment, you and your partner are feeling completely insecure. Different aspects in life may distract one party from the other. For example, you feel less important when your other half only pays attention to his (her) work. When things don't go as planned, of course negative thoughts will creep in.
You may find this interesting: Nine of Wands yes or no meanings
You've been taken over by your dark side.
Seeing them next to their colleagues gives you the jealousy and uncertain feelings. To avoid built-up misunderstandings, the two of you should have open conversations and directly address issues. Things get worse if both stay silent and keep all the thoughts on hold.
2. You're still single…
In case you're single, Queen of Wands in the reversed position is a sign you're dealing with very low self-confidence. Don't think about going out and making new friends as your current mood doesn't allow that. You could end up feeling more insecure about yourself.
So, right now, it's better to learn how to cope with your own insecurity before falling in love with someone else. You don't want your love interest to see your vulnerability from first dates, right?
In Conclusion
That's all for the Queen of Wands Love meaning in tarot readings!
This card overall signifies your desire for love and appreciation in life. Lots of optimistic and positive energy hidden in Queen of Wands can be seen as a good omen for your love relationship. However, too much energy may keep either of you focusing on work; as a result, there's no time to strengthen the connection.
Therefore, you're advised to balance between your professional and personal lives.
For single individuals searching for love, this tarot card wants you to be with someone who has common interests with you. To date someone with similar hobbies, the best place to start is all the gatherings in your area.
If the reversed Queen of Wands card appears, it symbolizes someone who can be demanding, hot-tempered, and selfish. Or it could be you in the insecure and low self-esteem state. Rather than putting more pressure to yourself, you need to be calm and address the insecurity lingering inside.
If you have any question about this article, leave your comments below.