What does Queen of Wands yes or no bring to your reading?
This Queen is an independent woman with a dominating feminine energy. She doesn't need anyone else (especially men) to make her feel complete. Full of enthusiasm, she deals with every problem with pleasure and delight.
Queen of Wands is the type of woman we all want to become: a responsible person who approaches everything in life with passion and authenticity. Her appearance in your reading is a reminder that you must prepare energy and a commanding approach if all you want now is to manage your life better.
Learn more about this Tarot card in the following!
Queen of Wands Yes No Meaning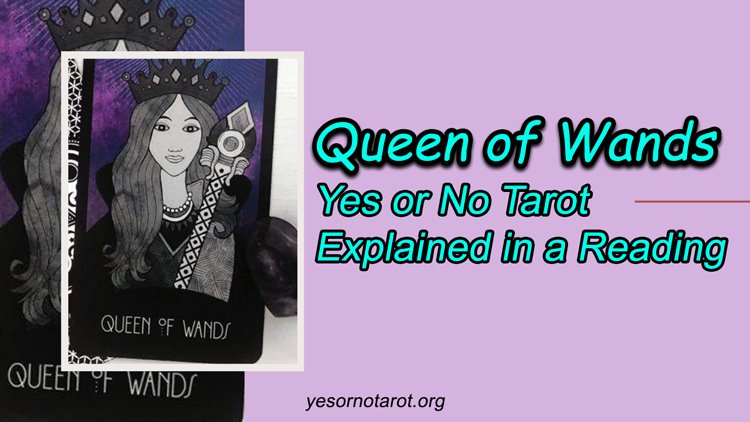 If you see Queen of Wands showing up in your yes or no spread, she represents either yourself or a female individual who is consistent, loving, and important to your life but gets afraid of giving her everything.
Before digging deeper into the meaning, let's have a look at some keywords associated with this card.
Upright: passion, self-reliance, creativity, warmth, confidence, courage
Reversed: insecurity, jealousy, selfishness, revenge, impatience
Does Queen of Wands yes or no bring good news or bad news?
1. When this card faces up…
Similarly, if the Queen of Wands appears in the upright position, the answer for your yes no questions is 'yes'.
Rather than hesitating to take the next move, you should be confident. If you want to start again in a new field, simply go for it. Whether you wish to get back to your ex or add a new member to your family, all will be fulfilled. As long as you take on this Queen's positive persona, your journey will have good results.
Think positive and believe in yourself, and your reality will turn out as the way you want.
Also, her presence in your reading indicates a woman in your life. Soon you will encounter a feminine individual, who is passionate, independent, creative, lively and powerful. She can be successful and dedicated to her career. In some cases, that person could be you – the answer is yes if you're searching for self-development.
The card advises you to embrace this energy and make use of it to follow what you've longed for to achieve the ultimate happiness.
Find the meaning of Knight of Wands also!
2. When this card faces down…
Like other yes no Tarot cards' meanings, the answer you seek is a 'no' if you get the reversed Queen of Wands.
Maybe right now the flow of your creativity is blocked. Either you or the important woman of your life is stopping you to accomplish all the unfinished plans. She (or yourself) could be pretty impatient and impulsive. Take a moment as you're getting blocked; right now, the best thing is to wait until the Queen moves out of your journey.
However, it's difficult to make decisions based on just one card alone.
See also the Page of Wands meaning if interested!
Queen of Wands General Meaning in a Reading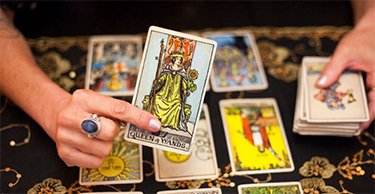 Brief description:
At the first glance, you can feel that Queen of Wands is independent and confident.
She is sitting proudly on the throne inscribed and surrounded with lots of lions and sunflowers. These two symbols represent her powerful, positive, bright and warm personality. In general, she is full of enthusiasm:
Passionate and goal-oriented
Feminine and strong
Cheerful and vivacious
As you see, she is holding a sunflower in one hand and there's a wand in her other hand. She sits straight with a direct gaze, and this image shows that she has no fear in anything. Can you see a little black cat at her feet? It implies the powerful dominating energy she is possessing and is also a sign of rebirth.
You may think King of Wands is the head of the Wands suit; however, it's the Queen having full control.
General upright meaning:
All Queens in the Minor Arcana symbolize the femininity, empowerment, and positive energy. They represent you or incredible women present in your daily life. The Queen of Wands card here means you will meet a strong, powerful woman like our Queen or it's you yourself embodying her qualities.
All the remarkable qualities of this Queen are bravery, independence, confidence, passion, willfulness, and fearlessness.
When she shows up in your Tarot spread, her purpose is to offer a solution to your pressing circumstance. Put aside your worry and vulnerability, it's time to perform everything with confidence even when you have to fake it.
Also check out Two of Wands yes no meanings!
The Queen of Wands in Reversed:
If you see Queen of Wands in the upside down position, this is the sign you lack courage at the moment. You will suddenly find yourself more reserved and composed than usual unreasonably.
Maybe you are suffering from self doubt in that situation. You can't help but overthinking and having many negative thoughts in mind; that gloomy energy will create hindrances on your path. Thus, her appearance reminds you to work on your confidence levels immediately.
Take a moment to reflect your inner self so that you can step out once again and bring positive light to your life.
Final Words
Is Queen of Wands yes or no a positive card?
Absolutely, this upright card is a yes to all questions you are seeking the answer. Be afraid of nothing; instead, please move forwards with confidence.
The Queen of Wands card usually brings good omen to readers, especially in face-to-face Tarot readings or free online chat. Generally speaking, the Queen here is either you or a fiery woman with one of the fire astrology signs (Aries, Leo, or Sagittarius).
If that person is you, the card implies that you're carrying many good qualities of Queen of Wands, such as creativity, positivity, extroversion, and strength. But if she is someone else in your surrounding, please tell yourself that she may be very close to you or could have a great impact on you.
It would be great to interact more with my visitors; therefore, don't mind leaving your comment below if you have a question about Queen of Wands yes or no. I will choose a day and respond to all messages soon.
Thanks for reading!