We all have situations in life at certain times when we feel like we're standing in three-way crossroads.
Sometimes it's not easy to make the right decision; that's why many people, recently, have a tendency to turn to Yes or No Tarot oracle. Each divine card with divine meanings will help you find your right way on the life path.
Today, you are going to gain insight from Queen of Swords Yes No Tarot card.
Ask the card any Yes/No question to get a meaningful 'yes' or 'no' in return.
General Look at the Queen of Swords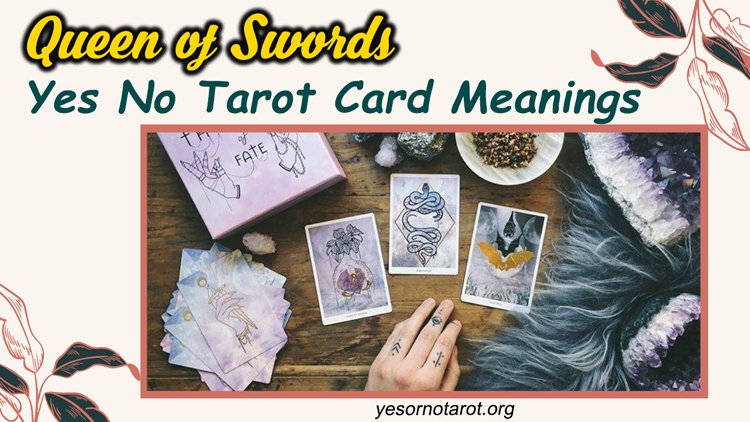 As you can see from the card's illustration, the Queen of Swords is sitting high on her throne with a stern expression indicating that no one can fool her.
Look at her right hand: she's comfortably holding a sword pointed to the sky, while her left hand extends as if she is giving orders to others. Different from most other Sword cards, the background of this card is a spring, clear sky representing the Queen's clarity of mind as she considers matters of the intellect.
The bird flying above symbolizes the mind's ability to free from a bad situation.
The personality of the Queen of Swords combines the positive energy (the Sword suit) with the inward focus of a queen. She can tell you exactly how it is so you can always count on her.
The Queen admires honesty as she lives by her own commitment to being truthful. She's not easy to fool and won't let anyone fool – lies, tricks, and games are no interest to her. In any situation, she can size up the problems quickly and know how to find clever ways coping with issues.
Straightforward and direct, the Queen is lack of pretense and takes life not too seriously.
Have Yes No Answers with Queen of Swords Card
What can you get from a Yes No Tarot reading using Queen of Swords?
This card represents an analytical, independent, and problem-solving person. Just like the Queen, you will bring your mental ability to something troubling in your life but not without a painful loss or separation. You are stoic and astute but gives nothing away as a positive or negative outcome – 'maybe' is the only answer.
In readings, when pulling out this card, it means that you are asked to think and feel as the Queen does.
For example, 'Are you being completely honest?' 'Do you see the humor in your situation?' 'Are you getting right to the point?' 'Are you letting yourself to be fooled?' and 'Have you figured out what's really going on?'
The Queen of Swords card represents a man (or a woman) who is like the Queen or it denotes an atmosphere of honest, as well as direct communication. As a clever, resourceful woman, she will definitely give you good advice or hint that helps you confidently face with all the impending challenges.
Let yourself be inspired be the Queen of Swords Yes or No Tarot in whatever form she appears in your life.
What Types of Tarot Decks Suit You?
Well, in the Tarot World, there are literally hundreds and even thousands of different types of Tarot decks that you have heard before – all with their own symbolism, energy, mythology, stories, and artwork.
It's not that you can pick any deck you want just because it's beautiful or popular among the readers; in fact, selecting a Tarot deck may be incredibly overwhelming, especially if you're a novice fortune teller.
So, where should you begin? How to you sift through the vast array of choices to look for your perfect Tarot deck? Keep track of the following for more helpful information.
Below are some tips you need to consider when seeking the most precise deck for your reading:
Look for a personal connection
Study the appearance of the cards
Find out what information is available
Consider your experience level
Search for a size that fits
Determine your purpose for the cards
Look for the quality
Don't be afraid to get one for your own
Read the reviews
And, here are a few of common and essential Tarot decks that we want to introduce to the beginning Tarot readers. Depending on each individual's personal taste, lots of decks are designed with different symbolism and imaginary.
The Raider-Waite Tarot deck: the most popular classic deck (in the West) which is called the first modern Tarot deck. Its imaginary is rich in symbolism – the Minor Arcana scenes are well-detailed and not too complex, comparing to other decks.
The Zerner-Farber Tarot deck: this one has a total of 78 cards and a rework of the Enchanted Tarot. The imaginary is slightly whimsical and suits pentacles, hearts, wands, and swords. The strongest influence of this deck is love & romance. If you're the beginners, we recommend you to buy it since it deals with lighter readings.
The other decks you can take a look at are: the New Mythic Tarot deck, Deviant Moon Tarot deck, and Legacy of the Divine Tarot deck.
Since there are many types of Tarot Decks, it's okay to change them later on. Not many readers use the same deck for their readings. Depending on the clients and their situations, as well as the energy, the mystics can switch to the one they find suitable.
Simple Guide on Reading with Playing Cards
Have you ever tried doing a tarot reading with playing cards?
Well, it's quite easy to learn and is also a good way to get further insight into a particular situation or relationship for yourself or the person you are reading for. In order to master reading playing cards, you need to know the meaning behind the cards, and soon you can discover the story behind what's going on.
Playing cards can be used for divinatory readings in much the same way that Tarot cards are.
The same layouts that are used for Tarot spreads can be utilized for playing card spreads. But, because a deck of Tarot has 78 cards and a deck of playing cards has 52 cards, there are, of course, some differences between reading Tarot and interpreting playing cards.
The art of telling someone's fortune with playing cards is known as 'cartomancy'.
When doing a free playing cards reading, the most important part is to understand the meanings behind all the cards' numbers and suits and develop a reading system that works for you.
How to read Tarot with regular playing cards?
Do you realize that each king in a deck of playing cards represents a great king from the history?
The Club card indicates Alexander the Great, the Spades is King David, the Heart represents Charlemagne, and the Diamond denotes Julius Caesar. Reading with playing cards is not hard because the Tarot layouts and divinatory meanings are easy to adapt to reading regular playing cards.
Clubs (Wands in Tarot) represent action and activity
Spades (Swords in Tarot) represent thinking and communication
Hearts (Cups in Tarot) represents emotions and feelings
Diamonds (Pentacles in Tarot) represents the material world
In fortune telling playing cards, there are associations with both the suits and the numbers; i.e. Heart is very emotional and can symbolize pain and suffering, Diamond indicates difficulties and financial problems, Club denotes a person's friends and relationships, and Spade is usually taken to be a warning.
In addition, understanding the properties of numbers will give you a solid framework on which to base all card readings. Remember that each attribute has both positive and negative aspects (ex, the Four means stability but it also means feeling stuck).
* The Ace – Beginnings, the Two – Balance, the Three – Connection, the Four – Stability, the Five – Disturbance, the Six – Harmony, the Seven – Mystery, the Eight – Movement, the Nine – Growth, and the Ten – Completion.
To do a reading, simply shuffle and cut in your usual method, and then, deal the spread of your choice. The most common spread is the Three-Card Spread: the seekers can give the cards any association that you like.
You just have to be sure to clarify with yourself what each position will be after shuffling the cards. The playing cards are laid out from left to right in three positions (past – present – possible future).
Start simple, by doing tarot reading with playing cards, you can always make it as basic or as complex as you want. But don't try to make things too serious until you feel confident with your abilities.
You'll get the best results if you do what feels right to you!
If you have any question related to Queen of Swords Yes No Tarot card or Tarot readings, then leave a comment below.