Have a look at Knight of Pentacles yes or no in your reading?
Of all the Knights in four suits, Knight of Pentacles is the most secure and stable. Rather than charging his steed forward in a rush, he's the only one remaining grounded, calm, and still on his seat.
But like other Knights, he prefers doing than talking because he believes action speaks more than words.
If Knight of Pentacles appears in a Tarot spread, it means you must take a moment to consider your commitment in any aspect of your life. This man is more mature and experienced compared to Page of Pentacles.
Learn more about this card in the following!
Knight of Pentacles Yes No Meaning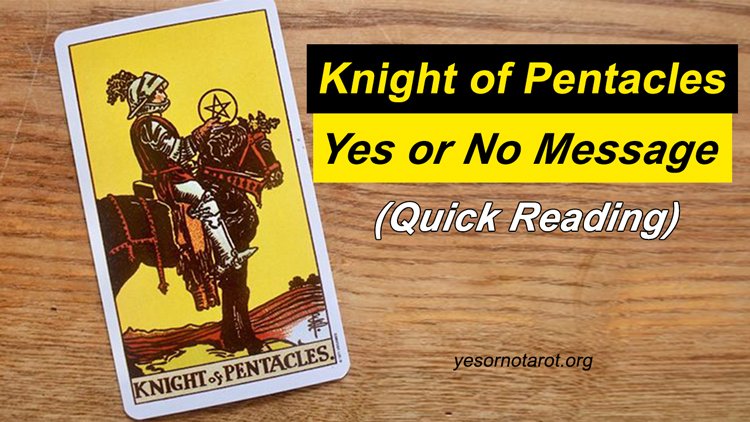 Here are some important words for the Knight of Pentacles card…
Positive: productivity, caution, routine, improvement, conservatism, consistency
Negative: boredom, perfectionism, self-discipline, stubbornness, obsession
1. When Knight of Pentacles appears in the upright position in an online yes no Tarot reading, the answer is 'yes'. This implies you will get assistance from a young businessperson in making decisions, or someone in your circle will help you improve your financial matters.
In some cases, this card can symbolize the feeling of getting stuck. Therefore, try to take a big leap in your career while still staying grounded. Focus on your business or financial projects correctly and you will gain success.
Whether your yes or no question is about relationships, career, finances, or anything else, the Knight of Pentacles card is a good omen as long as you keep a persistent mind. However, as actions speak louder than words to this Knight, you must take on this trait of his – always fighting for what you desire.
Prepare a strong will, consistency, and dependability to go through all challenges.
The Knight of the Pentacle suit is trustworthy, dependable, honorable and extremely determined. He gets some great senses and special talents in supporting others as well as testing their patience. His presence in your spread indicates the good outcome will come to people remaining faithful with what they had chosen.
2. If this card shows up in the reversed position, the answer is 'no'.
In the professional field, you may lack something known as the business acumen, or just someone simply blocking your way. Also the reversed Knight of Pentacles also means no promotion offer or financial support at this moment; therefore, you're advised to hold back a bit from making any important decision.
See also Eight of Pentacles with a click!
Knight of Pentacles Yes No Meaning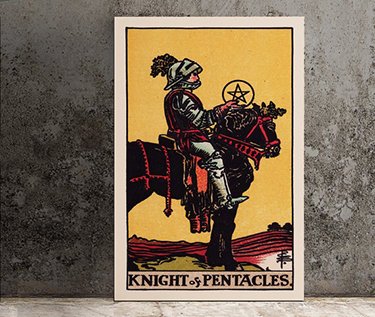 Knight of Pentacles general interpretation…
Upright
Similar to other Tarot cards, Knight of Pentacles also has the duality. Aside from determined and consistent, he is also pessimistic and stubborn on the opposite side.
The recent tasks of your daily life seem to drain all of your energy; however, don't let that feeling swallow you up. You may feel overwhelmed but please keep pushing forward for improved prosperity in the near future.
Knight of Pentacles represents someone with the element of earth based on his grounded characteristic. That person could be young businessman or woman whom you may get involved in a romantic relationship or a business partnership. They are perhaps down to earth and stable, plus their financial status allows them to invest in a property or business.
About the energy of this Knight in Tarot, he is the most calm and secure.
Reversed
How about the reversed Knight of Pentacles?
When this card is upside down, your path towards the future is temporarily blocked because you seem to hold back from incoming opportunities. Take a look at all the projects you've postponed in the past. Try to accomplish one by one to again bring back security and stability to your life.
Right now you may lack the grounding to go ahead. You possibly feel desperate, but it's not good to push or force yourself. Patiently wait for a better time till you're secure emotionally and physically before making an investment in a venture.
Discover Ace of Pentacles with a click!
Knight of Pentacles in a 3-card reading
In the past
Once this card makes it appearance in the past position, it means you've recently got a chance to work or learn about someone who also wants to invest with you. It also indicates that you've just started a project of your passion.
In the present
Knight of Pentacles in the present position points out your desire of becoming a business person, or at least that's what you are pursuing at this moment. It could be a financial investment is awaiting you – the one you will make a decision when you feel the most secure and stable.
This card can represent an important person whom you want to get acquainted with, whether a love affair or a professional partnership.
In the future
When you receive Knight of Pentacles yes or no in the future position, it is probably a sign indicating someone will appear in your life. Astrologically, the high chance is a person with the earth sign (Taurus, Virgo, or Capricorn). Perhaps the meeting between you two will be the beginning of a project or a new business of anything both feel passionate about.
This Knight represents an individual in your adulthood – it could be someone with the age ranging from 18 to 30, and they can be either male or female.
Or, a new opportunity within your career will come to you.
Knight of Pentacles in one card reading
What does it mean when Knight of Pentacles appears in your one-card spread?
If you got this card after the Tarot shuffle, then think about your circle. Your Knight could be present in your life right now. This young businessman seems to be stable, solid, and especially entrepreneurial. They could be Taurus, Capricorn or Virgo, or someone with consistency and down to earth personality.
The appearance of Knight of Pentacles in some cases may reflect the energy from your within you've been accessing. Instead of getting yourself stuck with the current situation, you should never stop moving forward.
Summary
General speaking, Knight of Pentacles yes or no is a good omen in a Tarot reading.
The presence of this card means you finally can keep an eye on the project you've felt passionate about for a long time, and right now is a good time to make it come true. It can imply the meeting of you and a young businessman for a successful investment.
Take a moment to consider all of your commitments in any relationship and aspect in your life.