What does Three of Wands yes or no mean in a reading?
This is the 3rd card in the Suit of Wands, it brings good news to your Tarot session, especially if you are aiming for something in life. Its presence means you will soon achieve your goals as long as you have a good preparation and anticipation.
No matter which journey you are engaging in, keep in mind this card advises you to be more courage, self-disciplined, and expansive for chances making your dreams come to reality.
For the best understanding of this Tarot card in relation to your life, I suggest that you should get a live reading from an authentic reader.
Keep reading for more details of Three of Wands…
Three of Wands Yes No Meaning
Before I go explaining the meaning of this card, it's better to catch a glimpse at the following keywords of Three of Wands:
Upright: creativity, initiative, success, exploration, happy outcomes, leadership
Reversed: self-doubt, regret, lack of preparation, perceived failure, keep looking at the past
Like any other positive Tarot cards, Three of Wands in a yes no reading delivers a 'yes' answer to your yes no questions. If it shows up in your spread, tell yourself that right now is an ideal time for new ventures, adventures, movements, or a committed relationship. Since the best outcome is usually the result of effort and hard work, make sure you come up with a precise plan before starting anything.
See also: The Hanged Man Yes or No in a reading
Don't depend much on luck because it won't help you obtain your deepest desires and achievements as well.
Put it simply, the Three of Wands card also symbolizes achievements, positive partnerships, and fresh starts. In case your questions are about business or anything related to it, then it could indicate the expansion. For individuals worrying about your career, be assured as this card is a sign you are moving on the right path.
Overall, Three of Wands has the positive energy and most answers from this card for your questions are likely yes.
Three of Wands Upright

Three of Wands Reversed

The answer is yes.
This is the most suitable time to gain the most from your efforts.
More opportunities will come to you.
Nothing can stop your creativity, so don't hesitate to try new things.
Follow your passion for great success.
Travel everywhere to widen your knowledge and empower your personal growth.

No resources are available at this moment for you to pursue your plan.
Don't need to rush up as this time is not the fruitful period for you.
Be patient at work.
Things you ask for won't appear at this period.
Some obstacles , including yourself may block your way towards the path of self development.
Moreover, the Three of Wands Tarot card is also the symbol of teamwork as well as business opportunities.
Find the meaning of Knight of Wands with a click, also!
Three of Wands General Meaning in a Reading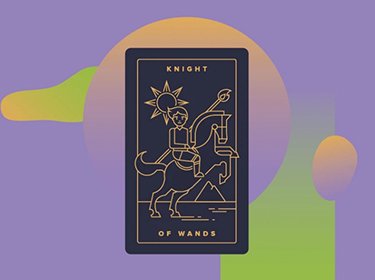 Is there any certain place you've always dreamed to go?
Is there something specifically you're eager to discover?
Do you have an urge to take the next step in life?
Let Three of Wands solve all questions above for you!
As I said earlier, this card will bring good news to your readings. Once it appears after you shuffle your Tarot deck, you know it's the right time to bring your inventiveness and creativity on the surface.
According to Tarot readers, the presence of Three of Wands means you are stepping into the period where the universe favors your potential for productivity and accomplishment. In case you are looking for new career opportunities, keep your mind open to all possibilities.
Don't be disappointed if you haven't got rewards brought by these new opportunities; the key is to patient. You will soon receive what you deserve after a long haul waiting and showing effort.
Beside, you must seek new allies in case you want to be more successful and to expand your business.
Did you know all Three cards in Tarot indicate creation?
This card is associated with Ace of Wands and Two of Wands. Put it simply, it depicts the very first ideas you have in mind and also your decisions. By knowing its interpretation and meaning, you can better understand and be more certain about your upcoming plans, ideas, and choices.
Ruled by the element of fire, Three of Wands represents action, passion, adventure, and drive. If you got this for your reading, be ready for an adventure for growth, maturity, success, and self-empowerment.
When Three of Wands comes in reserved position…
The moment this card turns upside down, it's a sign your life may get blocked by some hindrances ahead.
Despite this, don't give in immediately. This doesn't mean you need to stop your journey; in fact, it's an advice telling that you should prepare more to overcome all the challenges in the future. There's no time to doubt yourself or regret your decisions – put all aside, it's better to focus on your future life.
It's such a waste of time to keep thinking about the past.
By having a Tarot reading, your reader will reveal the type of adventure that Three of Wands wants you to embrace so that you can jump over and move forward. Rather than dealing with everything alone, it's better to get help from others.
Final Words
In general, Three of Wands yes or no promises to give you positive answer.
You will definitely have a very exciting time in the future. Get ready for a fresh start in your business, a new adventure, as well as many awesome opportunities. With this card by your side, you can do anything you love, but don't forget to take advantage of your resources.
That's all for Three of Wands meanings…for sure you can ask us any question about this topic by leaving your comment below (if any).