You got the Hanged Man yes or no in your reading?
Along with the Death and the Tower, the Hanged Man is another most misunderstood tarot card. People feel disappointed when this card shows up in their spread. For example, you expect some insights on your love life and BOOM, it appears and you feel like all your hopes at the beginning are crashed down.
Is this card really bad?
Well, some say that a man hanged upside down is never a good sign in a love reading. In today's article, let's discover the mystery of this tarot card to see what is really going on.
The Hanged Man Yes No Meaning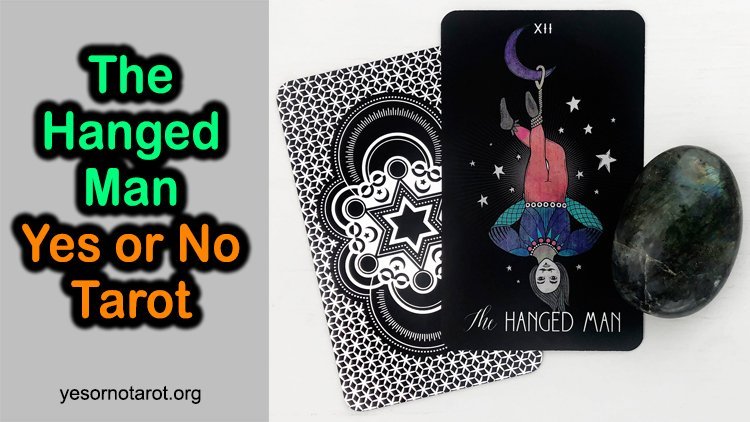 As usual, we must check out some keywords describing this card before delving into its deeper yes or no meanings in the following…
Upright: surrender, losing directions, letting go, uncertainty, new perspectives, feeling traps
Reversed: indecision, disinterest, detachment, resistance, stagnancy, delays, negative feelings
Talking about yes or no tarot cards readings, the Hanged Man is neither yes nor no; instead, this is a maybe card.
In most situations, it suggests that you should give yourself a pause and refrain from making any impulsive action. Not completely negative, the presence of this man is a sign of spiritual growth. Put it simply, his message is to avoid procrastination and move forwards in case you are eager for something.
For further details, you better draw one or two more cards from the deck and read its connection with this Major Arcana card for a greater understanding.
See also: The Star Yes or No in Tarot Reading
When doing the one card yes no tarot, keep in mind that the upright card means yes while the reversed card means no to your question.
If you receive the Hanged Man in the upwards position, a positive outcome is waiting for you. Try to view your current circumstance in a new perspective and you will learn something different. What if he is in the downwards position? This means either you or someone involving in your life is not trying to make any effort. As a result, it will end up creating a stalemate in the middle of your progress and you can't accomplish anything.
What's more?
According to tarot experts, this card reflects some sort of metamorphosis caused by your daily actions, such as letting go, making changes, or breaking patterns. Even though it can provide you a fresh perspective, it's not completely positive or negative. Therefore, the ultimate answer for the Hanged Man is maybe.
Learn more: The Justice yes no meanings
Interpreting the Hanged Man General Meaning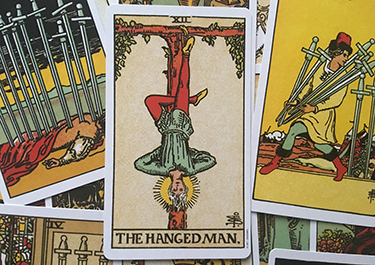 The Hanged Man, at the first glance, seems to be a purely negative card. Look at the image and the word 'hanged'. Many tend to connect this term to death and that is impossible because the Death is another tarot card.
Now let's have a look again: this man is definitely alive but yeah hanged from tree. So its meaning is that you will soon get suspended or stuck in a situation in which you're unable or even unwilling to take action.
Who likes to be stuck in a rut, right?
No one; nevertheless, the Major Arcana card here comes with powerful, enlightened advice that helps you improve your life. If you are struggling with finding out the next step for your future, the interpretations and guidance of this card will be a great help.
Keep reading for more info:
1. The Hanged Man Upright
For sure, this is one of tarot cards discussing about pace.
The Hanged Man describes you, and when he shows up in your general reading, it is a reminder telling that you should take a step back and focus on what you're having in your life at the moment. Like the Two of Wands, this card gives you a pausing period in which you can consider a series of choice you made previously. Take full advantage of it to come up with a wiser choice than before.
When this card is drawn, its meaning tells you that what you are waiting for might not come true as you planned. The presence of the Hanged Man is a warning that you shouldn't push things you are doing.
The way he was hanged from the tree has stopped him from taking any further action. He can't move from his current position, no matter how hard he tries. The card shows you an image of him accepting his situation and taking his time to figure out how to get out of this trouble.
From what happened to the Hanged Man, now you should know this tarot card is giving you a moment to take things slow, reload and consider your process. Please don't stubbornly go any further, or you will soon regret once doing it. Upwards or downwards, the core meaning of the Hanged Man is for warning and self-prevention.
2. The Hanged Man Reversed
Similar to the upwards position, this card in reversed also puts the brake on whatever you are doing or planning to carry out soon.
If the Hanged Man appears upside down in your reading, then you must pay careful attention. Perhaps something in your daily life is not right; therefore, you need a pause to see what is off the track and find a solution to fix it.
In addition, this reversed card is also a symbol telling the universe is calling for your attention. It seems like you've got yourself involved in something that can bring you only problems. Now you need to wake up, open your eyes, and work things out.
Plus please remind yourself the Hanged Man is the alarm clock to your health issues that you shouldn't ignore. His presence will help you aware of the current condition so that you can take better care of your health.
Final Words
In general, the Hanged Man yes or no is a helpful warning. Rather than a prediction of bad news, it is more like a way of telling you to shape your thought and behavior for the better.
Again, you need to take a moment for self-reflection. Do all the things you are doing really bring you happiness and success? At certain moments in life, you should take it slow instead of keep pushing towards.
Feel like everything is going wrong for you?
Maybe a yes or no reading with this tarot card will give you the answer to questions confusing your mind. Leave a comment below if you have any question related to today's topic.