It's time to look at the Star yes or no entire meaning!
People often say that if you make a wish to a falling star, it will come true. Also, I believe you at least one have read the horoscope of your star sign for guidance and future prediction.
Legend has it that stars will give you a glimmer of hope. Similarly, the Star in a Tarot reading also speaks of having hope in the future. This card symbolizes optimism, hope, and renewed faith.
With the presence of this Tarot card in your spread, you will surely find calmness and peace again after suffering a tough time. The hidden meaning of the Star can regain your motivation and lead you toward the brighter path again.
Keep reading the following info for more insights!
The Star Yes No Meaning Overview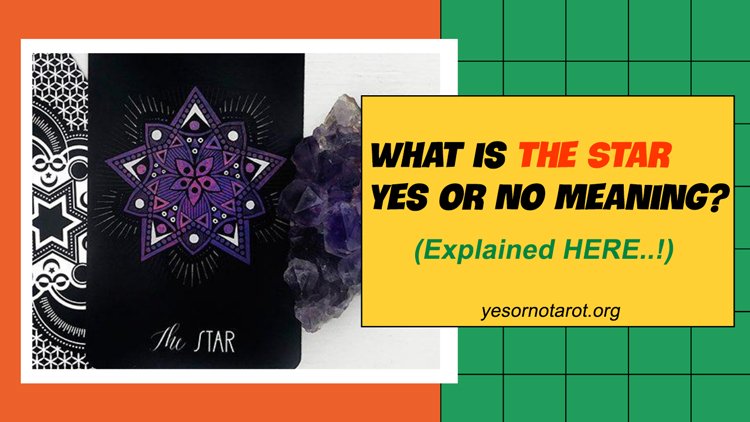 Like other Tarot cards, this Major Arcana card also has keywords that can connect to yourself as well as other aspects in your life…let's find out:
Upright: hope, healing, renewal, creativity, optimism, generosity, inspiration
Reversed: losing hope or lack of hope, boredom, despair, blockage, negativity
From what I've read in about Tarot, the Star is very positive card which not only gives 'yes' to most of your yes no questions but also promises happiness. If it shows up in your reading, you know things will turn out just fine whatever happens. For sure it provides a solid 'yes' to any pressing matter.
Any situation blessed by the Star will certainly end up with a success. This card advises you to focus on yourself and not others in order to achieve happiness and positivity.
In case you don't know whether or not you should make decisions now, a glimpse at the Star can give you the answer. As a symbol of renewal, hope, and optimism, this Major Arcana card promises things will be all right and going peacefully. Even if you are dealing with difficult matters, they later will be resolved in a beautiful and enriching way.
Here are some examples to help you understand the Star yes or no better:
1. Does that person like me?
Yes, he/she likes you. Although the person doesn't display any sign that you expect to see at this moment, soon he/she will open up his/her feelings to you.
2. Does my future look promising?
Yes, your future seems very hopeful and many opportunities are waiting you ahead.
3. Will my ex come back to me?
If you don't know whether or not you and your ex can reconcile, the answer is yes, the love of your life will return to you again.
4. Am I pregnant?
Actually the Star is not the card indicating pregnancy or abundance; however, as it's a positive card in all aspects, you can hope for a new arrival in the future.
Overall, the Star in a yes no Tarot reading will shed light to your dark tunnel. Don't feel stressed out; in fact, let this card be your guide and you can get through the journey with ease. The appearance of the Star means 'yes' to most of your questions. You may not get what you want in the way you expected it, but you will soon fulfill it at certain times.
(Add: https://www.youtube.com/watch?v=d8sQxKwHpu0)
Have a look at the Moon yes or no if interested!
The Star General Meaning in a Reading
When the Star arrives in the upright position, it brings extremely good things to your life, especially after you just went through traumatic events. Suffering from something tough and challenging can change you completely.
Heartbreak, loss, death – you will never be the same after every hurtful situation. You can get hurt badly, but it doesn't mean your life can't be better. If you are looking for a way to heal your heart and soul, the upright Star will be your guide.
Its presence reminds you to open your heart, have faith in yourself, and concentrate on your inner strength. Trust your intuition, beliefs and thoughts, and best things will surely come on your side.
Besides, the Star is also a sign telling that your dreams and wishes coming true at the unexpected moments. What does it mean? You will fulfill your desires but it comes in a surprising way that even you can't realize. It promises only the best for you. You may not believe in destiny; nonetheless, the Star will prove opposite – at the end of the day, destiny has its own way to make things work out.
The Star as Weakness or Obstacle
We all know the Star is a good indicator in a reading. But sometimes it arrives in a negative position of your Tarot spread, what does it mean then?
In this case, the Star represents weakness and obstacle.
Talking about weakness, please be aware of people around you as some might get jealous of your abilities as well as what you've achieved in the past. Keep yourself on the guard because they are probably waiting for a chance to knock you off your pedestal. Nonetheless, you rarely face this meaning; in general, the Star is a good omen and does not usually predict negative energy.
When you are full of hope about something particularly, this card may be considered as an obstacle or blockage.
Stop being unrealistic about the future!
Instead of lying to yourself and believing what would never come real, you must concentrate on your current situation and what you truly need to do.
The Star as Strength or Advantage
When this Major Arcana shows up as strength, positivity, and advantage in your Tarot spread, it indicates your positive, optimistic thoughts towards your future. Since you are always open to all possibilities and the mindset of a successful person, you are going to achieve your life goals.
If you are planning to do anything, this is the right time to carry it out.
Moreover, the Star also represents all the lucky stars on your side. The alignment of everything is perfect for you, even when you have no thought about it. Now you can realize the destiny always has a plan for you, and it just waits for the ideal time to unfold the truth.
Find out the hidden meaning of Temperance tarot card here!
Summary
Again, the Star yes or no in Tarot readings signifies your future hope, optimism, and faith. This card delivers great guidance to anyone who is struggling in life. Follow the guide of the stars and you will rise to the top again.
That's all for the Star yes or no meaning!
If you have any question for this topic, please leave your comment below.