What does Temperance yes or no mean in a Tarot deck?
This is the XIV card in the Major Arcana – the lesson of Temperance teaches you that prominent changes do take time. Also, if you find this card appear in your reading, it's a reminder that you should spend a moment to exercise your patience and self control.
Maybe right now you are stuck in a chaotic situation, and Temperance suggests moderation and balance. This is the right time to find the peace within your soul and keep a calm behavior towards anything in life.
Continue reading to unfold the meaning behind this yes or no card.
Discover Temperance Yes No Meaning
Before diving deeper into the yes no meaning of Temperance, let's have a quick overview of this Major Arcana card's keywords…
Upright: balance, patience, self-healing, moderation, good health, cooperation
Reversed: imbalance, risky behaviors, discord, hastiness, excess
What is the answer of Temperance in a yes no Tarot reading?
This card not only represents balance and harmony but also confidence.
If you got Temperance in your spread, remind yourself that it may suggest divine intervention. On the positive side, the guidance from Tarot reading will give you insight into self-confidence and strength of mind in your endeavors. The level of these two elements will help you balance yourself better.
In case your yes no questions are about taking action on a project or anything, then yes you can do it; however, the whole process must be observed with caution. In case you rush or take risk without any consideration, it may cause serious mistakes.
Temperance yes or no gives you the 'yes' answer as long as you're able to listen and trust your intuition.
Upright Temperance

Reversed Temperance

The answer is yes
Have a patient and generous approach if you are dealing with a conflict
Trust your intuition and ability so that you can clear all issues gracefully and compassionately

The answer is no
Beware of your own excessive behaviors or that is the main reason dragging you out of your balance
Get a rest on your current path
Take a moment to healing yourself and re-aligning your previous decisions
General, this card will offer a positive yes whenever you ask something related to healing, finding peace, or home. Nevertheless, it is a no (or a negative yes) if your questions involve changes or taking an act on something.
Still it's a positive card, so most of the answers are likely to be yes.
See also the Hermit yes or no in a full length reading!
A 3-card reading with Temperance yes or no
Many often ask about the Temperance card meanings in a 3-card reading, so I'm going to inform you here:
1. The past
The appearance of Temperance in the past position indicates that you have come from somewhere full of balance and harmony. Probably your childhood, upbringing, or memories in the past were peaceful and harmonious.
If it's not about the early years, then this card may imply a challenging circumstance that you've recently got through in a calm and graceful way. Or perhaps it reminds you the opportunity that you missed out before.
Rather than taking advantage of a situation, you chose to temper your emotions and looked for peace, harmony, and balance from your within. This decision was what leading you to the place you are standing now.
2. The present
What if Temperance shows up in the present position?
The angel in this card advices you to concentrate on self-control, moderation, and balance. If you are facing any challenge or chaotic situation at this moment, have a rest so that your state of mind can be calm and composed. Don't keep pushing forwards or you will get stressed out.
You shouldn't be competitive during a dispute; it's better to find common ground between you and the other.
No matter what situation you are stuck in, please remain the flow inside you with peace and harmony instead of fear or anxiety. Tolerance and composure will assure a positive outcome for your future life.
3. The future
Be happy when Temperance appears in the future position.
This wonderful card is a positive omen telling that peace, tranquility, and wellness will welcome you in the future. You shouldn't be discourage even things may be hard at the moment; keep a composed mind to all circumstance and you will soon find your own relief.
Discover the Star yes no meaning with a click!
The Meaning of Temperance in General Readings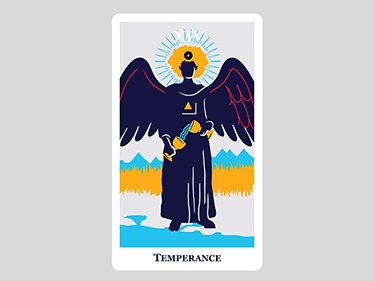 When it is upright…
The primary meaning of Temperance is the striving to find balance, moderation, and enlightenment of a person in this life. One of the Tarot cards in the Major Arcana, our angel is surrounded by other ominous cards – she appears after the Death and before the Devil.
Therefore, her presence in reading really takes you back from your chaotic life. This card asks you to find back the balance and peace you've ignored many times before; also, let your life flow at a slow pace.
Whenever facing against obstacles, you better remain calm, keep your usual serenity, and control your emotions. Getting angry or making fuss over anything won't help you fulfill your desire.
In general, Temperance is an optimistic card.
Once you receive this card in your reading, tell yourself that it advises you to approach any matter of life with tranquility and never stop seeking balance in all aspects. Try to not be at war with opposing forces. You will surely find a good resolution as long as you are wise with decisions.
Find out the meaning of the Tower yes or no also here!
When it is reversed…
If you see Temperance not in the traditional position, perhaps you are lacking balance and self control. You might have got involved in conflicts at work, at home, or even with your own body. You don't feel the urge to do anything as well as you have no idea what you should do with your life.
No need to worry because the reversed angel just wants to help.
She suggests you taking a precise look at all the current things in your life. Did you make too risky or overindulgent decisions? From now on, instead of sweeping changes, you must take things slow and consider your own interest and references.
Final Words
Temperance yes or no is a beautiful card, in a nutshell.
It brings peace and harmony to your life and assures a positive outcome to anything as long as you approach it with balance. If this Tarot card shows up in your spread, take a moment to find the synchronization within you and let go of the excessive tendency for ultimate pleasure and success.