What does Eight of Pentacles yes or no mean?
In Tarot, eight is the number of mastery and accomplishment; no surprising at all, Eight of Pentacles also carries the similar meaning. When this card appears in your reading after the cards shuffle, it represents your accomplishment in whatever you are engaging in as well as further career developments from just doing something for fun.
You may have started a project just because it's your hobby, but you'll gain a great development for that field. As time passes, you'll soon be recognized as an expert and have the ability to make money from it.
The card also indicates teaching and inspiring others about what you've had studied.
Keep reading for more information!
Eight of Pentacles Yes No Meaning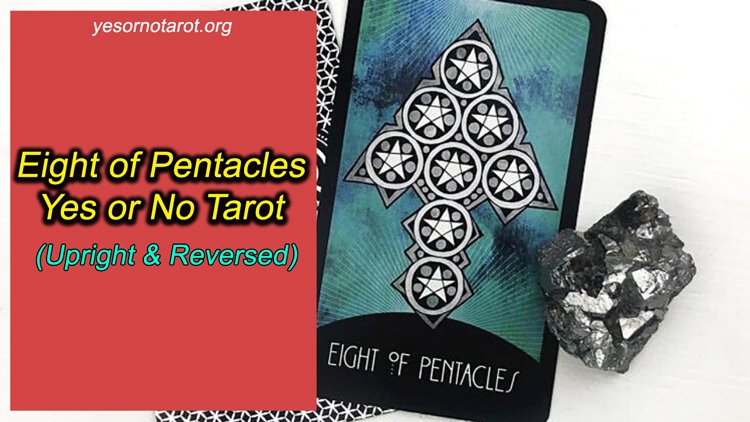 Before digging into the yes no meaning, let's have a glimpse at some keywords of this Pentacle card…
Upright: mastery, perfectionism, ambition, talents, diligence, accomplishment
Reversed: arrogance, lack of quality, mediocrity, workaholic
So, what kind of answer Eight of Pentacles offers in a yes no reading?
When this card is facing upwards…
In the upright position, the card gives a 'yes' answer to whatever you ask.
The presence of Eight of Pentacles reminds you to focus more on your future goals and keep moving towards. No matter which project or venture you are taking part in, you must show your commitment and dedication completely.
This card also means you should take a moment to refocus your goals. If you are not certain about what you are doing, then make up your mind and put your heart on what you are truly into. Be patient and do not rush; for the best outcome, you have to work very hard.
Show your effort and your end results will get recognized.
For a touch into your emotions, see King of Wands feelings here!
When this card is facing down…
If your card is in the reversed position, then the answer to your question is no.
You will not get paid off well for your hard work and dedication this time. Perhaps you didn't put much commitment into the project; or you properly focus too much on details rather than viewing the picture with a broad perspective. In short, whatever you do during this period can affect the whole progress of your venture. Hence, give yourself a moment to clear all the doubts in your mind and don't try to engage in anything significant.
Also check out the Moon reversed meaning with a click!
Eight of Pentacles is a yes card as it symbolizes one's studiousness and improvement of skills. If your yes no question expresses your concern about the learning aspect or development in any field, the answer is positive.
Worrying about your finances?
Don't know if your business will improve?
Wondering about enhancing a relationship?
Yes, you will achieve what you want as long as you are determined and willing to show much effort. In addition, this card gives you insights regarding you desirable career as well as how to master new skills. As long as you act with discretion and always approach every situation with balance, you will be able to achieve whatever you desire.
Similar to Three of Pentacles, the outlook from the Eight of Pentacles card is positive!
Interpreting Eight of Pentacles in a Reading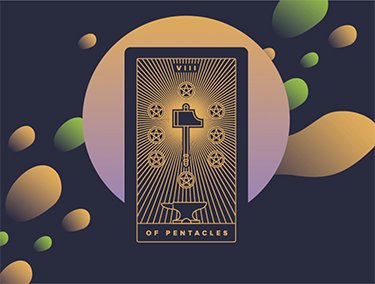 General meaning:
The number '8' in Tarot refers to a certain person's targets and goals in life, and this meaning reflects clearly through the Eight of Pentacles card. In fact, if you're a Tarot enthusiastic, you will realize that most cards with the number eight indicate a stage of life.
During that stage, you must concentrate on the goals ahead and how to do to achieve them. The Eight cards aim to provide you guidance as well as warning to attain the best and overcome the worst.
Being so close to Ten of Pentacles, this 8th card here symbolizes your mastery of something or it may reveal what you need to do to master it.
The Pentacles suit is associated with Earth element, which represents the material aspects of life. It can help you resolve questions related to money, property, and health matters. In general, all the cards in this suit can reflect and give guidance as well for anything that is tangible.
Thus, Eight of Pentacles talks about all material goals in your life, whether it's your goals or the goals of your loved ones. When it shows up in your spread, it's a reminder telling you that right now is the right time to accomplish your current projects and attain achievements. Be patient and focus on becoming proficient at what you are doing and improving tangible things.
In this phase, you may discover a new skill – spend time doing it over and over until you can take advantage of it fluently. You will surely gain a great success if putting diligence and patience into the process.
The reversed Eight of Pentacles:
When this card shows up in the reversed position, it no longer delivers the positive meaning. In fact, this is a sign you are lacking perseverance and effort in completing the current task. If you show your carelessness in whatever you are doing, don't expect any success in the future.
The appearance of the reversed Eight of Pentacles card reminds you to pull up your socks and take everything seriously – all the steps are necessary and you shouldn't be superficial in any part.
Otherwise, the consequence will make you suffer.
You may be a person obsessed with details; however, with the presence of this card, you should take consideration in the big picture instead. If you find that the work you are striving is not very rewarding at all, maybe you should pause for a moment and reconsider everything. Perhaps it needs a new direction to be successful.
Wrap up
Generally speaking, Eight of Pentacles is a positive card to your career and financial goals at times. If you want to master certain skills or achieve something tangible, this card has shown that the key is your persistence and determination.
No need to rush – the Eight of Pentacles card is all about patience.
Take time to consider all the matters revolving around you and reconsider your decisions in the past; soon you will achieve whatever you want.
That's all for Eight of Pentacles yes or no!
If you still have questions about this card, leave your comment below…