What to know about King of Wands feelings in a love reading?
Some think that King of Wands represents platonic feelings and has nothing to do with romance. Is it true? We all know that this King is a dependable and loyal leader bringing happiness, enlightenment, and energy through the card.
According to Tarot experts, the presence of King of Wands in a love reading signifies that your relationship will get more intense. In case you're still single, then this card is a good omen because you will be pursued by a very charismatic guy.
So, would his feelings be more platonic or romantic?
Learn more in the following..!
Interpreting King of Wands as Feelings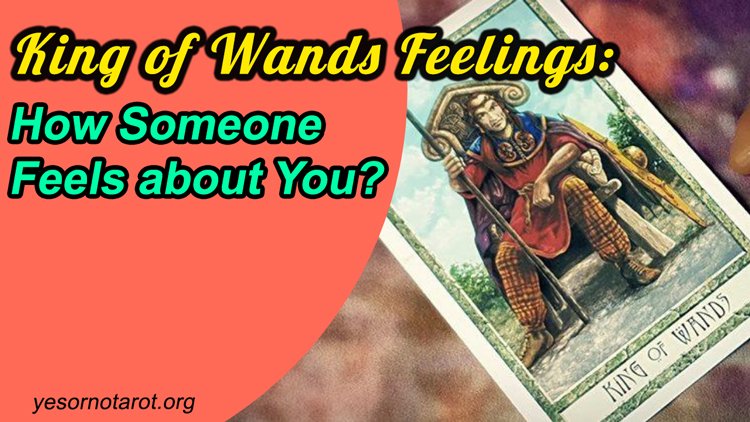 For me, King of Wands always represents strong interest, attraction, and passion. The way he feels things is passionate and fiery. His fire and intense emotion are like a torch that can guide you through all obstacles in life.
Compared to Knight of Wands, our King is more mature.
His feelings are not the unbridled passion as you thought; actually, it's more tamed. He always has a great enthusiasm for discovering life but is still good at planning and arranging schedules.
When it comes to King of Wands as feelings, there is certainly interest and a great feeling of "I want". This card also indicates the sexually feeling – this King is an expert in keeping his passion in check, but you can't stop him in the bedroom.
If King of Wands appears with Ace of Wands and The Sun in a love Tarot spread, you are in a relationship with a passionate man who surely has sexual feelings toward you. Because of his big ego, he always wants to satisfy you; so don't be surprised if he brings you a lot of pleasure.
Since the combination has no Cups, the loving and romantic elements may be not his priority. Perhaps the happy ending is not his goal at this moment. But, as the King, he is definitely faithful with you and stay for the long haul more than the Knight.
Learn about Eight of Pentacles if you want to know more about your career!
What Does King of Wands Mean in a Reading?
If King of Wands yes or no represents a person in your life, he will be very simple and down to earth. He is not the type interested in grand luxuries; in fact, he is full of energy and very into sports and physical fitness.
This guy values ethics and morals. Persistent and motivated, he will fight his best when he wants something (no matter how hard it is). With a great source of stamina and energy, he will act like a cheerleader inspiring and motivating others during the hard period.
No one can resist this people guy!
Both King of Wands and Queen of Wands are the typical go-getter.
You will never find this King sit in one place and do nothing; indeed, he is always in the active state and showers himself with works. This leader is good at organizing and managing things and people as well. Being with him, you will feel motivated and boosted most of the time due to his vivacious energy.
In the professional perspective, he is a concentrated person driven to success. Many see him as a goal-oriented man. Ruled by the element of Fire, sometimes his impulsiveness makes him decide things carelessly; fortunately, he is still able to fix his wrongs with ease.
King of Wands doesn't need to worry as he can fit in any type of job.
This card in a love reading describes a sexual person who is almost never sexually satisfied and never says no to new sexual adventures. If King of Wands appears in your spread, it means you are ready to spice up your sex life.
Well, he may sound sensual and flirty, but he still makes a faithful partner.
The reversed King of Wands…
If this King shows up in the reversed position, he seems to be an emotional crybaby.
Totally opposite to the prince charming from above, the reversed King is self-entitled and not mature at all. He is lazy and believes that he deserves good things and rewards without working. In a relationship, he may have a bad temper and be prone to violent behavior.
On a lighter note, the presence of this card shows that you need people to feel you and want them to love and nurture you. It seems like you've been pushing everyone around you away for a long time, and now deep down inside you feel alone.
Discover the hidden meaning of Three of Wands yes no card!
King of Wands in general questions…
In most situations, King of Wands represents someone who already gets married. The card can talk about a natural and charismatic leader in the media and communication field. Also, the King is a good omen signifies you will soon to be an expert in a certain skill that you've chosen.
You are very passionate about life.
Overall, the King of Wands card indicates lots of aspects, such as commitment, leadership, success, and getting recognition.
King of Wands in a love relationship reading…
When you see this King in your reading, please tell yourself that you are having an eye for a person who is already committed to the other. If that's the truth, well you are playing with fire; not surprising, fire represents King of Wands.
Besides, it could mean that your current relationship is fun and exciting; but at the same time, it seems to be demanding. You are not feeling secure with it as some people is trying to interfere, causing the jealousy between you and your partner.
Summary
In short, King of Wands feelings are the kind of feeling mixed between gratefulness and powerfulness. His feelings can heal him in most situations. This King upright speaks of good feelings and empowerment, while he upside down is all about corruption.
If you want to know how someone feels about you through this card, then I can tell you that they respect you a lot and always find you irresistible.
Leave your comment below if you still want to know further about King of Wands.