If you are seeking a fresh start for your love life and the Ace of Cups card shows up, this is great news.
So, what does Ace of Cups yes or no mean in a reading?
This Tarot card represents the beginning of love, fertility, and creativity. The appearance of Ace of Cups will boost your inner confidence and lead you forward happiness. When you draw it out in your daily reading, the card denotes the beginning of a new relationship.
It's a positive omen revealing your pleasure and joy in all aspects of life.
The Cups suit is all about emotions, and the Ace of Cups represents a fresh start, similar to Knight of Cups, plus the guidance telling you to leave things belonging to the past and concentrate on the present.
Explore Ace of Cups Yes No Meaning…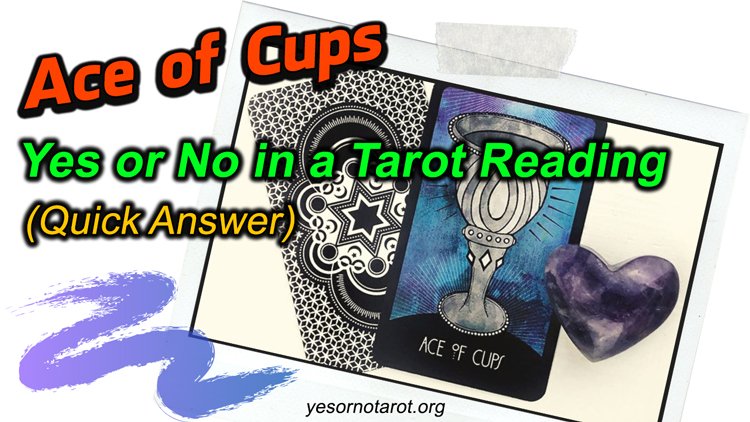 Before digging into the upright and reversed meanings of the Ace of Cups card, let's take a look at all the keywords related to it.
Upright: new beginnings, new relationships, fresh journey, happiness, fulfillment, start of new projects
Reversed: unrequited love, conflicts, bad news, anguish, breakup
This yes no Tarot card brings satisfaction and good news to all different fields of your life, including love. By making use of your intuition and creativity, you will surely achieve great success and abundance. The door to a new partnership or a fresh adventure will be unlocked.
To women having a pregnancy Tarot reading, the appearance of Ace of Cups means the chances of getting pregnant are high.
Feel happy when you get this Ace card after shuffling your deck because it denotes all the good things, such as happiness, joy, triumph, and new beginnings. You are feeling full of life and thinking of new relationships…well, now is the perfect time to start something new.
Upright Position

Reversed Position

The answer is yes if Ace of Cups facing up.
It's the ideal time to think of a new relationship, or start a new project (venture) that you've nurtured for a long time.
It's a smooth time for your emotional fulfillment and happiness.
You'll receive great support from all of your loved ones.

The answer is no if Ace of Cups facing down.
Your relationship will suffer with your wrong decisions.
Don't get upset if there is a relationship standing in your way because it stops you from making hasty choices.
Don't force your creativity or emotional well-being; instead, hold back your thoughts for a moment.
For all the positive outlooks, the answer in a yes no reading to your questions is yes.
If you are still curious about your love romance, perhaps The Lovers yes or no can give you the needed assistance.
General Meaning of Ace of Cups in a Reading
1. The upright Ace of Cups
When this card surfaces in your Tarot reading, it denotes now is the right time to look for emotionally fulfilling relationships. Plenty of positive and good things are on the way to come to your life, so no need to doubt yourself.
Just take the chance and work it out!
As I mentioned earlier, all Aces represent a fresh start or a new beginning in any area of your life. They can tell the possibility of getting pregnant, the start of a project, a new business, a new relationship, or a passion. Whether your spread is the Celtic Cross or just the simple 3-card spread, the meaning is the same.
With the Ace of Cups card, you can expect something new in your life. No need to worry because it brings the positive omen in most cases. So, what kind of thing you should look forward to with the Cups? Ruled by the element of water, the card mainly deals with emotions, creativity, love, friendship, family and children.
This card is what we call the beginning of a new life.
Don't think Ace of Cups means the end of a relationship in which you've been happily for a long time; instead, perhaps it indicates a positive turning point on your journey. Be patient and wait for new beginnings along with good old ones to show up and flourish in your daily life.
2. The reversed Ace of Cups
On the other hand, you may not want to see the Ace of Cups card in the reversed position because it's completely opposite to the positive meaning above.
Firstly, it symbolizes all kinds of troubles that you may encounter in relationships, such as cheating, breakup, divorce, and turbulence. If this reversed card appears in your Tarot spread, it's also a sign of bad news or unwanted negative things that come to your life unexpectedly.
But don't be so depressed!
You may lose the relationship that you've treasured for the whole life; however, this is not the end. No one is sure about the future. Get the warnings from this card (along with its guidance and advice) and learn from your past mistakes to better your life. Take all chances to improve yourself willingly and you will face only good things in the long run.
Now have a look at the bright side of this reversed card – it reminds you to spare a moment for yourself. You cannot take care of people around you if you have no love for yourself. Therefore, learn to love yourself first before send out your love to anyone.
Never ignore your intuition because it's the voice from within.
Give yourself the time you need, follow your inner voice, and escape from your reserved self once you feel the need of being loved and taken care of again. Nobody can love you as much as your own self, keep in mind.
In Conclusion
So, Ace of Cups yes or no is a very positive card in a Tarot reading generally. Whether your spread is the Celtic Cross, one card or three card, or about love relationships, it delivers positive messages in different aspects of life, especially if your questions have connection to love, marriage, and pregnancy.
This Minor Arcana card represents the new beginning in all situations which may bring you good results. You can look forward to the future as happiness and fulfillment are awaiting you to achieve.
That's all for Ace of Cups meaning!
If you want to know further information about this Tarot card, leave your comments below.