Get the explanation of The Lovers yes or no meanings here!
The Lovers is the 6th card in the Major Arcana and has dual meanings. From the name implying, you can easily guess this card is about love romance. Well, aside from symbolizing a strong relationship, it's also an indicator of choices in life.
When The Lovers appears in your reading, it means you are facing a major crossroads and you should not quickly make impulsive decisions.
Before delving into the in-depth meanings of this Tarot card, please take a look at its significant keywords:
Upright: love, choices, harmony, relationships, aligning values
Reverse: disharmony, imbalance, self-love, one-sidedness
Now learn more in the following…!
Discover The Lovers Yes or No Meaning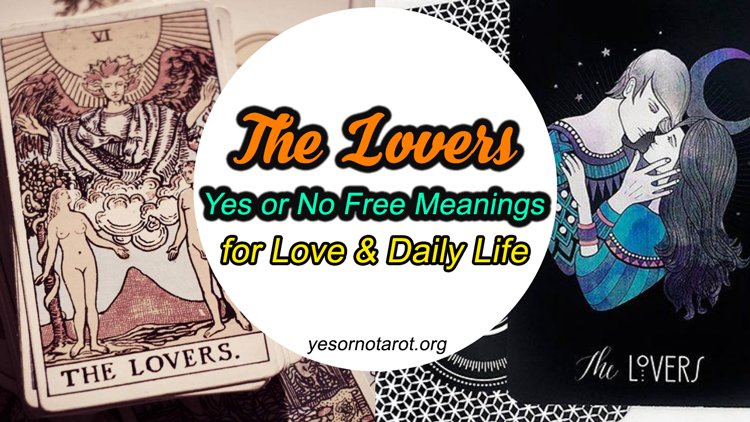 What does it mean if The Lovers shows up in your yes/no love Tarot spread reading?
This card is a sign implying that you are in the middle of a crossroads and quite confused with all decisions at the moment. While it usually symbolizes love, relationships, and togetherness, The Lovers also reveals more about potential business partnerships and gives guidance helping you move forward in your life.
The Lovers is the card reflecting your uncertainty in a current situation – it is about choices and sometimes you are not sure whether your final decision is right. However, don't get stuck with the unsure, uncertain feelings forever.
The appearance of The Lovers reminds you to leave all doubts behind and head towards the future with confidence.
As everything has two sides, let's analyze all possibilities of this Major Arcana card:
1. The Lovers in the upright position
In a reading, The Lovers in the upright position delivers a 'yes' answer. It's an encouragement that you should go for your choice, no need to hesitate. If you are wondering whether your relationship is profound or not, this card is an assurance.
Your happiness is right in front of you – both your partner and you share common interest, understanding and aspiration. You two value each other, and nothing can break the connection in between.
In case you are still single, then this card is a reminder telling you to love yourself more. Don't just try to satisfy others; it's time to focus on your own needs and to fulfill your deepest desires.
2. The Lovers in the reversed position
What if the card appears in reverse?
Obviously the answer is 'no'. Love is blind and the display of The Lovers in your spread is a sign telling you've been blinded to the reality regarding your relationship. It's probably not as beautiful as you thought it was.
Rather than drowning yourself in disappointment and sadness, you should take a moment to digest the situation honestly. Accept the truth and prepare yourself to be ready to walk away from any toxic relationship as well as bad partner.
There are many choices out there, and you will surely find someone who can bring you true happiness and inner peace.
Since the card holds positive meanings in general, the answer to your yes/no question is usually yes.
Overview of The Lovers Meaning in a Reading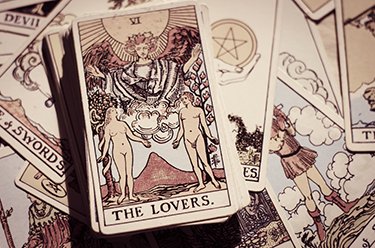 When it comes to The Lovers, the keywords are communication and harmony for all kinds of relationships and aligning values.
The foundation of The Lovers are the positive expression and harmony, also it represents trust and connection of two individuals on both emotional and intellectual levels. The Lovers is somehow associated with the Gemini sun sign because Mercury – the communication planet – also rules this card.
The meaning of this Tarot card itself is following your heart.
When you completely make up your mind, the appearance of The Lovers again asks you to assess your decisions.
What are things you stand for willingly and value?
What do you crave for your life?
What do you want to fade away forever?
Once showing up in your Tarot reading, The Lovers wants you to make a connection with your Higher Self and keep walking forward positively. Don't let any negative thought bother your life; instead, be open-minded and honest to your love and in any communication.
In addition, The Lovers card wants to let you know that you are having a beautiful connection with a special person. Well, it's not always about sexual relationships. The partnership you are getting involved is formed with honesty and clear communication. Both understand and have the ability of showing vulnerability with each other.
Sometimes, the meaning of this card is about choices. Perhaps you are dealing with significant decisions at this point. But, no matter how pressing the situation is, you shouldn't decide anything hastily.
The appearance of The Lovers in a 3-card spread reading:
The past
In the past position, this card displaying upright indicates that you are from a loving relationship. Whether it's your family or your romantic relationship, true love was the initial foundation. You are showered with love and people around you are supportive to whatever you do.
Conversely, The Lovers reversed in the past position reflects difficulties and problems related to your relationships back then. Maybe you just suffered from a breakup or any kind of separation.
The present
The Lovers in the present position means you are starting a new relationship.
If you still haven't had anyone in your life at this moment, this card is the assurance that you will encounter someone romantically soon. Love is just around the corner; therefore, the card is considered as a very good omen for those looking for true partnership.
In case the card shows up in the reversed position, then it's a reminder telling you to take a look at your current relationship to see if there is any conflict, issue, or unhealthy balance between you and your lover.
The past
You are single and you got The Lovers in the future position of your reading; well, spare a moment to reevaluate what you are looking for.
Be wise with all of your choices and don't let yourself get influenced by the illusions of love. Focus on more what you believe you deserve and what brings happiness in your relationship. By doing that, you will attain fulfillments in the long run.
If interested, check out the interpretation of Ace of Cups yes or no here!
Wrap up
The Lovers yes or no gives you the yes answer, especially if your questions are about matters of the heart.
Besides, this Tarot card also holds many different meanings depending on your situation and circumstance. For accurate interpretations, you must pay attention as well as understand the context in which it shows up.
For more information about The Lovers, leave your comment below…