Talking about knights from the medieval time, what usually crosses your mind?
Like what we usually see in movies, the image of a knight is someone chivalrous in shining armor hurdling through obstacles to rescue a damsel in distress. Or it could be a brave man riding off into battle. In fact, both descriptions here are in corresponding with Knight of Wands yes or no.
Of all Knights in the Tarot deck, he is the most courageous and spirited. However, it's better to have a cautious mind – not all the paths are covered in roses, even the rose has thorns.
This is a Court card, so this means Knight of Wands give you both blessing and warning in a Tarot reading depending on your situation or question.
Knight of Wands Yes No Meaning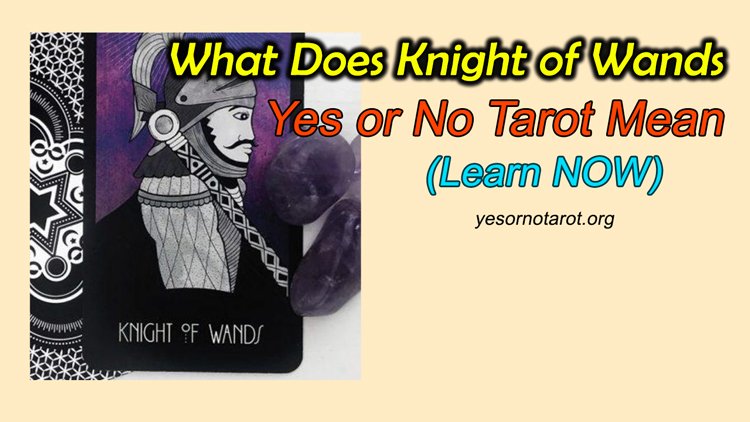 Before gaining deeper insight into this Minor Arcana card, let's first find out the most significant words associated with Knight of Wands…
Upright: passionate, adventurous, self-confident, free, daring, charming
Reversed: impulsive, restless, aggressive, superficial, argumentative
So how this Knight of Wands card responds in a yes no reading?
Personally, compared to other Knights, this Knight is most likely to mean 'yes' in any of your yes no questions. Let me explain: when I did a reading on a personal level and I got Knight of Pentacles for my spread, I realize that this particular Knight means a positive 'no' when I ask a yes no question. On the other hand, it's definitely a 'yes' if Knight of Wands appears in the reading.
However, the best question to ask this card is not really yes or no, but it's when or how. With Knight of Wands on your side, you're suggested tackling your decisions as well as focusing on the energy for your next move.
This Knight is energetic, determined, and ambitious – he represents a person with great leadership in the reality. Well, it doesn't mean this yes no Tarot card is a completely positive card; in fact, it does imply some challenges but you will overcome everything if having courage and belief in yourself.
He is well-known for his daring persona, so embrace it if you find his presence in your Tarot spread and never leave your eyes away from the target. You may face unpredictable changes sometimes; however, keep being determined and you will soon achieve your deepest desires.
Knight of Wands facing up vs. Knight of Wands upside down
Upright

Reversed

Proceed whatever you want to do with passion instead of holding back.
You might act impatiently and could step on others' feet when moving towards your goal…beware of that.
It's time to keep your frustration inside rather than bringing it on the surface; otherwise, you may create conflicts.
Be passionate but also prudent at the same time.

You are feeling impatient.
Right now is not the ideal time to hurry; why don't you slow down and take a look back at your previous decisions.
Just enjoy the moment in whatever you do and not fill your mind with the thought about consequences.
This is the time to hold back.
In general, Knight of Wands is still a positive yes card for your yes no Tarot card readings.
Interpreting Knight of Wands in a General Reading
What to know about the Suit of Wands?
The Suit of Wands is believed to have close association with fire and energy. All the cards in this suit indicate the desire for power, spirituality, ambition, inspiration, and competition.
Find here the meaning for Three of Wands Tarot card!
Talking about Knight of Wands in an online or in-person reading, this is a dynamic card predicting that you're going to engage in an adventure or a project full of movement.
Also, like any Court cards in Tarot, the Knight here represents someone within your circle. Perhaps it's a person who is born under fire astrological signs (Aries, Leo, or Sagittarius) and has a big impact in your life. All 4 Knights could be people who are approximately between 18 – 30 years old; and they are male in most situations but can also be female.
Sometimes the Knight is the embodiment of your guardian angel.
As you already know, Knight of Wands is not always the people. Based on his personality, you're also reflected as a fierce, enthusiastic, and dynamic individual.
When Knight of Wands is reversed…
With this card turning upside down, all the traits the Knight here possesses will become negative. What does it mean? Well, for example, he is commented as a charming man; nevertheless, he may show a shallow, superficial act if having too much charm.
Once finding Knight of Wands in your Tarot reading with his face down, please scroll back to the top and read his keywords in reversed again. Then take a moment for self-reflection on how his personality traits get connected to you or to the person sharing a close bond with you.
Understanding this card on both emotional level and intellectual level can help you gain better sympathy for yourself and those staying in your inner circle as well.
This is just the general meaning; in case you want to gain more complicated, genuine details about Knight of Wands, then make an appointment for an in-depth Celtic Cross reading.
Summary
Many think that Knight of Wands yes or no is a positive card, but it can give you the 'maybe' answer in some certain cases. For those who are having passion for something, please be spontaneous instead of holding back. This Knight is daring, so don't hesitate to make a move for goals achievement.
This card could signify changes for you, like a sudden change in your environment.
It's also associated with career matters, finances, relationships, as well as any significant aspects of one's life. Don't need to worry when Knight of Wands show up as he would bring good advice to whatever circumstance you are stuck in.
Leave your comment below if having any question!