What does The Moon yes or no card symbolize in a reading?
The moon reflects your deepest emotions and weaknesses. So, when this card appears in your spread, it represents anxiety, confusion, and fear you are having at the moment. Perhaps it's a misunderstanding or a truth that you are still unable to accept.
Let me clarify this: The Moon in Tarot is not a symbol of sinister forces. Rather, it indicates worry and depression which are caused by your misunderstanding built up from all events in your life.
When seeing this card, tell yourself that you need to rely on your intuition to face your current anxieties and fears.
Learn more in the following!
The Moon Card General Meaning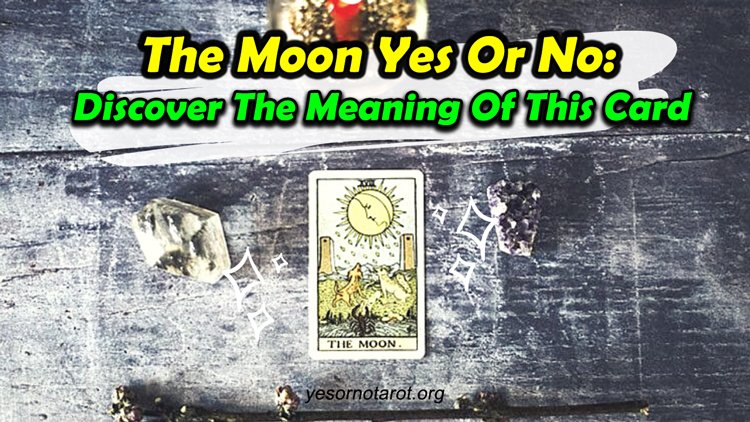 Firstly, please check out some keywords for this card:
Upright: risk, anxiety, confusion, fear, weakness, delusion
Reversed: conquering anxiety, finding truth, gaining clarity, overcoming fear
Have you always been running away from negativity in your life instead of facing it? Maybe now is the right time to confront all of your fears and banish them forever.
As I said, The Moon card is a card of emotion – its true meanings can signify the intuition, the subconscious, and the sensitive, emotional aspects of a person. Its appearance in your reading means you should put your suppressed emotions or illusions into consideration.
This is also the card of dreams.
When you draw The Moon from your Tarot deck, it may suggest you listening to your intuition. Don't be afraid of dealing with your inner fears, and you will surely find enlightenment in life.
Have a look into the Star meaning for better understanding about the combination of Moon and Star.
Now have a deeper look into the interpretation of The Moon Tarot card:
In the upright position
When The Moon is read upright, it means you have been influencing by your imagination and emotions. Put it simply, fears, anxieties, and weaknesses are taking control of your life.
This card shows up in your Tarot spread as a warning sign. If you keep ignoring all of your worries, you will drown in the sea once they are built up and exploded. If you want to release yourself from all the negative strings, then listen to your intuition and directly confront the truths you've avoided in the past.
The very first thing to do is to face the reality of your current situation.
Mentioned earlier, The Moon in the upright position also indicates your illusions. Maybe this card is hinting about some hidden truths that you have to discover to bring positive changes to your life. Don't quickly trust things when you just know the surface, the presence of The Moon warns you to be cautious and dig deeper before making any decision.
Open up your mind and let the moonlight shine through all aspects of your life.
In the reserved position
When The Moon is read reversed in a reading, it signifies the freedom that you can achieve from overcoming your fears. If you are struggling with stresses, misunderstandings, or depression, this is the perfect time to put an end to those issues.
The reversed moon ensures to bring you a brighter future and free you from what is binding you.
Don't hesitate anymore! This card is the best indicator telling you that now is the time to be brave and face all of your weaknesses. In the reversed position, the meaning of The Moon will shed light and clarity into the issue you're looking for assistance. It comes with the guidance leading you towards the right path.
Some self-help options to remove negative energy from your life are exercise and meditation.
The Moon Yes or No Meaning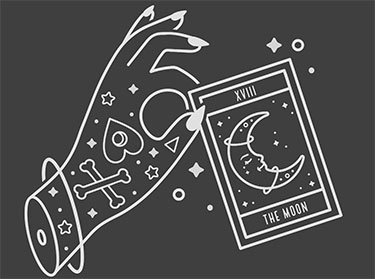 When you see The Moon in a yes or no Tarot reading, its answer for your question is 'NO'. As a card of mystery and illusion, many readers find reading The Moon is challenging because the interpretation can cause Querents confused.
This means there will be a lack of information when reading your situation; also, the circumstance in the future may be completely opposite to what you believe to be true. The Moon card represents a certain level of risk, secrets, and even deception related to your life on a daily basis.
No matter what you are pursuing in life, you should be careful and take everything with extremely caution.
In case you are feeling paranoid, anxious, and worried, the card will give you the response that the moon's water will heal all the wounds and bring peace into your mind. If you are taking on your path with a righteously bold manner, the presence of The Moon means you should soften a bit and tune into the mysteries of the unknown.
In general, you need to prepare for a different outcome from what you've expected.
Rather than allowing fears to control you, please listen to your intuition and clear away the gloomy clouds above your head.
The Bottom Line
You shouldn't be afraid if The Moon appears in your reading.
This is actually an emotional, beautifully feminine card. Just like the moon shines through the darkness, all of your fears and insecurities will be unveiled in the quiet of the night. The moon has many phases and each usually takes turn in every month – this is like your emotions which constantly change depending on different situations.
You've known about the messages of this card in a reading; thus, do not allow yourself to be swept away by the negative energy. Take a moment and listen to the inner voice from your mind. The confusing meaning from The Moon can help you realize ideas you may not yet be aware of.
I advise you to meditate at least once per day to stop yourself from being disturbed by anxiety, illusion, or any concept of negativity.
Couple your thoughts with practical action and somehow what you imagine in mind will bring success to your life. There may be conflicts on the way but if you face them on directly, the outcome will be good.
For more information about The Moon yes or no, leave your comment below.