Ever wondered what Knight of Cups yes or no represents?
The Knight in this card surely reminds you the term 'knight in shining armor'. He is riding on a white horse while there's a golden cup in his right hand and making his way towards his targeted place.
Some general traits of this Knight are brave, confident, and emotional. He might look strong but he indeed wears his heart on his sleeve. Knight of Cups is loyal and faithful in love relationships – he is the type giving his everything to the woman he loves.
Do you want to understand this card better?
Keep reading the following info!
Knight of Cups Yes No Meaning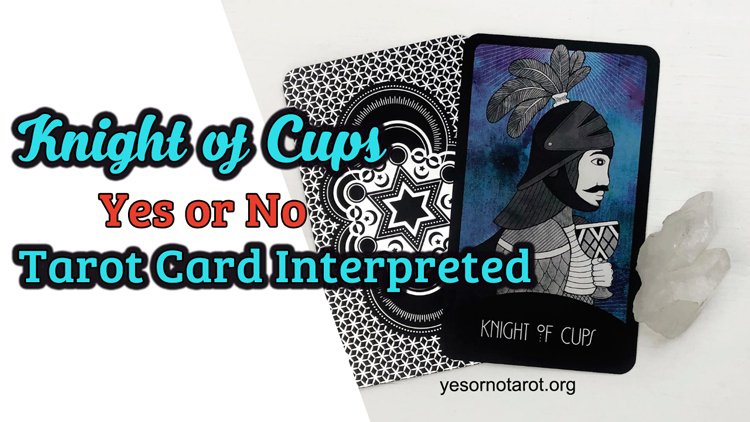 Let's have look at the most important keywords associated with this Cups card before digging into its upright and reversed meaning:
Upright: proposal, romance, following your heart, love offer, adventure
Reversed: unrequited love, heartbreak, deception, cheating
So, what does Knight of Cups mean yes or not?
If this Tarot card appears in your yes no readings, be assured because he symbolizes joy, happiness, loyalty, and fruitful relationships. His presence is a sign that you will receive many positive invitations and new opportunities in the future. As a romantic and compassionate dreamer among all Knights, Knight of Cups comes with exciting action in every situation.
Also he indicates self-acceptance and the capacity of searching for the right path in life. By delivering positive energy, you are likely to earn a yes for any of your questions with this card.
Find out King of Cups yes or no interpretation here!
Though the general answer for this card is a yes, you must consider different factors when doing a yes no reading. Depending on your circumstance as well as the card position, you will gain more in-depth insights.
When Knight of Cups is facing up…
Once shuffling the Tarot deck and you receive the upright Knight of Cups, it's surely a yes for the matter you are confusing. You may soon get an offer or proposal from someone within your circle or even from abroad. Don't be hesitant with your choice – this is also the right time to make decisions.
Rather than looking back at the past, think about starting a fresh journey. However, be practical; it's not good if you keep dreaming and build up the outcome idealistically in your mind. The best thing is to place your heart in whatever you plan to do and have a realistic perspective on your goals.
When Knight of Cups is facing down…
What if your Knight shows up in a reversed position?
Then the answer is no in that case. Something that you are waiting for like the proposal may not be fulfilled at this moment. For individuals dreaming about thrilling, adventurous journeys, well you should postpone the plan now.
You may also feel depressed or discourage when most of your ideas are on hold in the current time. Listen to the guidance and please don't romanticize the whole situation as this card is also a reminder that you should improve your self-acceptance.
Knight of Cups in General Tarot Readings
Like Knight of Wands or other Knights in the Minor Arcana, Knight of Cups represents a young man (the age of 20~30). He showing up in your Tarot spread means you will encounter an important someone in your life.
He won't be younger than 18 and his zodiac sign could be Cancer, Pisces, or Scorpio because the Cups suit is ruled by the water element. Therefore, that person seems to be emotional, sensitive, and gentle. Be observing and see if anyone around gives you such a soft and tender treatment.
The person in your Tarot reading could be your partner or your love interest. He is the one you are longing to come and rescue you from the current situation. If some cases, Knight of Cups implies a proposal in any field that is coming your way.
This card deals with love relationships primarily.
In a love reading, this Knight represents a charming and romantic guy who's got an idealistic touch in him. If your question is about your future partner, then the card here reveals he is an intuitive person with an open heart. He is emotionally soft and usually wears his feelings on his sleeves.
Well, it also probably signifies the energy within that you are embodying at the certain moment. Moreover, prepare yourself for a new journey or adventure because Knight of Cups brings exciting trips to your future.
The reversed Knight of Cups…
How bad your circumstance is if Knight of Cups is upside down?
This card in the reversed means things are not going well with your relationships. If it appears in a Tarot spread, then you may be dealing with unrequited love, breakup, or even cheating.
Nothing much you can do to change the situation. For anyone who is currently at the end of a relationship, the best resolving way is to move on. Rather than holding on that person, focus on more on yourself and the right person will show up next to you at the right time.
This can also indicate your state of mind. Put it simply; don't get yourself lost in the fantasy land. Stay grounded and prepare a more realistic view for whatever you are planning to do for the ultimate success.
Final Words
Overall, Knight of Cups yes or no is all about either you or someone significant in your life. Perhaps it's a romantic, idealistic and charming man who shows up as your partner, your rescuer, or as a person giving you advice.
The Knight can be a sign that a proposal is awaiting you ahead. Sometimes, he may represent yourself who is open hearted and gets connected deeply to your own emotions. You are gifted with the sensitivity and intuition helping you approach life easily.
This card also means traveling.
That's all for the Knight of Cups card general meaning!
Let us know your opinions about this card in the comment below.