What to know about King of Cups yes or not?
This is the card symbolized wisdom, maturity, and creative thinking in a Tarot deck. At the first glance, it gives off a strong masculine energy. However, the meaning behind the King also deals with emotions.
If you got this card for your Tarot spread, keep in mind that it has to deal with kindness and compassion at this moment. Along with Queen of Cups, King of Cups is a strong and powerful figure, but most of the time he is really considerate of his own feelings and others' as well.
Continue reading to discover more in-depth info!
Brief Look at King of Cups Yes No Meaning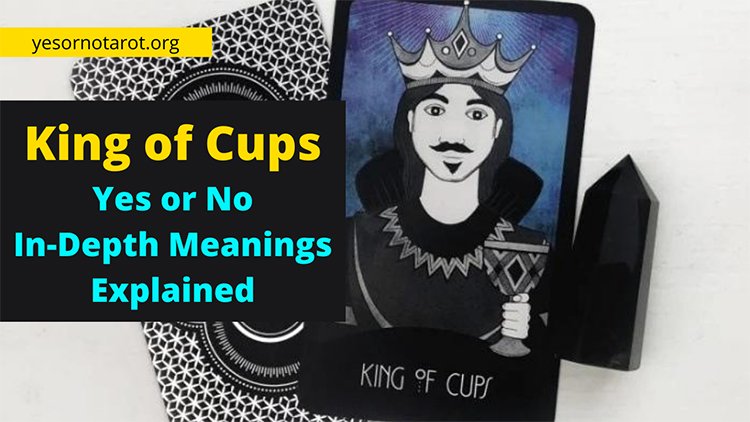 Is there any keyword associated with King of Cups?
Definitely yes, let's have a look at the following important words for this card:
Upright: creativity, emotions, masculine energy, wisdom, compassion, reliability
Reversed: unproductiveness, emotional turbulence, unreliability, intolerance
So, is this card a yes or no card? What is the meaning of King of Cups in a yes no Tarot reading? For your questions, the answer is yes, this is a card that can give you either a yes or a no depending on your situation.
Similar to Ace of Cups, this King is all about confident and secure. In most cases, his wise decisions are based on his head and intellect, not his feelings. Despite of that, he also wears his heart on his sleeves. King of Cups treats everyone he encounters with friendly, generous, and caring behaviors.
His appearance in a reading displays a gentle, warm, and compassionate voice of reason. Powerful and authoritative, this man is gifted with strong intuition and a great amount of spiritual knowledge.
If you find his presence in your Tarot spread, it means you will be capable of giving good advice and making right decisions as long as you focus on your experiences.
Though many find this card is neutral in nature, the answer delivered for your yes no questions is still positive and favorable. Thus, I believe you can consider King of Cups as a yes card in general.
When King of Cups is facing up…
If King of Cups shows up in the upfront position, then it's a sign that you should put a hold to your emotions. Right now it needs to stay under control rather than being displayed on the surface. Move forward and approach your future goals in a purposeful yet compassionate way.
At the same time, don't ignore people appearing on your way. Treat everyone around you empathetically. You may have a meeting with someone who is creative, sensitive and kind, and most of all able to offer great advice and help you make precise decisions.
In some cases, it indicates the masculine energy that you could tap into.
Also find the meaning of Knight of Cups yes or no here!
When King of Cups is facing down…
What if King of Cups turns upside down?
In this situation, it seems that a male figure in your circle keeps disturbing your actions or whatever you are doing. You may not realize that but he is holding you back in some subtle ways. Be cautious with your decision because it would affect your relationship with that person adversely or positively.
Different from the upfront King, the reversed King will be an obstacle if you want to keep your emotions under control. Moreover, everything surrounding you and your environment may bring turbulence to your mind.
King of Cups In-Depth Meaning in a Reading
General meaning:
Many think King of Cups is as harsh as the Emperor, but actually this card in the Minor Arcana is not rigid at all. He represents the powerful masculine energy and a familiar father-like figure in the life of each person. Not only the father, but the King can also be the boss, the male partner in relationships or male members of the family, and the man with high authority.
Aside from the male figure, this King of Cups card also discusses the energy or emotions standing for yourself. They could be qualities, moods and thoughts that you are holding at the moment.
You can feel the authority when looking at this card; also, he radiates the calm and reliable aura. He appearing in your spread means you will get help from a man who seems unconcerned and distant at first. With his pure motivation, he will assist you in fulfilling your goals and desires. Be attentive when he gives you advice because they are useful and significant for the process later.
In case this card signifies you yourself, well personally it gives you insight into your inner strength and balanced control of emotions.
Of all suits, the suit of Cups is more emotional and tender; that explains why King of Cups is softer and more gentle than other Kings. He is more considerate of his feelings and intuition which hardly finds in King of Wands or King of Pentacles. This man is creative yet nurturing.
Reversed meaning:
How can the reversed King of Cups be a good omen?
Once you see this card in the upside down position, it's a reminder that you are overreacting and behaving sensitively. Your emotions are making you overwhelmed, so it's better to meditate and calm yourself.
Perhaps you are gullible or easy to trust people, his presence could be a sign someone is taking advantage of you. The best thing to do at the moment is to take time reflecting your own emotions and be responsible for it.
The King in this position can be a sign your emotional state is unbalanced. If your emotional wellbeing is in need of healing, try to reach out for support from family and close friends.
In Conclusion
That's all for the King of Cups meaning!
When this card is in your reading, the typical indicator is about the appearance of a man with either one of water signs in your life. That person could be your partner, your soulmate, your father, your boss, or any male figure in your circle.
But the King can imply you as well as your emotions.
For more details about King of Cups yes or no, leave your comment below.