What does it mean when Queen of Cups yes or no appears in your reading?
This card represents a woman with high loyalty and strong intuition. She always expresses her sympathy towards things and people she loves. If there's the Queen of Cups in a reading, this indicates you or an important woman in your life (your mom or female siblings).
With the element of water, the Queen of Cups card is all about emotions and feelings; aside, it also symbolizes the focus and calmness inwardly.
When this Queen shows up in your reading, it's a sign that you need to ask others for help in order to solve your issues. But before that, you should take a moment to listen and feel your inner voice.
Learn more about Queen of Cups in the following!
Overview of Queen of Cups Yes or No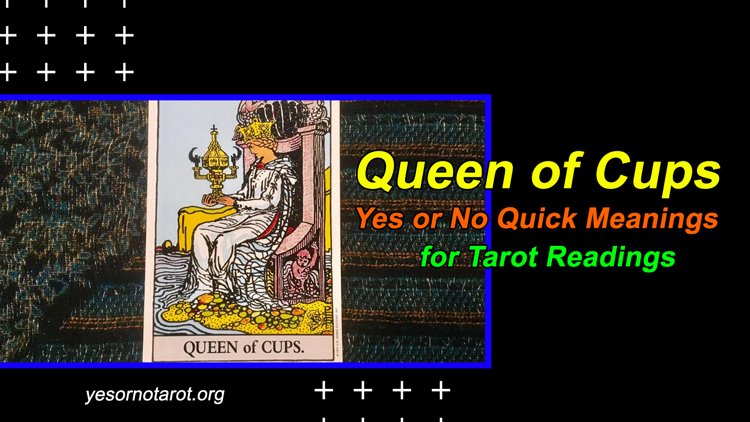 Check out some keywords of this card before digging more into the meaning:
Upright: sensitivity, loving, kindness, warmth, femininity
Reserved: needy, weak, insecurity, unfaithful, shallow
When it comes to Queen of Cups, she is infamous for her sensitivity and affectionate nature. She is the emotionally open balance to the King of Cups. Feminine, kind and loving, she has the capacity of connecting people on the emotional level.
Her presence in a yes no Tarot spread or reading literally represents a woman in your life. This person will have great influence to you and your decisions in the future. Supportive and reliable, she plays a significant role in helping you realize your true intentions and reach your full potential.
Though she may seem emotional and sensitive, she is pretty strong and not hesitant to encourage or even push you moving towards. She may bring many good things to you, so don't neglect her role in your life.
The goal of this card is to assist you ultimately.
For the second meaning of Queen of Cups, its interpretation serves as a warning. If you are a woman, then the person supposed to appear in your life may be your own self. Be mindful when treating people around you. Sometimes you mean no harm and you just say what is in your mind; however, your words and ways you express could hurt others.
In order to prevent that from happening, you should be careful and pay attention to whatever you do or say.
Learn about King of Pentacles with just a click (if interested).
When the Queen of Cups is reversed:
Unexpectedly, this Queen is more passive despite of her open nature.
If you are a man and this card shows up in your spread, then the presence of a mysterious woman in your life is a reminder helping you know how to stay in touch with different emotional aspects of your personalities. Keep an open mind to the guidance from Queen of Cups to tune into the power of your inner feelings.
Another negative trait of this yes no Tarot card is the Queen herself can overlook things willingly. Even if you do wrong things, she will ignore that and protect you at all cost because she just can't see you being hurt. Be careful of your attitude towards her or she might get hurt easily.
She will be upset if you are not as loyal and warm as she is.
In some cases, it can indicate that you ignore people around you and just focus on your own desires and needs.
A 3-card reading with Queen of Cups:
How are your feelings?
What reasons leading to your current emotions?
What can help you more joyful and happier again?
The Queen of Cups card will help you answer these questions. When listening to the interpretation of your yes no Tarot reading, try to tune in to your inner feelings and emotions firstly.
Accept and respect your true feelings throughout the whole process.
The past
Learn to balance all different facets of your personality and you will master self-awareness. Maybe you've not achieve the success for your desire at this moment, but it will soon come true if you keep focusing on your inner knowledge.
The present
With the appearance of the influential woman in your life, you will recognize your true capacity and possibilities. Sometimes she either inspires you or challenges you, but at the end her goal is to lead you to a brighter future path.
Don't ignore this woman because you'll gain great insights thanks to her.
The future
You shouldn't be embarrassed when seeking assistance from others. Instead, this card encourages you to ask for advice from people around you, especially your family and loved ones. It's time to search for feminine wisdom in your surroundings.
You may gain a lot of professional success, but the core to your blissful journey depends on your emotional considerations.
Queen of Cup in a Yes No Reading
This card describes a royal woman full of love, compassion, and concern for others, especially her loved ones. Overall, Queen of Cups is a card with positive meanings and symbolizes commitment and encouragement.
It indicates a sensitive, virtuous and quiet lady who always searches for a transformation from within. The appearance of this card means you will soon encounter a sympathetic listener or a sweet, caring counselor.
In short, the answer to your yes no question with this card is YES, especially if it's about love & relationship matters. Nevertheless, in some special cases, the presence of the Queen is neither positive nor negative. She may bring an unclear answer to the circumstance you are stuck in.
In Conclusion
That's all for Queen of Cups yes or no interpretation.
No need to worry about her presence in your reading because this is a positive card. Once she appears in the spread, open your mind and accept her feminine, caring, and loving energy. The goal of this card is of course to help you emotionally.
Don't mind asking assistance from others, but also listen to your inner voice just like the Queen always connects to her deepest emotions. Hope the Tarot meaning here makes sense to you.
Leave your comment below if having any question to the topic!