Put it simply, 5 of Wands Yes or No is a card representing the conflict, controversy or fight between individuals to achieve something.
This card predicts that you are about to engage in a competition or compete against someone in the near future. Sometimes, it can be friendly competitions helping you to improve yourself and move forward. But, on the other hand, they may come with more conflicts.
Interpreting the 3 of Wands card!
To learn more about the 5 of Wands, read the article related to this card below.
What Does "5 of Wands" Yes or No Mean?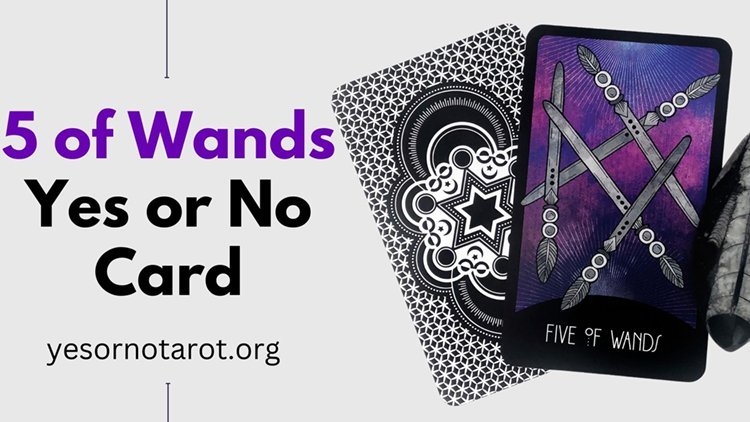 For the brief meaning, Five of Wands is the warning telling that a competition is approaching. Although it may not fierce at first, it will soon create issues. Some will become envious with what you've got and intend to bring down your reputation. Instead of wasting time to observe what others do and then feel threatened, simply try to do your best in everything.
If you know how to make use of your envy and ambition wisely and precisely, you will soon obtain what you want.
See also: The Sun Yes or No meanings
Keywords of Five of Wands:
Upright: Competition, disagreements, rivalry, challenge
Reversed: Compromise, teamwork, harmony, solutions
Wondering how 5 of Wands will be interpreted in a 'yes or no' reading? Will it provide you a positive answer or not to your question?
When you got the upright card in a yes or no spread, usually the answer will be a 'no.' As you can see from its keywords, 5 of Wands indicate hindrances that are out of your control. Well, it doesn't mean that what you are wishing for or wanting will never happen; in fact, it will but not at this moment.
For now, you need to face the chaos and conflict surrounding the situation first. So, the presence of this card in your reading means that it's unlikely for you to move forward in a positive way.
True Meanings of The "5 of Wands" Card
Five of Wands shows us the image of five boys holding sticks. From the card image, it's easy to see an internal conflict is occurring. This competition is both good and bad according to the circumstances. Like I said earlier, it can just be a peaceful argument between them.
However, once any of them can't control their emotions, it will cause conflict.
I. The upright position
The upright Five of Wands card indicates that all the boys are having a conversation, but none of them really wants to listen to the others' problems. They all have things to share which can only be solved by taking turns speaking.
Five of Wands suggests that you will have to compete in a brand-new field that you've never encountered before. Get ready to face challenges and confront capable people, and also the feelings of envy and aggression. The card advises you to accept the challenge with optimism and positive thoughts.
This is also the period when you will get a chance to confront with really interesting objectives as well as to show your abilities.
Play with a good spirit and be nice!
Love
Five of Wands Yes or No in love means you are insecure with your current relationship. Perhaps there may be some problems bothering you in the future. You have to fight for your current feelings. Please note that this tarot card won't guarantee that your effort will pay off.
It advises you not to be in a hurry; instead, take it slow in correcting the relationship. You and your partner should sit down and have more conversations with each other. Having too many differences in love often doesn't bring anything good.
There could be some small problems with the ex as well.
Read more: Interpreting the Nine of Wands card
Career
Some internal conflicts will arise in the near future. Teamwork sessions will bring no results due to disagreements. The card suggests that you should wisely balance between expressing yourself and listening to others' opinions. Otherwise, your impulsiveness can cause strain and damage to the relationships with your co-workers.
In case you are still looking for a job, this is a quite competitive period. The company that you apply for may also be the target of many other candidates. The 5 of Wands card wants you to determine your own goals and abilities, and then slowly carry them out.
Avoid haste or you will ruin the plan!
Money
Your subjectivity and carelessness can cause a financial crisis to your life.
Maybe now you are having problems related to spending and investing money. The presence of Five of Wands warns you about the lack of awareness making you fall into debt or budget deficit.
Some of your relationships in the past will involve money; therefore, the advice now is to avoid spending too much or borrowing money. It's better to learn about using your finances moderately and scientifically.
II. The reversed position
The Five of Wands in a reversed position refers to the negative aspects of the competition. If you get too immersed in it and lose control to yourself, jealousy and malevolence will sneak in the scene. In order to win, you will be unhesitant to step on the opponent.
This card shows that you are quite pessimistic and lack confidence in yourself. Its advice is to balance yourself, and all of your efforts will be rewarded. Envying and thirsting for victory are not a bad thing, but if it grows big, you will lose control and get stuck in conflicts.
In Conclusion
That's all for the meanings of 5 of Wands Yes or No!
Overall, you may need to compete against someone or take risk to get what you want. It's not good if you are passive at this point. Show your decisive efforts, and success will be on your side.
There may be some conflicts as you refuse to put on others' shoes. Perhaps you have too much to do and spend your energies on many things at once. You need to prioritize it to avoid undue stress to gain the most from a reading.