If Queen of Pentacles yes or no Tarot randomly shows up in your reading, you'll get yes for your question.
This Tarot card brings extremely good news in all aspects of your life. It lets you know what situation has the potential of going your way without putting too much thought into it – just trust your gut and know exactly what you want.
So, what Queen of Pentacles means yes or no?
Like all the court cards, the Queen of Pentacles often stands in for an actual person in your life. In that regard, she would reflect a woman likely with dark hair and dark eyes, who is financially adroit, and possesses a very pragmatic, practical nature.
However, this card can also represent energetic influences in one's life. Its energy is normally quite archetypically feminine; hearth, home, motherhood. Similar to the King of Pentacles and Page of Pentacles, the Queen will come to your aid in some financial matter, most likely advice on how to better manage your money.
Glimpse at Queen of Pentacles Tarot Card
Keywords: A need to take care and nurture yourself; an increase in awareness; a need to reconnect with nature; learning to love yourself; counting your blessings; grounding yourself; meditating and journeying; self-acceptance; inner replenishment.
In the Yes or No Tarot horoscope, the image of Queen of Pentacles depicts a woman (with black hair and eyes) who comfortably sits upon a throne decorated with fruits, goats, angels, and other symbols of material success and sensual pleasure – all represent abundance in their varying forms. The tree above and the ground beneath her are rich with flowers, and the Queen is quietly holding in her hand a single golden pentacle showing her material richness. There is a rabbit of fertility sitting at her side nearby; and you can also find a cupid representing love in its most enriched period of life.
Well, the Queen of Pentacles card meaning describes everything fertile, abundant, green and wise. This card is representative of mother and of the provider.
Whenever you are going through a circumstance in which your finances are not what they should be, you should call upon the energies of Queen of Pentacles to assist you.
Find also the meaning of Ace of Pentacles yes or no!
Have a look at the Queen of Pentacles as a daily Tarot card:
Past – You will be granted the opportunity to create a secure environment by the talents you have been developing.
Present – A feminine influence in your life will give you practical advice that helps you create abundant prosperity.
Future – Taking advantage of your talents effectively will lead you to financial success.
If the Queen appears in your reading, you will experience a level of abundant support like no other time in your life. You will be able to spend time, money, and energy on your home, getting it to be more comfortable.
This is a good thing, provided you don't take on too much debt. Additionally, all of the hard work you have invested now is paying off, and you will get what you deserve.
The more work you put in, the more likely you are to get something worth in return.
In general, the Queen of Pentacles yes or no is a practical, organized, and reliable multi-task person. She brings with her abundance and wealth in your life, yet also requires an ability to love yourself and to be unafraid of the change that could lie ahead on the journey to achieve your goals.
Get a FREE Tarot Cards Reading Online Instantly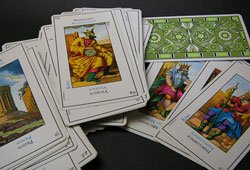 Are you looking for a free Tarot cards Reading?
What do you expect after receiving that spiritual divination session?
Thanks to the Tarot reader's interpretation and advice plus the cards' meaning, you'll be guided through your troubled emotions and clouded thoughts. A reflection of your past, present and future will be offered to help you find clarity in mind, feel more relaxed, as well as make decisions & choices much easier.
No need to pay for regular readings, the seekers can go online and access Oranum – a trustworthy psychic site – to ask the consultant for a little guidance and information about their future.
No one knows exactly about the complete history of Tarot since it still remains a mystery, there's not enough documentation.
Based on research, speculation, common sense, and creativity, the cards have the origin in Greece, long before they were found in Italy. The imagery and mentality hidden in the cards seem to be consistent with the advanced thought existed in ancient Greece. That's why the notion that Tarot deck was invented during the Renaissance has pleased people most.
Why do you need Tarot Readings?
Each person usually faces with the most distressing times in life.
Whenever you feel confused or unsure about something, it's true that you want get some guidance that can assist you in making decisions rightly. Consulting the cards is the best way to get in touch with your intuition – the most reliable, well-trusted guide when it comes to making difficult choices.
You can solve any problem with the Tarot cards, i.e. relationship, career, finances, marriage, and more aspects. Hopefully, this spiritual method can bring you pleasure, insights, and peace for the future.
There are lots of trustful websites offer free readings with Tarot cards online. If you have any issue, don't hesitate to take a look at this service. The readers will provide private space for you to express your situation.
Tarot reading for simple Yes or No answers
It is utilized commonly by the majority of Tarot readers and is called 'the Use of Aces' method – using the 4 Aces in Tarot to determine a likely Yes/No. Shuffle all the 78 cards and divide the deck in two piles (39 cards in each pile). Turn one pile upside down so that all the cards in a half deck will become reversals.
Shuffle the deck together until 2 piles are mixed well.
Divide the deck in two with your non-dominant hand and put the bottom pile on top of the top pile. Turn each card over until one of the Aces shows up:
If the Ace card is upside down, the answer is a 'no'. In case the other three Aces in deck are upright, you will soon get another opportunity.
If the Ace card is right side up, you'll get a likely 'yes'. Look at the other three Aces in deck – positive signs for all the upright cards while you should be aware if they are reversed.
The methods above are very simple to use in Yes or No Tarot card reading yet there's still another way that can help you get instant, accurate Yes/No answers.
The Simplest Method to Predict Yes or No Tarot
Working with Tarot, the readers have found out several ways of determining a Yes/No answer to a question.
Which is the simplest method to predict Yes or No Tarot?
The cards will help predicting the most likely Yes/No answer; for example, if your selected card presents 70% YES and 30% NO, the Tarot interpreter will say 'yes'.
When having a Yes or No reading, remember to phrase simple Yes/No questions. Complicated query can only make you confused and give you irrelevant answers.
There are five major methods that can be utilized to forecast Yes or No Tarot. The first way we want to inform you is 'the use of the Wheel of Fortune card' method – you're asked to choose the Wheel of Fortune card and 9 more random cards, shuffle them, and then, lay out the cards so that the cards fall in each position; the position where the Wheel of Fortune falls will gives you the answer.
Other methods to determine Yes or No in Tarot are:
Reverse half the deck and shuffle the reversed cards into the deck.
Think of your questions, cut the deck as you normally do, and lay out the cards one by one. If the Wheel of Fortune card shows up upright, you'll get a 'yes'; however, if it is in reversed position, you'll get a 'no'.
Make use of the Sun for positive answers and the Tower for negative ones.
Shuffle and cut the deck as usual; the card that shows up first when you turn them over (one by one) is your answer. This method can be used to predict time events, also.
Shuffle and cut the deck
If the Wheel of Fortune shows up before the Death card, it is a 'yes', or vice versa. In this method, the Wheel of Fortune indicates a 'yes' whether it is good or bad, and the Death is a 'no' whether it is good or bad.
So, you already understood the meaning of Queen of Pentacles yes or no Tarot?
Leave a comment if you want to achieve the best Tarot reading.