What is the meaning of Two of Wands yes or no?
If the first card (the Ace) of this suit represents a new beginning, then Two of Wands will tell you what happens with the upcoming adventure. In other situations, this card is a symbol of personal freedom and choice. If it shows up in your reading, it means the future is waiting you with two paths and you have to select one.
Do you feel tired with your current life?
Are you ready to change to a new path?
Which route will be the best for you?
Will the road you choose be better or worse than the previous one?
I know there are many questions in your mind; but no need to worry, Two of Wands yes or no with precise guidance will help you make even tough decisions easily.
Two of Wands Yes or No Meanings
Before digger deeper into the upright and reversed meaning of this Minor Arcana card, you need to check some essential words associated with it.
Upright: achievement, options, decisions, passion, exploration, personal power, partnership, travel, partnerships, gain
Reversed: anxiety, less choices, sudden change, restlessness, travel plans get cancelled, fear of the unknown
In a yes or no tarot reading, Two of Wands gives you a 'maybe' answer, not a 'no' like some usually think. As I just mentioned, one of the keywords of this card is chances or options. If you have it in your spread, then it means the Two of Wands tells you to take a chance. However, determining the outcome in the reality is not as simple as saying.
Read more: Justice Yes No meaning
This also does not mean you should hold back.
Also learn Three of Wands yes no meaning for deeper info!
The guidance from this card for you is that you better consider all possible options and go with the choice your intuition feels most trust about. As soon as you get connected to your true self, you will know what the next step to do is.
Now, let's talk about two possibilities of Two of Wands in one card yes no reading:
1. The card is upwards
If you got this card for the decision making and it appears in the upright position, the answer is yes. You are confused between two options and don't know which one would be a greater choice. My advice is to trust your gut instincts. Go with the one that helps you grow as well as gives you freedom and opportunity even if you need to take risk.
You are always living in your comfort zone and it seems like you're getting bored. So why don't you step outside and make adventurous journeys to expand your horizons. Grab this opportunity to follow your passions; doing what inspires you will lead you to success.
2. The card is upside down
What if the card faces downwards the moment you draw it from the deck?
In that case, the answer is clearly no. You shouldn't impulsively make any decision at this point. Right now may not be the time to bring changes to your life or to travel. The choice will be made for you when the right time comes.
Overall, the Two of Wands card reveals that you're in control and the amount of experience you achieve in life on one hand. But, on the other hand, it gives you a great anxiety as well as the possibility of you losing the control you're having. According to professional tarot reader, this card can't offer an absolutely clear answer.
So, maybe is what it implies.
See also: The Hanged Man yes or no meanings
General Meaning of Two of Wands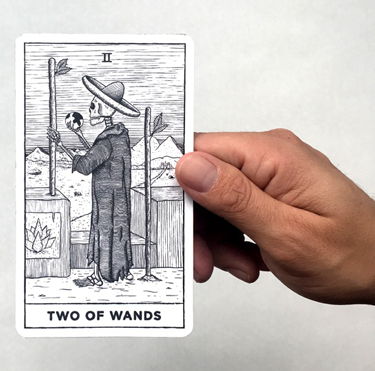 Two of Wands Upright
If the Two is present in your reading in the upright position, in any of four suits, then remind yourself that it's the right time for you to make a choice or a decision for your current situation.
Take this occasion to consider all options of yours and come with the one you feel most appropriate to yourself.
You may wonder which area of life this card talks about. Well, when it's about interpreting the suit of Wands, you can ask questions regarding finding back the source of your passion, problems confusing you, or things drive you. Usually those are what you deal with in professional aspects like your work. Nevertheless, it doesn't mean they don't happen to other areas.
What does the Nine of Wands yes or no card hold for you?
The meaning and guidance from Two of Wands will help you realize what you truly need based on things making you feel that they are driving you. As a result, you will invest your energy to the right place. Your world sometimes has grown small and you need to travel from here to there to widen it.
That's when one card tarot reading shows up and sheds light on your future path.
This card is a reminder telling you are fed up with the current status quo and should consider traveling in any form. It can be relocating, changing your job, or exploring. Life always needs changes, as a matter of fact.
Two of Wands Reversed
Once you reverse Two of Wands, then its meaning is also upside down.
Keep in mind that you're unable to make a decision the way we want to for the future plans at this moment. Or whatever changes you need to do, it's not good to carry out right now.
But, the reversed position of this card is not really bad. Sometimes changes happen quickly and it brings many different feelings to you all at once. Take this time to deliberate everything before leaping into decisions.
Summary
Though Two of Wands yes or no gives you the 'maybe' answer, it's generally a good card in the reading. You are facing the boredom and confusion that come from making choices. Fortunately, the presence of this card will stop you from remaining stuck and help you decide the best for yourself.
Traveling is the key of the card, so take this occasion to explore your purpose and passion.