What does Nine of Wands yes or no mean in a Tarot reading?
If this card appears in your spread, it represents struggles you have to face ahead and also your capacity to overcome them. Nine of Wands is like a warning sign telling you it's the right time to find the courage and defend yourself.
Your life may be peaceful at this moment, but later you may get involved in problems that could affect both your physical and mental health. Don't think about giving up because it's not what Nine of Wands indicates.
It is a reminder that you can get through difficult time if having determination.
Keep reading to learn more about this Minor Arcana card!
Nine of Wands Yes or No In-Depth Meaning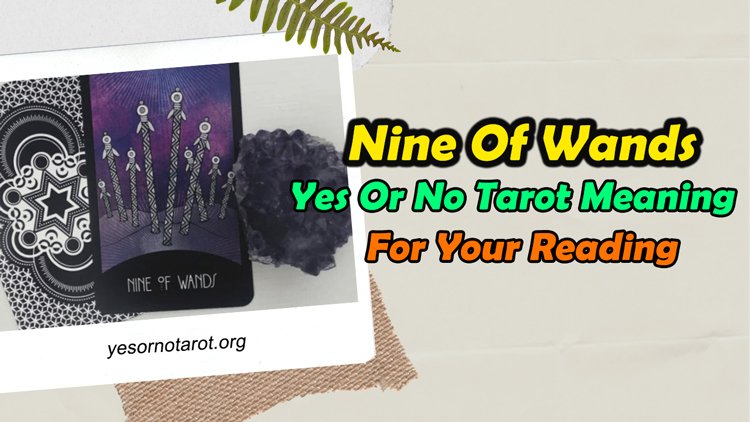 Before diving into the interpretation of Nine of Wands, let's have a look at some keywords of it:
Upright: Courage, perseverance, determination, defense, stamina
Reversed: Suspicious nature, stubbornness, distrust, no compromise
Don't worry when Nine of Wands appears in your reading. Take a deep breath and calm down. It's not that bad if you draw this card because you will know exactly which problems are wandering inside your head.
Once you have the answer to what you are afraid of, the card simultaneously comes with guidance to help you approach each separately. You also can find out the main reason causing your anxiety. In general, this Tarot card will force you to bring out your inner strength to finish things.
I know sometimes everything doesn't happen like the way you expect and that may be difficult to deal with, no matter how positive you are.
Too many ups and downs on a daily basis can throw us off balance, especially when we have to handle heartbreak, confusion, and chaos at the same time. But at the end of a day, we all have free will to make our own choice. Rather than putting too much stress on yourself, you should relax and reach out for others' advice if you need help.
See also Two of Wands yes or no meaning (if interested)!
1. Nine of Wands with Yes or No Answer
If you get this card in a yes no Tarot reading, then the quick answer to your pressing question is a toss-up between 'no' and 'maybe'. In case you look for the assurance from Tarot about a decision you firmly believe in, then the interpretation of Nine of Wands means that perhaps you should stick to what you've decided.
For individuals expecting to move forwards with new plans in different aspects (love, career, and more), the appearance of this Minor Arcana card implies that you should patiently wait a bit more for the right time to come. An impulsive decision may give you more worry, discontent, and exhaustion.
2. Nine of Wands Meaning in One Card Spread
What does this neutral card indicate in a one-card Tarot reading?
The past
All the struggles and difficulties you had experienced in the past have made you become a stable person today. You have the capacity in reading and evaluating the reaction of people in your surroundings – this somehow smoothes your progress; however, don't expect sustainable ease in everything.
The present
If the Nine of Wands card is in the present position, it means you'll soon receive some encouragement from people extremely close to you. They could be your best friends, your family or your loved one. Their supportive messages will give you strength and help you accomplish your challenging goals.
The future
You will have to face some inevitable conflicts in the future. No need to be afraid; in fact, you can overcome them all with your determination. The presence of this card means that you must trust your inner strength in order to earn ultimate success.
In addition, keep pride in your values; it's not worth sacrificing them just because of some short-term achievements.
3. Nine of Wands Reversed Meaning
People usually say the meaning of a Tarot card is negative when it is read upside down; is this true? What does the reversed Nine of Wands represent?
The situation that this reversed card offers is quite different than the interpretation for the upright position. If the upright meaning is about challenges caused by others in which you shouldn't give up, the reversed meaning for Nine of Wands symbolizes the issue that no one but you are the creator.
In this case, compromise is necessary.
Also find out the meaning of Three of Wands for better understanding!
We are human, and this kind of creature tends to ignore responsibility and blame others if things don't turn out the way they want. We are born with pride; that's why we usually believe what we do is right. Nonetheless, nobody is perfect and sometimes we have to make mistakes for personal growth and development.
It's true that you need to stand up for what you think is right, but you shouldn't be much stubborn or prideful. Otherwise, just resentment and frustration are left. Learn to compromise whenever you have to deal with tough situations.
Also learn about Queen of Wands yes or no with a click!
In Conclusion
Nine of Wands is a bittersweet presence in your reading – not only giving you a glimpse into upcoming struggles, but this card also sheds light on how to overcome them. You probably have not sensed anything at this moment; however, it doesn't mean there's no thorn on your life path.
As mentioned earlier, the appearance of this Minor Arcana card means it's time to bring out your inner strength to handle the current situation. Don't give up or push up too much, keep a slow pace and only progress your ventures when the right time comes.
That's all for the Nine of Wands yes or no general meaning!
Still want more details? I highly recommend you to get a private Tarot reading online with this card specifically to gain more insights into different circumstances and aspects in life.
Hope our meaning here make sense to the matter you are coping with!
Leave your comments below if having any question regarding this topic!