What does Page of Wands yes or no mean?
Carrying positive meanings such as enthusiasm and new beginnings, this Tarot card is very welcomed in most readings. It represents a sense of adventure, happiness and fun in one's life.
All Pages are considered as messengers in a Tarot deck, and you'll be likely to receive good news and advice with Page of Wands.
Like any court card, this one symbolizes you or a special person in your life – someone whose mind is always on the go and comes up with different projects. They are so interested in engaging in the first stages of anything because that's when it new and fresh.
Keep reading for more information about this card!
General Meanings of Page of Wands Yes or No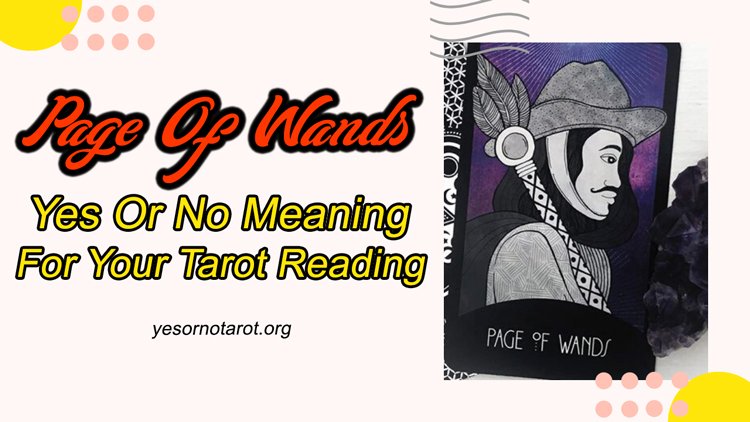 What are most significant words connected to this Minor Arcana card?
Keywords: beginnings, adventure, activity, energy, ambition, youth, inspiration and passion, immaturity, qualifications
The Page of Wands card in a Tarot reading discusses one of two things: either it implies you and your energy at the current moment, or it represents a person that could influence you and change your life.
In case it talks about someone, then you can need to check their astrology sign to narrow down the result. If they are one of fiery signs (Aries, Leo, or Sagittarius), then they are the Wands person. All cards of Pages usually point to young people or children – someone who is immature and a bit naive. Therefore, Page of Wands could indicate your child, a child in your family, or probably a youthful, childish individual in your surroundings.
If Page of Wands signifies you, it means you are dynamic, energetic, and young in nature. However, it also means you have tendency to make impulsive decisions. This card showing up in your reading is a sign telling you to look for guidance.
Last but also essential, the Page of Wands card is also a sign of new beginnings.
See also the meaning for Two of Wands with just a click!
Page of Wands Yes or No meaning
When it comes to Tarot reading yes or no, it's the easiest to practice in both online chat and face to face sessions. Let's discover the yes/no meaning of Page of Wands in your one-card Tarot reading:
Upright
If you receive this card facing up, the answer for your question is yes. It's time to start a new beginning and embrace all opportunities. Page of Wands is the card of ambition, so you should follow your heart's desire and passion. Don't be afraid of unleashing your creativity also for big achievements.
Sometimes you can be naive, pretty immature in making choices, or overly enthusiastic. Make sure you approach a matter with caution; according to the interpretation of the Page of Wands card, you'll get help from a young person soon.
Reversed
What if this card is drawn upside down in a reading?
The answer for this situation is no! When Page of Wands is reversed, it means you shouldn't come up with any new plan or project at the moment because the right time hasn't come yet. Keep doing what you are doing; otherwise, you'll run out of energy before accomplishing all the fresh tasks ahead.
Rather than to planning different activities in your head, you should give yourself a little more time for relaxation.
Page of Wands in a one-card spread reading
A reading for your past, present and future is a great start for Tarot beginners. Even an experienced reader often performs this kind of spread because it offers a general outlook in different aspects of an individual.
For a quick answer about the interpretation of the Page of Wands card in the one-card Tarot reading, please take a look at the following:
1. In the past
There may have been somewhat like a new beginning for you. Some prospects of your recent work have inspired you to begin more creative projects for financial gains. You believe your upcoming journey will be full of ideas.
You might be a little bit naive in the past. Observe people around you as an influential child belonging to the fire zodiac signs will appear in your life soon.
2. In the present
If you receive this card for the present position, get ready for good news which could double the joy of your life.
Page of Wands signifies what is happening right now. This may be a sign you will engage in a new adventure, whether it is your personal life or professional life. Take any chance provided and discover the world to the fullest. You may feel inspired and passionate in whatever you are doing, but it's necessary to look for a mentor to prevent yourself from being carried away by your extreme enthusiasm.
It seems like you have to deal with a childlike person who is impulsive and immature at the certain period of time.
3. In the future
The appearance of this card in your reading reflects your new phase of life will soon begin, especially after you already develop an intense flow of inspiration. You will receive plenty of good news related to career advancement for your work.
Page of Wands is a positive card for the future Tarot card reading, as long as you can balance between your idealism and your realism.
A brand-new beginning welcomes you, and the interpretation as well as guidance with this court card will lead you to your life path for peace, happiness and joy. Keep in mind that it's not good to live in your imagination all the time – make sure you are practical and realistic also.
Can you feel a spark of creative energy embracing you?
Summary
In general, Page of Wands yes or no is one of most welcomed cards in any Tarot reading because it's a good indicator. Once you get this card, tell yourself that good news are waiting for you or your life will be changed positively with the presence of a youthful individual.
If the card is talking about you, it represents some qualities that you possess, such as loyalty, eagerness for studying, and creative energy.
Leave your comment below!