Wheel of Fortune Yes or No signifies all the changes in the human life. Everything happens all of sudden and we can only know when it is about to come. Whether or not you are ready to accept it, the wheel of fate is still turning.
This tarot card also refers to how your adaptability and reaction will be when it comes to unexpected changes. By then, you will get the answer to each of your problems and gradually develop new perspectives toward the world.
Time to learn more about Wheel of Fortune!
Wheel of Fortune: Yes or No Meanings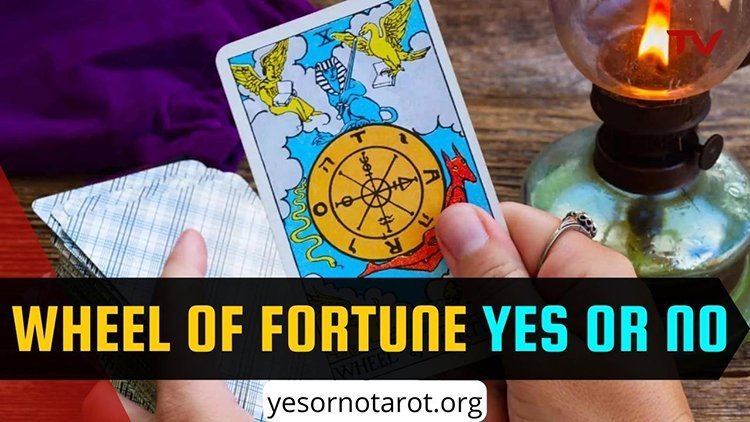 Some keywords related to Wheel of Fortune include:
Upright

Reversed

Luck
Destiny
Circle of life
Change
Fate
Karma
Turning point

Loss of control
Upheaval
Unpleasant change
Disruption
Setbacks
What is the answer of this card in a yes or no reading?
In general, Wheel of Fortune is considered a sign of destiny. The moment it shows up in your reading, tell yourself that it's time to start all the plans that you've put a hold of before. The card could also be new opportunities or offers that you least or didn't expect at all; however, they are coming your way with a faster pace.
Life will lead you to a fearless expedition where you would gain lots of benefits, so this card most likely gives a yes.
See also: The Devil Yes or No
Wheel of Fortune Yes or No also represents change. For those having a yes or no question about a shift in your love, career, finances, or anything else about the future, the answer is absolutely yes.
Most importantly, make sure that you are adaptable. Why? This card is about bringing new opportunities and changes to your life. We are the one having full control of our own destiny, but sometimes we can get suffocated by external forces if we're not ready.
The way we deal with these forces is what really 'makes' or 'breaks' a situation.
Wheel of Fortune: General Meanings
The Wheel of Fortune card does not focus on people; in fact, it shows the power of change along with the non-stop movement of life cycle, where the human destiny is intertwined.
While moving on the future path, we may encounter different people and a series of unexpected situations and events. However, everything has been "arranged" for our lives. Wheel of Fortune appears in the spread often makes us think of experience, luck, or ups and downs in our journey of growth.
No matter how talented you are, you just can't escape the game of fate, which can take you to anywhere.
This card advises you to learn to accept the reality. Changes happen for a reason, and all you need is to calmly cope with them. Get through the storm and you will find the right direction for what you want to do.
1. Upright meaning
When the Wheel of Fortune card appears in an upright position, tell yourself that everything, whether it's good or bad, will pass. Appreciate the present, enjoy the present to the fullest with passion and view each thing in life in a positive way. Get ready to face difficulties and challenges.
The circle of life of every person has many turning points, including opportunities and karmas from what they have done in the past. No matter what will happen, it's a must to believe in karma and keep your spirits high.
This card does not mean your change will be positive or negative. Indeed, everything depends on your previous decisions, so have faith in yourself and do what you feel right.
2. Reversed meaning
What happens if Wheel of Fortune turns upside down?
This card appearing in reversed position often symbolizes positive and necessary changes in life, but many people choose to ignore them. They want to break the rules of life, even though it brings no good results.
The most important thing is that you should know how to accept and adapt to change. Things could be good or bad, but they will pass. Have positive thoughts and don't expect the consistency which never exists in life.
Read more: Temperance Yes or No meaning
Wheel of Fortune in a Love Reading
1. The bright side
In terms of love, Wheel of Fortune indicates a good time for those who are single. You are ready for a new relationship, so pay attention to the person who is about to knock on your door.
If you have just ended a relationship and that person wants to come back, this card will remind you that it is not the right thing to do. Whatever passed stays in the past! Do not force yourself to live with it in the present and future.
If you're currently in a relationship, this is a reminder that things between the two of you may be going wrong. Soon both will face a significant emotional test. The best way is to sit together and solve it; then everything can be peaceful again.
2. The dark side
When it comes to love, the reversed Wheel of Fortune shows that you are having many problems in your current relationship. The feelings of your partner has had for you now seem to gradually fade. There is the presence of a third person, or the relationship itself has no longer given you expectations like the beginning.
If you are single, this card implies that you are tired of love. At the moment, you are afraid to start a relationship with anyone. Don't worry! It's just that you haven't found the right person yet, so never lose faith in love.
In Conclusion
That's all for Wheel of Fortune Yes or No!
Wheel of Fortune is a symbol of how life is always changing. Life is a big wheel constantly spinning, whether you are ready to change or not. Keep in mind that everything that goes up will go down some days.
Therefore, an unpleasant situation can turn into a positive one, and vice versa.