What does Ten of Wands yes or no mean?
The 10 of Wands is a card that represents your responsibility and enduring attitude when facing difficulties. Carrying many interesting meanings, this card allows tarot practitioners to shape the future by predicting possibilities in the near future.
Have a look at this card below…
Ten of Wands in a Yes No Reading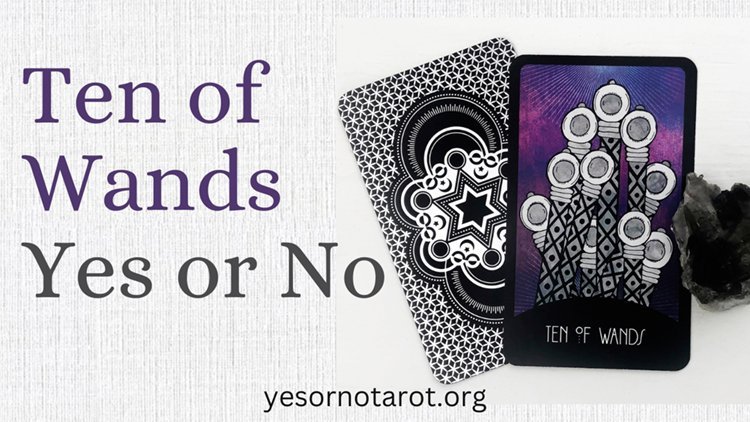 Overview of Ten of Wands:
Keywords…
Upright – Burden, extra responsibility, hard work, completion
Reversed – Doing it all, carrying the burden, delegation, release
Ten of Wands depicts a man walking while holding 10 wooden sticks, and he looks so tired and exhausted. The image has a strong symbolism – looking at it, you will easily understand the message that the card wants to convey.
The Ten of Wands card implies the burdens when people have to many responsibilities on their shoulders, to the point that they have no time to rest.
Therefore, when it appears in your reading, it means you are busy with work or feel stuck in life. Even when you have invested time and effort in a relationship or something, the results are not as you desired.
See also: Queen of Wands in a love reading
It's your personal circumstances making you want to give up. In this case, you better stay calm as the burden you are coping with is not the end. Ten of Wands yes or no indicates the current situation and wants you to choose a more suitable path.
You are the only one who can solve the problem you are facing.

| | |
| --- | --- |
| Good combinations | Opposing combinations |
| The Justice: Take responsibility | The Fool: Carefree, living in the present |
| Five of Wands: Struggle, endure | The Hanged Man: Letting go |
| Six of Swords: Resilience, resignation | Four of Wands: Release the burden, get rid of oppression |
| Nine of Swords: Anxious attitude | Four of Swords: Relaxation, rest |
| Five of Pentacles: Endure, tough times | Seven of Swords: Avoiding responsibility |
Ten of Wands means a clear 'no' answer to your question.
The Upright Ten of Wands:
The number 10 denotes the cycle of completion, and so with the Ten of Wands card, you have completed a cycle after a period of struggling. You are finally reaping your rewards after investing so much of your hard work and effort. If you got this card, maybe you have just established a creative venture, fulfilled a dream or a major goal, and now is the time when you need to handle the left consequences.


The thing is – even after your goals are achieved, the responsibility and commitment will continue on your shoulders. Be determined to satisfy the responsibilities you have set for yourself and ensure the success. However, those duties can become overwhelming, and you are gritting your teeth to get over them.
Soon, the inspiration and creativity associated with your original goal or vision disappeared, and you will feel discouraged.
Skip or reassign some responsibilities so you have time to enjoy life.
Read more: A glimpse into The Devil
This card is also a reminder of the responsibilities you're carrying as well as the excess burdens that weigh heavily on our shoulders. We've spent way too much trying to make it all happen. It advises you to stop for a moment and reflect on your current lifestyle and work. Evaluating activities or tasks is important, as they lead you to broader goals.
Manage your schedule or prioritize methods to use your time on the tasks that are really needed. Your goals have to be more productive, while don't forget to give yourself time to rest and relax.
Ten of Wands in the upright position means that you are being suppressed by outside influences as well. You're overworked, overtired, and overzealous. At this point, you're taking on so much work that it's hard to accomplish all. While trying to get work done, you feel stressed with responsibilities and overtime activities.
Stop working for a while!
Otherwise, your time, energy, and working capacity will be drained. Then, every commitment will turn into tension.
The Reversed Ten of Wands:
When it's upright, Ten of Wands reflects that you are carrying too much burden. On the other hand, this card in the reversed position shows that the things you are carrying are really unnecessary.
If you feel weighed down by your current circumstances, find different ways to lighten the load. Can you delegate or share certain tasks and responsibilities with others? Are you worrying about unrelated or unchangeable issues?
You're advised to be more realistic about your abilities.
For those going through a challenging time, the reversed Ten of Wands card says that you will pass this time soon and will feel very little burden on your shoulders.
You are proactively identifying activities that aren't working for you and are beginning to free yourself from unnecessary responsibilities. You may even be getting rid of old stuff or selling off old furniture, to clear up clutter and simplify your life. This is a great time to reorganize and prioritize everything.
Sometimes, this reversed tarot card implies that you are avoiding responsibility and making it even more difficult, causing others to bear the consequences from you.
Ten of Wands Combinations:
When combining Ten of Wards with other cards…
The Fool: this is a combination telling that the current situation is not as terrible as you might think. At least it won't affect your life so you don't need to worry too much about it.
The Wheel of Fortune: it shows that you have foresight and know what you should go on with your life.
Final Words
So, that's all for the Ten of Wands yes or no meaning!
It informs that if you want anything, you will have to put in more hard work in the future. The upcoming challenges will be extremely tough and difficult, they require a lot of energy and effort. You will feel overwhelmed when it all comes all at once.
Try to work and study hard during this period, but do not forget to take care of your health. You will do everything to achieve the goal, and the success will come. But, too much work and pressure will make you depressed and exhausted.