When seeking a short and snappy answer to a pressing question, people usually go for a simple Yes or No Tarot spread.
Shuffle your deck, while holding the question clearly in your mind. It would be well worth if you take the time to formulate exactly what you really want to ask. Cut and turn a single Tarot card.
You got the Six of Swords card – this is the answer for your quick reading.
In this article, let's discover Six of Swords yes no Tarot meaning for more insights.
Interpreting the Six of Swords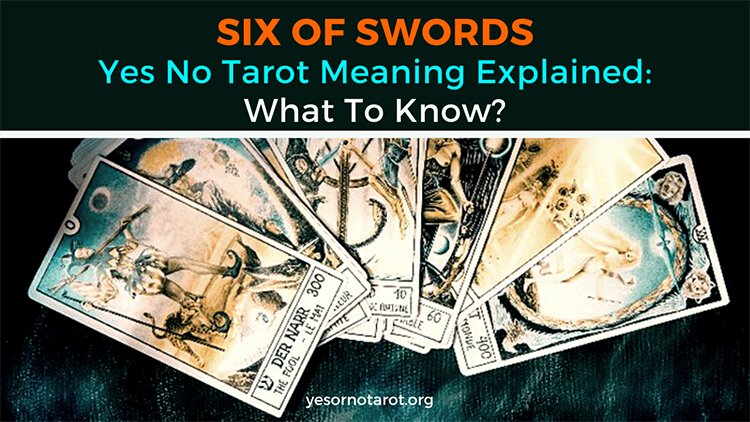 Keywords: using intellect; using logic to find the solution; mental clarity; ideas coming together; an inner journey of discovery; relocation; a period of calmness ahead; an actual adventure.
Overview of what Six of Swords means
Feel curious to know what Six of Swords means yes or no?
The image of the card depicts a woman and a young child being taken across the waters towards a land that lies not far ahead. The woman's head is covered, meaning she has clearly been through something difficult.
Right now, she is moving away from something in her past. The calm waters in the distance suggest that the woman and child are on the way to peace and tranquility, leaving turmoil and conflict behind. This is a time going to be blessed with a better, more promising future.
Six upright swords in the boat indicate the power of a rational mind over the heart and intuition.
Depending on different contexts, this Tarot card can give you a yes, but it takes quite a long time. Yet, not everyone sees it in a positive light; even some may want to put it along with other cards that are likely to answer maybe.
Explore the meaning of the Queen of Sword card here!
In-depth reading for the Six of Swords
In fact, when you are grieving over a loss or feeling detached from the ones you know and love, the Six of Swords could appear in your Tarot reading as a way of confirmation.
It is a card confirming that you are in a somber state, telling the bottom has been reached and the slow process of healing has begun.
According to free yes or no Tarot readings, the Six of Swords Tarot card lets you know a difficult cycle is ending, and you will have success over your anxieties. Look at things the way they are, not the way you want them to be.
Think with an open mind, and you no longer fill your life with confusion or frustration.
You will know peace of mind and harmony, like the sunshine after a storm. This card is applauding you for making positive choices for yourself, because through this motion, you will be able to be free and contented.
The Six of Swords as a daily Tarot card means:
Past – You have overcome a major hurdle while also staying true to yourself. The understanding and objectivity you have developed will lead you to a better future.
Present – A change randomly will come in your life for the better. You will also face a burden or challenge that may yield a new path.
Future – Challenges you cope with will eventually be overcome. The struggles are necessary to provide you with the growth, as you need to find your way to a better future.
Oftentimes, the "Six of Swords yes or no" is symbolic of a physical move in addition to an emotional transition.
You are experiencing a journey or an escape into mental clarity. Moving forward could require you to use your natural intellect, but the end result is yes if you keep staying calm and positive, no energy or opportunity is wasted also.
Get a Yes or No Tarot Spread Reading Online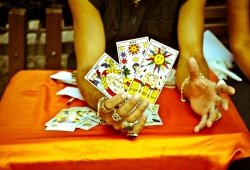 Why the 'Yes or No Tarot Spread' is used most for simple Tarot readings?
Most people, nowadays, just want to seek instant yet accurate answer for their Yes/No questions. If you're having any inquiry in mind that can be answered with a yes or no, this method is perfect for you to get started.
To get your free Yes or No Tarot reading, please follow the following instructions:
Enter your name and question on the available form (you must think of a particular question you do want to figure out)
Click anywhere on the deck to shuffle the cards
Click once again to cut the cards
Choose a random Tarot card and wait for the result
Visit any website, and the seekers can use the Yes or No spread anytime since it's served online for free and unlimitedly. To get the best result, you better should phrase only Yes/No questions. The given information will help you get a greater understanding as well as feel easy and convenient.
How to do the 5-card Yes or No spread?
Here, we recommend you all to try doing the 5-card Yes or No spread (from the book 'Tarot – Prediction and Divination' of Susan Blair-Hunt). It's a versatile spread which is used mainly for delivering fast answers and lots of information.
Unlike other Tarot readings with Yes or No Tarot spread, this five-card method provides a more detailed Yes/No, such as a 'definitely' yes, 'possible' yes, 'probably' yes, etc. Plus, beyond the Yes/No results, the seekers will get more delightful information via five chosen cards.
How it works?
First, you will shuffle the deck and pick out five cards.
Next, you need to line them up in a horizontal row, and then, turn over the Tarot cards and spend a moment getting the over-all feel of the spread as well as your very first impression.
Now, with any Court card you get, you'll receive a NO…while the Major Arcana cards and even-numbered Minor Arcana cards are counted as YES. For all the odd-numbered Minor Arcana cards, you'll get NO answers.
Once you get five YES for five cards, the final answer is definite a YES, but this result is quite rare. Four YES indicate a strong probably YES and three YES cards would be a possible YES.
What happen when you receive two YES cards or just one?
Two represent a probably NO and no YES cards is certainly a NO.
After you determine the exact type of Yes or No, the five cards will continue explaining you why. This step gives you much information going forward. With the given details, the seekers can pull more cards in case they want to unfold all the aspects of their life – the ideas allow them to decide what to do next, what steps to take, what changes to make, and what should they do to improve their future.
Once the process is done, you are able to re-shuffle and do a new 5-card Yes or No spread to see whether anything is shifted.
A Glimpse into Love Tarot Readings
Tarot cards have being around for several centuries.
These cards have helped conventional people tap into themselves directly and effortlessly. Tarot cards will definitely help you understand more about your future, love life and financial stability.
As suggested by its name, love Tarot readings will give you a quick insight through your love life. It will illuminate the real reason behind break ups, give advice on how to improve your love life and confer you with tips on how to enhance your self esteem.
Asking Smart Questions
Love tarot readings can be classed into two different categories.
Firstly, the readings would address to a wide range questions. The answers provided by love tarot readings can be used as a guide! In simpler terms, the guidance will help you make accurate decisions at the right time.
However, remember to ask complicated questions. You must not let the tarot give direct answers like "Yes" or "No".
According to ardent followers, you should ask open ended questions that would en cover over a wide range of other queries!
For instance, you could ask on "how to improve your love life", rather than questions like "how to approach your partner". The questions asked should concentrate on your needs and individuality. Many individuals tend to pose questions regarding their partner and fail to focus on their actual needs.
Open Ended Tarot Readings
The second kind of love tarot readings is noted as "Open".
These readings would not address to a predestined question. On the other hand, the readings can be used to tackle life's bigger problems and situations. According to ardent tarot readers, individuals with pure intentions will find the Open-ended Love Tarot readings useful.
The cards will help you go through complicated situations in an effortless manner. Moreover, if you are going through a new transition in life, open-end readings will lend you a hand of help.
Uncovering Hidden Secrets
Each of these readings comprise of a unique set of benefits and characteristics. The love tarot readings will help you face life with more confidence and style. Nevertheless, remember that the cards will not predict your actual future.
Instead, it will show you many possibilities and paths. As enthusiastic individuals with lots of dreams and desires, you must choose the right path at the right time. The love tarot readings will tap your inner soul and speak with your subconscious.
As your mind opens up, you will have the wit to uncover many hidden secrets.
A Perfect Place for Love Tarot Readings
While you engage in love tarot readings, you should choose a calm, composed environment. Turn off your mobile phone and shun away from your favorite TV serials. Try to stay in a relaxed and comfortable position. As you get rid of external distractions you will have the mentality and mind-set to concentrate on accurate love tarot readings.
After all, psychic readings are based on the mind!
The Bottom Line
Tarot readings with yes or no spread will give you quick answers to anything you are confused in mind. On the whole, bear in mind that love tarot readings will guide you to a long lasting, healthy relationship.
Hope that the Six of Swords yes no Tarot meaning has helped you understand this card better in different aspects.
If you have anything about the topic here, feel comfortable to leave the comments to share with us and other visitors.