Simply draw a single card and the Queen of Swords yes or no Tarot randomly pops out from the pack.
What to expect from this Tarot card?
Tarot is usually used for gaining deeper insights into a variety of situations in which we encounter ourselves in life. Understanding the cards' meaning provides the guidance influencing us and the decisions we make.
Sometimes, if we don't have time for a full-length reading, a Yes or No Tarot session is the easiest way to test out our quick yes/no questions. Of course, it's necessary to ask inquiries which answers can be determined in a relatively short period of time.
Interpreting the Queen of Swords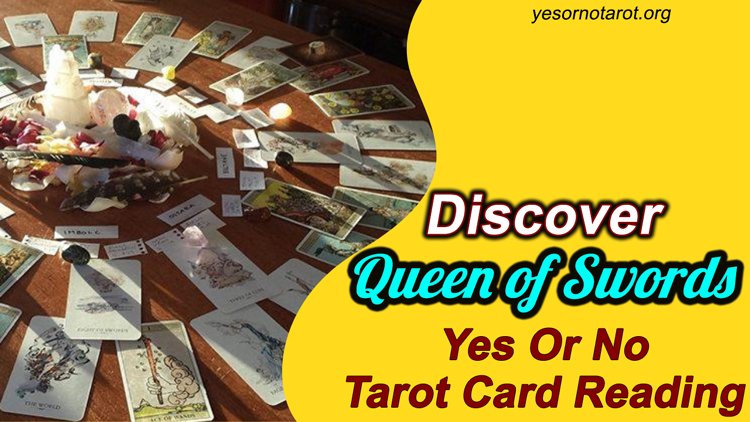 Talking about Queen of Swords Tarot card, this is the 13th card in the suit of Swords.
As you can see from the image, there's a powerful woman sitting high on her throne with a stern look on her face. She comfortably holds a sword, in her right hand, pointed to the sky, while her left hand is pointing forwards as if she has something to offer to others. Behind her is a spring and clear sky, symbolizing her clarity of mind as she considers matters of the intellect. The bird above her head indicates the mind's ability to soar above problems in order to come to appropriate solutions.
Keywords:
An analytical and intelligent individual; a problem solver; a people watcher observing more than she speaks; a sharp dresser; an astute businesswoman; clinical but not cold; ardent and stoic; quick-minded; independent and self-disciplined; likely to be highly educated.
"You can't touch me; I'm too WISE" – The Queen's experiences make her a powerful, judicious figure, knowing how to put her mental power into practice. She is someone who will approach you with sensitivity, and with a full understanding of what you're thinking about, as well as what you're worrying about. She is trustworthy and good, though she may seem cruel at times.
What yes or no answers with Queen of Swords in a daily reading?
Past: This card can represent you or someone in your life that had a great influence on you.
Present: It may represent a strong current female influence in your life. Take her advice on board; certain points will be useful, though it as a whole cannot fit in exactly with your worldview.
Future: It probably represents what you are going to become. You'll have influence, but be approachable. If you are a minority in any area of your life, change to stand out.
Usually, the Queen of Swords represents maturity, independence, and good instincts. This Tarot card denotes a person a person who is cold, professional, and smart, and can be witty and funny in an intelligent way.
If you have been hurt in love, or are bitter and hurt yet good at covering it up, the Queen of Swords will be likely to show up in your reading. Once she is drawn from the deck, meaning it's time for you to achieve some clarity.
Make it clear to others, about what you want, but also be open to all influences coming from outside. The Queen of Swords yes or no brings the positive light, so this card is a yes to many yes/no questions.
How Tarot Cards Help You Gain Deep Clarity for Life?
The Tarot is one of many forms of divination.
For centuries, the mystic cards have been used commonly to predict the potential outcomes and evaluate influences surrounding a person or an event. Interestingly, the technical term for a tarot reading is – Taromancy (divination through the use of Tarot cards), which is a subsection of cartomancy (divination through cards in general).
It's easy to get the basic idea behind the Tarot – this is a spiritual deck made up from 78 cards: 22 cards in Major Arcana and 56 cards in Minor Arcana.
Each card has a particular meaning regarding a specific concept of life or experience. When performing a Tarot reading, the fortune tellers will shuffle the cards and lay them out in a 'spread'. Every spread has different card numbers, positions, and patterns which indicate a certain aspect of life.
During the session, the readers will interpret the meanings of chosen cards and consider whether they correspond to your situation. Later, you will receive genuine guidance and advice for your current state of life.
Do Tarot card readings really work?
Actually, tarot readings DO work when the whole progress is done correctly. These cards and their insightful meanings will be your huge source of guidance and help. They are a great way to explore a variety of creative thinking processes which can deliver out-of-the-box answers for your questions.
What are your experiences with Tarot card readings? Have they been able to help you resolve issues? Have they worked in guiding you towards a better life?
Go online and check out free Tarot card readings now!
Can Tarot predict the future?
As you may know, future is not set in stone, so most diviners believe that an absolute prediction of future events is not impossible. Instead focusing on future, the Tarot cards are mainly used to gain foresight on possible outcomes as well as examining influences about the subjects or problems at hand before the reading.
We've mentioned this above, a spread is the arrangement of cards dealt in a private reading session. Each fixed position in a spread is associated with a different aspect of your inquiries phrased.
The two most common Tarot spreads are – the Three Fates and the Celtic Cross.
Besides, depending on your own situation, the readers will consider the most suitable one and interpret its meaning for you.
The Three Fates: this spread includes three main cards – one represents the past, one indicates the present, and the last one dedicates the future.
The Celtic Cross: this spread is the combination of 10 cards. Each represents a life aspect of an individual, such as past and future influences, conflicting influences, and personal hopes.
Back to the main idea, how can the cards arrange themselves into a meaningful pattern?
The one and only reason is – synchronicity. It can be defined as 'the simultaneous occurrence of events that appear significantly related but have no discernible causal connection', according to Carl Jung. Essentially, there are no coincidences; in fact, the cards are simply a reflection of the unconscious mind of the client. For more information, read more in Lotus Tarot Meaning.
Instant Answers with Yes or No Tarot Horoscope
Sometimes you just want a simple, straightforward answer rather than endless advice and predictions on what, where, when, who, and why. Today, by having a free online Yes or No Tarot horoscope, you'll get quick, instant answers as well as simple explanation for solving your current situation.
Simply phrase your questions and put your mystery to rest – Tarot readings online, nowadays, are right at your fingertips and can be used anytime.
Have you ever needed an immediate answer to a question?
For example, you're fretting over a situation with your partner at midnight, and you want to get the related answers instantly. Life is weird as you keep being involved in troubles at the most inconvenient time, right?
Though you may have people in your life that enable to help you deliver yes or no answers to the twists and turns of your day, they will possibly not always be by your side in the exact moment when you're looking for them.
Why don't you try to turn to divination tools?
Learn about free online Tarot Yes or No
A simple Yes or No answer from Tarot readings can help you make decisions or cope with simple problems regarding your love relationship, career, finances, or whatever you feel curious about.
To get the answer for your Yes or No questions, it's really simple – you just need to prepare an inquiry and a deck of Tarot cards; within seconds, you'll have the information you desire to figure out.
Conveniently, the seekers don't even have to know each Tarot card meanings to get their Yes or No answers.
In the following, we suggest few steps on how to get accurate Yes or No Tarot answers:
Shuffle the cards – This is the most important step in the process. When shuffling, think about your question and get ready to ask the query with your draw.
Draw one card – Choose a specific card that you prefer most in the deck and keep in mind that each person has their own process.
Follow your instinct – As soon as you see the card, you'll know what your answer is. Importantly, paying attention to how you feel: is Tarot telling you NO or giving you a YES hint? Understanding your gut reaction can let you discover where the magic of Tarot lies.
It would be well-worth if you take time to formulate exactly what it is holding from you as well as what you want to ask. After shuffling Tarot cards, quickly cut and turn a single card – this is your answer. Remember that repeating the process till you get an answer as you want won't result in a true reading.
You don't have to agree with the answers of the Yes or No Tarot horoscope – you just need to consider the result and act in accordance with your common sense.
Guide to do Tarot reading for yourself
Can you give yourself a Tarot reading? What should you do?
Let the Tarot teach you – you, firstly, have got to decide with deck you want to work with. We strongly recommend you the Rider-Waite pack which advantages are that the cards retain much of the traditional symbolism; also, all of the cards have a picture to guide and lead you to the right path.
Before starting, you must practice getting to know the cards. Look at each one and determine what it is trying to tell you.
How would you interpret the card in a reading?
There are two ways to get insights from Tarot cards: 1/ memorizing all the Tarot card meanings that are listed in your Tarot book; or, 2/ using your intuition and psychic abilities to interpret the cards. It's much better if you can do both – not only knowing and understanding the meanings of the cards, but you also should guide them by availing your intuitive feelings.
A standard reading would take HOURS as you need to analyze many elements and aspects.
You should prepare yourself in advance – retiring to a quiet room and tuning yourself in; importantly, doing a few breathing exercises can help healing your body and mind.
When you're relaxed and your soul is peaceful, the soft voice of your intuition can be heard. Make sure you are sitting comfortably with your deck of Tarot cards in the front, and a notebook and pen nearby.
Shuffling your Tarot cards to remove all residual feelings
Asking your questions either silently in your mind or out loud
Using your left hand to cut the deck in-half and place the top-half on the left
Taking notes carefully to gain accurate insights into your life (first impression, body messages, characters, etc.)
Noticing the cards' color, actions, and symbols, and saying the card's name out loud.
By knowing how to do a Tarot reading for yourself, you'll be able to understand yourself and find the answer for the challenges you are facing with. Put your faith to Tarot and you can get deep information for your questions.
Summary
Tarot – the most common divination tool – is often used as guidance to help people cope with important issues in their life.
By reading cards that are selected unseen from a deck, an expert Tarot reader can interpret the interaction of the cards and their positions in a spread.
Do you want to learn how to do a Tarot reading for yourself?
At first glance, you may find it hard to understand; in fact, it's quite easy to get started reading the cards yourself.
Tarot is centuries old. Considered as a card game in French parlors and all across Europe, it became a tool of divination around the year 1600. The name Tarot is said to come from Egyptian roots, and reference the Book of Thoth.
Nowadays, you can find various kinds of decks on the market – the most widely used is the 'Rider-Waite' deck which images symbolize the mysticism and esoteric helping us associate with Tarot.
Learning reading Queen of Swords yes or no Tarot card is not too difficult; unfortunately, few Tarot books explain it simply. They overload the novice with too much information: psychology, astrology, numerology, symbolism, etc.