Look for the interpretation for the Empress yes or no?
We're going to find out the meaning of this Tarot card in today's article!
In the Tarot deck, the Empress is the number III card of the Major Arcana and also very well-known in most readings. Similar to the High Priestess, the Empress signifies a new change from loving yourself to loving others of a person.
Considered as the mother archetype, the main meaning of the Empress Tarot card is fertility and abundance. Undoubtedly, she represents a conception in a love relationship reading. If you are female and this card appears in your spread, get ready for good news.
Learn more about it in the following!
The Empress Yes No Meanings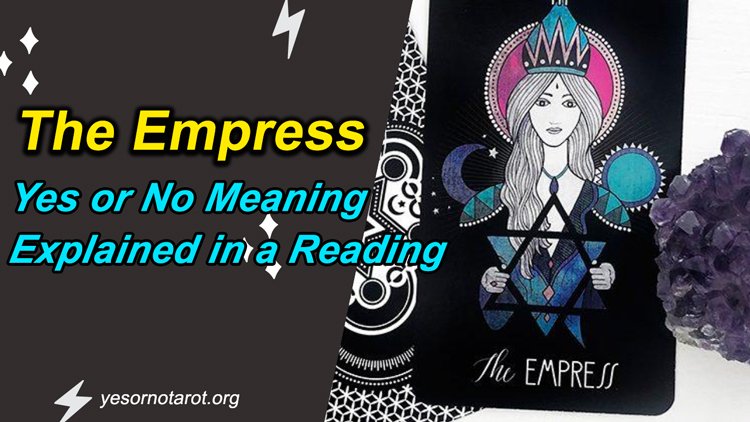 This is the card believed to be associated with strong maternal influence; thus, its presence in Tarot readings means great news. Especially if you are seeking passion and harmony in the marriage, wishing to start a family, or finding a way to enhance your relationship, the Empress is a good omen.
Before gaining deeper insights into the meaning of this card, please check out the most significant words represented by the mother of the Tarot deck…
Upright: fertility, abundance, nurturing, femininity, beauty, nature
Reversed: emptiness, dependence, laziness, creative blocks, smothery
Of all Tarot yes or no cards, the Empress is read as a 'yes' card in most readings because it's a positive card. But, can it also be a no?
1. When she presents upright
In a yes no reading, the Empress showing up in the upright position means you shouldn't hesitate when it comes to pursue your dreams and desires. Pick up your courage and chase after what you want to attain in life. Also, this is the time to pamper yourself and let your creativity flow.
As I said, this card represents all things motherly.
Nurturing and loving, she is a problem solver. Her appearance signifies successful business, positive projects, or more good opportunities will come to your life soon. She reminds you to keep moving forwards to fulfill your potential to the maximum.
She is associated to feminine energy, so the answer to your yes or no question is usually a 'yes'.
2. When she appears reversed
What if this card is in the reversed position?
The Empress upside down is a friendly reminder that you should be careful with your behavior and attitude towards others. Don't make they think you are greedy or co-dependent.
You are struggling with the laziness of yourself, but remember that idleness will not bring you good results. It's better to reconsider your plans and start moving forward with what you are nurturing.
In general, the answer of the Empress yes or no depends on your questions, your situation, and how you interpret it. It could be yes in some cases, but it could deliver the no answer in other circumstances.
Interpreting the Empress in a General Reading
If the Emperor represents the father figure, the Empress is the great mother.
She brings the feminine divine energy onto the earthy planet. This card symbolizes abundance, nurturing, creativity, and feminine beauty. The image of her being surrounded by nature points out her strong connection with Mother Nature and the possibility of fertility and giving birth.
There are always two sources of energy exist in every person (feminine and masculine); however, once the Tarot mother shows up in your spread, she is trying to tune in to your feminine divine energy physically.
Tell yourself she promises you a special message once the Empress is present after shuffling a Tarot deck. She indicates your ability to nurture and creative energy. Don't waste time showing your vulnerability; instead, she encourages you to take part in any activities where you can engage in all of your senses.
Embrace yourself with the nature – touching, tasting, smelling, hearing, and seeing the beauty surrounding you.
Spend more time for yourself and allow yourself to indulge in your creativity. No matter what your hobby is, her presence is a sign that you should be confident with your creativity and not be afraid of bringing it out to the physical world.
Meaning of the Reversed Empress
It means blockage or excess if the Empress is upside down in a reading. Usually all the cards hold negative meanings in reverse and this one is not an exception.
Are you ignoring basic pleasures of yourself?
Are you adding much burden to yourself?
Have you stopped pampering yourself because of stress and responsibilities?
If all the answers are yes, then this Tarot card advises you to take a moment to nurture your soul so that you can enjoy your beautiful life to the fullest.
On the other hand, her appearance reminds you your laziness.
Are you currently feeling excessively lazy?
Have you been in the lavish spending situation?
If so, now is the time to bring your focus back to work to stop your excesses. The reversed Empress implies her divine energy is out of balance, whether it's too much or inadequate. Follow her spiritual guidance and you'll be able to find the harmony to your life on a daily basis.
Check out the Hermit yes or no meaning also!
In Conclusion
Overall, the moment you see the Empress in your reading, tell yourself that you need to take a moment to reflect upon all of the abundances in your life. Also symbolizing fertility, the Tarot mother can give you a glimpse about pregnancy as well as indicates the start of something new that you're striving to achieve with all your heart.
You are right now full of creativity and physical prosperity, so don't ignore the need of yourself. Both your body and mind require pleasure, so allow yourself to have a healing trip to anywhere you like.
The Empress wants you to enjoy the beauty of your life with all senses.
For more further info about the Empress yes or no, please leave your comment below.