What happens when Ace of Pentacles yes or no appears in a Tarot reading?
If this card is a part of your spread, then your future will welcome you with luck. The symbol of a hand coming out of a cloud and holding a golden coin means the good fortune and fresh beginning are waiting for you.
When it comes to the Pentacles suit, many think that it revolves around the material world. That's true, but the Ace of Pentacles card is a good omen of prosperity and opportunity, in all aspects of life.
Learn more details about this card in the following!
Ace of Pentacles Yes No Meaning
Let's have a glance at some important keywords associated with Ace of Pentacles…
Upright: new beginnings, abundance, prosperity, investment, stability, gain
Reversed: frustration, lost opportunity, negativity, poor planning, procrastination
In a yes no Tarot reading, Ace of Pentacles is likely to deliver a yes for any of your yes no questions. This card represents the new beginnings, which means all of your desires can be fulfilled with its presence in your spread.
For the best outcome, you need to come up with proper plans and avoid yourself from all negative thoughts. Simply focus on your primary goals in order to achieve the benefits offered by Ace of Pentacles.
The Tarot card here, as I said, indicates prosperity, financial gain, and big success in job promotion. In addition, its appearance also implies the good fortune and emotional stability as well. If you draw out the Ace of Pentacles in a reading, get prepared for a positive future and opportunities to accomplish your goals.
A look at Page of Pentacles meaning…click now!
However, sometimes the answer to your yes or no questions depends on the card's position.
1. Ace of Pentacles with the face up
People love online yes no Tarot reading because it can give you quick yet accurate answers. If you find Ace of Pentacles shows up in the upfront position, it will be a yes. The card facing up is a sign the universe approves your decision. Since it is associated with the material world, this means later you will receive the physical funds from someone reliable to support your determination.
Stay grounded and keep moving forward. Bear in mind that the moment Ace of Pentacles appearing in your reading means the best time to invest or start a new business which is now. Don't hesitate to find a new career that you love as soon wealth and abundance will soon come into your life.
2. Ace of Pentacles with the face down
How about the reversed Ace of Pentacles?
To other cards, a typically positive Tarot card delivers a no answer if it faces down. Right now is definitely not a perfect time to carry out your new venture, no matter what it is. You would better postpone what you are planning, especially if you want to invest a business or purchase a house.
Perhaps at that moment your financial or material resources don't allow you to make those happen, or your health is not in a good condition.
Find also the meaning of Eight of Pentacles yes or no here!
Interpreting Ace of Pentacles General Meaning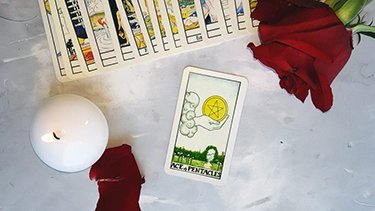 Talking about the suit of Pentacles, the main topics are money, property, physical health, and security. Hence, the general meaning of Ace of Pentacles revolves around the beginning of your career, your new home, the start of your business, and positive improvement of your health and wellness.
If you do a one-card reading with this card, it's a reminder that you shouldn't waste time waiting; instead, start carrying out things based on your planning, from making an investment and purchasing a property to finding a new job.
No need to worry much about the money matter because the presence of Ace of Pentacles means you will soon receive the funds you need from someone reliable and trustworthy – it could be from your family or close friends.
Or this time your material resources are available for you to accomplish whatever you want or need to do. Overall, once you draw out the Ace of Pentacles card from the Tarot deck, tell yourself the fertile and abundant time of your life is coming.
The upside down Ace of Pentacles
When this card is in the reversed position, it's definitely a warning.
Ace of Pentacles facing down can provide valuable guidance more than you thought. It's the red light asking you to stop from what you are doing. Take that occasion to look back at where you are heading before proceeding.
Maybe in the past you have already overspent or thrown a large sum of money into uncertain ventures, and so on. Not always indicating financial doom, the reversed Ace of this suit means you should be cautious with your current situation. It's time to take it slow and focus on planning rather than continually jumping into big risks with no positive results.
Follow the advice from this card and heal your insecurity as well as become a more stable person. Its purpose is to draw your attention to all the failures or missed opportunities to fix yourself again. Don't look at the bad results with a negative view; in fact, we wish you could learn from the mistake so that you can move forward a brighter and better future.
Check out The Hanged Man yes no meaning also!
Summary
In general, Ace of Pentacles yes or no is a positive card in any reading, including love readings online, Tarot readings with 3-card spread or one card, and Celtic Cross readings.
The appearance of this card indicates a new beginning connected with the material world is waiting for your conquest. Keep moving on your path confidently and achieve all of your goals, such as starting a business or buying a property. Moreover, more opportunities will knock upon your door, from getting a promotion to finding a new job.
Guess what?
The Ace of Pentacles card also reminds you this is the ideal time to improve your health.
Leave your comment below if having any question about this Tarot card!