Most of times, we do look for a yes or no Tarot list.
Whether the answers you get are a good form or not, that's not the concern especially when you feel so desperate to figure out where you stand, black or white, etc. Tarot, no matter how many centuries have passed, is still the most powerful divination tool when it comes to giving human guidance.
In this article, we're going to inform a Yes or No Tarot list of cards that will give you more in-depth meanings for love relationship readings.
Tarot is always more accurate when you have your own associations with it.
The Meaning of Tarot Cards for Love
An instant, random search on Google can NOT give you the exact keywords or Yes/No answers for a card you selected. Instead, you should have your own meanings, keywords, and even time frames.
Yes/No attribute associated with each Tarot card so that your subconscious may recognize which card truthfully means to you. If you're beginners, it's no need to use Court Cards to answer Yes or No questions.
Simply work your way by separating the Courtiers from the rest of the deck.
As you all know, a Tarot deck includes a total of 78 cards divided into two distinct parts – Major Arcana (22 cards) and Minor Arcana (56 cards). Tarot is certainly a powerful tool, so its cards do carry deep, insightful meanings.
If interested, please check King of Wands and Nine of Wands meanings for a Yes No Tarot reading.
Depending on your questions or your situation, the meanings can be varied to help you resolve the issues with ease. You'll find making Yes or No decisions using Tarot cards is not difficult at all if you understand the cards' meanings clearly in detail.
Since the Major Arcana holds greater secrets, we decide to interpret the meanings of the Major Arcana cards first. But don't worry, we will soon provide you a yes or no Tarot list of the Minor Arcana Tarot card meanings in the next article.
| | | |
| --- | --- | --- |
| 0 | The Fool | Yes – Time for a new beginning but no commitment |
| 1 | The Magician | Yes – Good news from the lover |
| 2 | The High Priestess | No- Something is hidden at this point of time |
| 3 | The Empress | Yes – Now is time for sweet loving |
| 4 | The Emperor | Yes – Give time and space for the lover |
| 5 | The Hierophant | Yes – Wedding bells will chime |
| 6 | The Lovers | Yes – A possible mate connection – choices need to be made |
| 7 | The Chariot | No – The partner too focuses on their own goals |
| 8 | Strength | Yes – Real love after all the fun and frolics |
| 9 | The Hermit | No – Time to learn from past mistakes |
| 10 | Wheel of Fortune | Maybe – It's all down to timing |
| 11 | Justice | Maybe – Legal issues could prevent you from being together |
| 12 | The Hanged Man | No – Observe love in a new perspective |
| 13 | Death | A big NO |
| 14 | Temperance | Yes – Spend time healing your relationship |
| 15 | The Devil | No – Avoid depending too much on the other |
| 16 | The Tower | No -The love is forced to end |
| 17 | The Star | Yes – Wildest dreams are about to come true |
| 18 | The Moon | Maybe – Be cautious to deal with impending challenges |
| 19 | The Sun | A big YES |
| 20 | Judgment | Maybe – The relationship can't save anymore |
| 21 | The World | Yes- A blissful relationship |
Yet, in case you want extra info to the reading, simply keep the Courtiers in. If one shows up, you could see it as a reflection of an aspect of yourself that you need to strengthen before the cards will answer your inquiries.
Understand a full list of Yes No Tarot cards can help you gain deep insights into your life and what you are stuck in, as well as shed light to your future.
For more insights about your reading, check out Queen of Cups yes or no here.
Love Tarot Readings and The Sun Card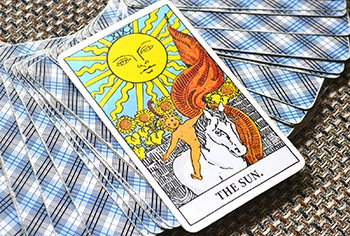 If you are an ardent believer of love tarot readings, you will definitely be aware of the Sun card.
The Sun card is a direct representation of fulfillment, happiness and immense joy. It will remind you of self confidence and will power. This is a positive vibe that would nurture your relationship and love-affairs!
According to love tarots, harmony, trust and balance denotes the strength of any relationship. Consequently, if your Sun card assures high levels of intimacy, you will undeniably have a great love life.
So, what does the Sun Tarot card represent? What does the Tarot card say about your love life? Are you breaking your head with these questions?
As mentioned previously, the Sun Tarot card will give you a direct insight into various love matters.
The card will define love and relationships for you.
In all love Tarot readings, the Sun advises individuals to follow their heart. The reading encourages partners to understand their inner child. This is an important step forgotten and neglected in many romantic relationships. If you want your bond to last for a very long time, you should focus on strategies that would expose your true self to your better half.
According to the Sun reading Tarot, a relationship without any secrets will remain intact for a lifetime.
A direct representation of success & attainment
Moving on, the Sun Tarot card is a direct representation of success and attainment.
It symbolizes financial gains, work-based achievements, happy marriages and births. The card is a sign of self containment and satisfaction. If you wish to unify yourself, you should follow the nicks and knacks quoted by the love Tarot.
Since, the readings will give you a better understanding of yourself. You can analyze your inner self over a better perspective and with more clarity with the help of Sun cards in love Tarots.
The positive vibe
The Sun card is one of the most positive and reliable cards in the love Tarot readings. The card will help you engage in positive changes. For those, who are in a healthy relationship, the readings will give you a quick insight through prospective trial periods, chances of break ups and days-of-celebration.
Advice for individuals who are single
For a person, who is single and ready to mingle, the love Tarot readings will train you on how and why you should accept yourself. In many cases, the Sun cards would indicate when and how to start a new relationship. The card works by testing your readiness and passionate nature.
Individuals, with lots of love bugs will certainly find the advice given by the Sun card in love Tarot readings useful.
The Sun card plays an integral role in the readings produced by the love Tarot. The card urges its followers to be playful, active and happy at all times.
This is because proactive relationships will not make you a complete person!
Check out the Six of Swords card's meaning if interested!
How Would You Use Love Tarot Cards?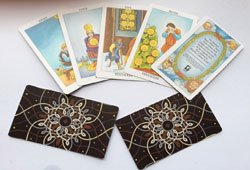 A lot of people are attracted to love Tarot readings.
Whenever you think of the future, Tarot readings may hit your head. However, the process of predicting your love life is easy said than done. As you browse through the internet, you will come across many love tarot readers.
Most of these entrepreneurs have made a massive fortune out of this venture. In case you meet up with the right kind of love Tarot readers, you will have the wit to increase your chances of meeting the right partner.
So, are you hunting for advice on how you should use love Tarot readings?
If yes, you will find this article useful!
The next few lines will give you a quick glimpse on how to read a love Tarot card accurately.
Using love Tarot cards
Initial, love Tarot readings are based on cards. These cards are paired with guides, which will help you understand the meaning of each Tarot card. If you have no access to any of these resources, don't worry or feel lost. Instead, you can search through the internet to get hold of love Tarot cards.
Psychic websites will undeniably support you with a huge array of Tarot cards. Apart from love Tarots, you will have access to financial Tarots, spiritual cards and much more.
Cracking love Tarot cards
Secondly, you should select a yes or no Tarot list.
Questions like "Do you love me?" will work well with yes/no Tarot spreads. On the other hand, bigger questions will require longer answers. For instance, queries like "How to meet a special someone?" will require deeper responses. Love Tarot readings can be used to identify a sturdy answer to such questions.
To be more precise, the Tarot cards will help you kick start a great love life. Generally, love Tarot cards can be read using two different methods.
Here is a quick glance through these techniques:
The Celtic method uses the past, present and future of individuals. If your question is on love, Celtic method is what you need.
The Zodiac method is strongly related with love and relationships. If you want a romantic future, you should uncover real facts about your inner-soul for a stronger and firmer
The reverse technique will give you a broader insight into your love life. The reverse method would start with your obstacles and figure out your real strengths. However, be very careful and check if the Celtic method coincides with the reverse technique.
A better understanding of love, life and romance!
Finally, if you are going through a tough challenge in your love life, you should get hold of a good love Tarot card reader.
The professionals will direct you in the right path and make you a lot more lovable.
They will help you redefine your relationship status and view towards love. Always bear in mind that professionals with several years of experience in the field of love Tarot reading, would have a better understanding of love, life and romance.
For any further information about yes or no Tarot list, just ask us!