King of Wands is the final card in the suit of wands.
His aura exudes a natural authority. Representing pure fire energy, he is a mastermind when it comes to new strategies. He usually makes use of his self-expression to achieve his desires.
Most Tarot readers tend to focus mainly on the creation implied by this card; indeed, it's also about the implementation of the king's plan.
Some of you may not know but court cards like Kings and Queens deliver no specific messages. These cards indicate more about a certain person in your life, so what does it mean when King of Wands yes or no appears in your Tarot reading?
Check out his personality traits in this article!
The Meaning of King of Wands Yes or No
Before digging more into the meaning of this court card, let's have a look at some keywords linked to King of Wands as below.
Upright: magnetic, protective, inspiring, energetic, innovative
Reversed: selfish, impulsive, forceful, extreme, fail to keep promises
General description
Let's look at the King of Wands card – you can see a royal on his throne from the image. Now keep your eyes closely to the cape he is wearing and the throne itself; both are decorated with two powerful, kingly symbols: the salamander and the lion.
These two animals represent the undeniable strength and passion of his empire; also the bright orange color of his robe signifies the fire energy.
What is in the King's hand?
The answer is a blossoming wand considered as the key symbol indicating the creative energies flowing around his presence. This royal man doesn't look straight ahead; in fact, his vision is off into the future. From the illustration, you can figure out two major factors reflected in the card…they are growth and drive.
Keep in mind that King of Wands is possibly not surrounded by money or prosperity unlike King or Queen of Pentacles; however, the salamander near his feet is indeed the symbol of a very powerful omen. He is full of fire energy and passion; thus, nothing can stop his way of achieving his goals.
No matter which obstacle is blocking him, he will always figure out the solution.
See also: The Lovers meanings in a love reading
The King of Wands card in a yes no reading
So, what is the answer of this card in a Tarot reading yes or no?
King of Wands is a natural-born leader in any social circle. Some of his basic traits are determined, confident, and voracious, and he also gets a great vision. Once he sets a goal in his mind, he will put his focus on it and ensure to make it happen. With a precise leadership, he enables to get others to support his work.
When you have this card in your reading, get ready for some new opportunities in your professional life. The King represents expansion or new establishment of something in career; probably you may achieve success for your upcoming projects along with financial gain. His presence in your reading is positive!
Because he is likely to bring positive outcomes, so King of Wands is a yes.
One card reading with King of Wands
If you wish to gain quick insight into your life, then a reading with one random Tarot card is the best option. Here, let's find out how the King of Wands card reflects your past, present and future in a single card session.
1. Your past
All the ideas and projects planned in your mind in the past will now give more opportunities to you in the present. This card wants you to pay more attention to what you have desired for a long time – focus on that for momentum and later it may give you courage to inspire others.
2. Your present
Don't give up in all the ideas in the past; instead, keep striving for the goals you've set from the beginning and you will soon earn the success at times. Your dedication to your work will inspire people around you, and they end up support what you are doing hard.
3. Your future
King of Wands is a positive sign that you will fulfill many things in your professional life. You will soon gain success in any aspect, especially the projects or tasks you're carrying out. Putting more efforts and having good investment in your work can reduce the risk in the future.
In conclusion, this card will grant you plenty of good opportunities.
Check out the Nine of Wands yes or no card (if interested).
King of Wands in a Love Reading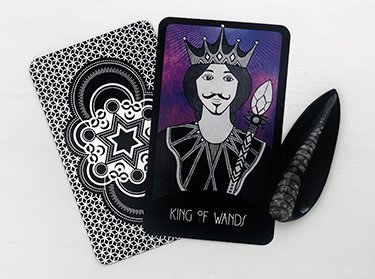 What if King of Wands as feelings shows up in your love reading?
Well, this is a good card generally; in a reading of love and relationship, this card means you will soon engage in a romance with the right person. The royal figure in the card represents a strong man who expresses his feelings freely and is very protective of his loved ones.
He may be a workaholic but is still able to balance his heart and his work.
Your future partner will possess all qualities of the King – he has the fiery passion that satisfies your desire in love and makes you feel irresistible. The only warning from this card is that mutual trust and mutual respect are essential in a relationship; therefore, you two must communicate in love as much as possible. If you want something long lasting, then commitment is the real challenge.
Simply ask your Tarot reader a question and they can tell you what is going on with your current love life after drawing one card. The interpretation of King of Wands as well as Queen of Wands helps you discover all secrets of your true self, inside and out. Everything about your relationships will be uncovered to give you clarity.
Summary
That's all for basic meanings of King of Wands yes or no!
If you got this card in your spread, hope the general information here makes sense to the situation in your life. You don't feel enough? For more details about King of Wands, it's better to have a consultation with a Tarot reading expert online.
Don't mind leaving your comment below!