What does Page of Pentacles yes or no mean in a reading?
No need to worry because this card brings good news in most aspects of your daily life, such as career, finances, education, business, and health. This Page advises you to make a solid start or set a firm foundation for success in the future.
The message from Page of Pentacles is to help you determine what you truly want and make it come true. If you are planning something, just go for it immediately. The moment you are sure with your decisions, quickly lay the groundwork and can achieve your life goals.
Or, you should think more about your long term future once it appears in your Tarot spread.
Discover more in the following!
Page of Pentacles Yes No Meaning Explained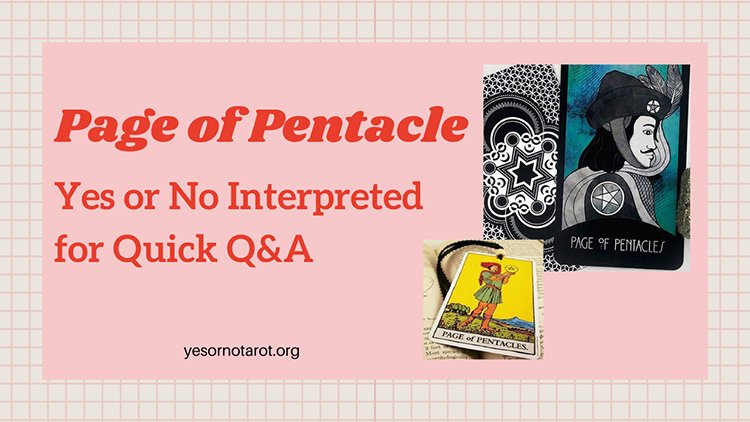 Check out some keywords for this Minor Arcana card:
Positive: manifestation, loyalty, dependability, financial offer, opportunity
Negative: immaturity, lack of progress and planning, unfaithfulness, unrealistic goals
If representing a person, Page of Pentacles can be seen as someone (male or female) youthful and at a young age. They are down to earth, dependable, loyal, ambitious, and responsible; also, their future perspectives are excellent and no one can beat their common sense.
Like Knight of Pentacles, the Page seems to be an individual with the earth element (Taurus, Virgo, or Capricorn).
Whether Page of Pentacles give a YES or a NO…
Many prefer asking yes or no Tarot readings online for a quick answer. Though it may not provide enough information, a yes or a no can sometimes help you make significant decisions in a pressing situation.
Overall Page of Pentacles is the positive card, so the answer is 'yes'.
If you got this card in your reading, this is considered a positive sign in case you are seeking a promotion at work. For individuals who are thinking about doing something fun like a business with your hobby, then let's prepare from today. Don't come with things giving you stress and anxiety; instead, go for what makes you look and feel more youthful.
The Page is a clever and hardworking person; in general, he has many good traits and qualities. To be more successful in life, you must be a go-getter like him. Never hesitate with your goals – do it now or it may be forever in your unfinished list.
When you see this Minor Arcana card in a spread, it may represent the appearance of someone attentive, skillful, and self-disciplined. That individual will bring you good news like promotions or new big ventures for your career.
Find out the yes no meaning of Ace of Pentacles now!
1. Page of Pentacles is draw facing up
The Page of Pentacles card in the upright position gives the 'yes' answer to any of your yes or no questions.
Probably this is a good time for financial investment; after all the hard time planting the seeds, now you should reap the fruits. When it comes to financial-related matters, you must be wise and take precise decisions. It's okay to ask an expert for advice whenever you are in need of.
Make a start in the material world for your growth and development. Maybe someone with all good qualities of Page of Pentacles will show up and assist you through the process.
2. Page of Pentacles is draw facing down
The Page of Pentacles card in the reversed position gives the 'no' answer.
Don't change your work because this is not the right time to begin as well as adapt to something new in life. All the daily tasks have drained you to the extreme, and you don't have enough physical energy to accomplish the tasks ahead of you.
Or perhaps you need more time to widen your knowledge about fields or topics you are dealing with.
Discover Three of Pentacles meaning here!
Page of Pentacles in a 3-Card Reading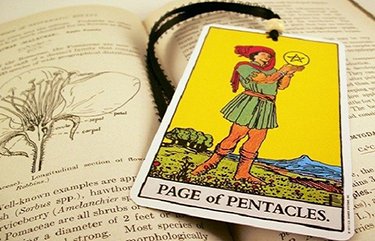 1. The past
Shuffle your Tarot deck and when this card shows up in the past position of your 3-card reading, it implies that recently you possibly have experienced a new beginning in the financial area or anything having the material sense.
Perhaps you are financially naïve in the past – this reflects on the way you handle your finances unwisely as well as not knowing exactly the true value of what you are possessing. This could indicate that you've had or been influenced by someone young and grounded back then till now.
2. The present
You find this card in the present position, and this means you've sketched out a new start for your financial status. Maybe you've just earned a large amount of money, and right now you need to be wise and thorough in managing it.
Be mindful whenever you want to lend money to someone. In case you have kids in your family, take a moment to teach them how to handle their money.
3. The future
It's a good indicator when Page of Pentacles appears in the future position of your 3-card Tarot spread. The message interpreted means you should learn to open up with all opportunities coming towards your life. Don't be afraid or hesitant; instead, it's better to embrace each chance with an open mind and enthusiasm.
The new beginning may be about your new job or financial opportunity; or, you may find the appearance of a child in your fresh start.
In Conclusion
So, Page of Pentacles yes or no offers the guidance about new opportunities and manifestation in the material sense. This card undoubtedly has relation with your business and money.
As I keep mentioning, the Page can represent a young individual in your life (probably someone with the earth zodiac sign). They are naïve somehow, so it's necessary to help them in handling material matters.
In general, the card is a good omen when you are searching for a new beginning of any kind. The meaning and symbol behind will guide you to make profound decisions for a more stable and secure future. Feel relieved when Page of Pentacles is in your reading because he can assist you in financial choices.
For more information, leave your comment below.