Let's find out the meaning of Judgement Yes or No in this article!
The Judgment is the last card in the Major Arcana and represents the knowledge and awakening of life. In the upright position, it's a positive card showing your wisdom and intelligence; meanwhile, the reversed card indicates your low self-esteem to the point of non-existence.
Its strongest meaning is the victory.
Continue reading and discover what the final judgment has for you!
Judgement: Yes or No Meanings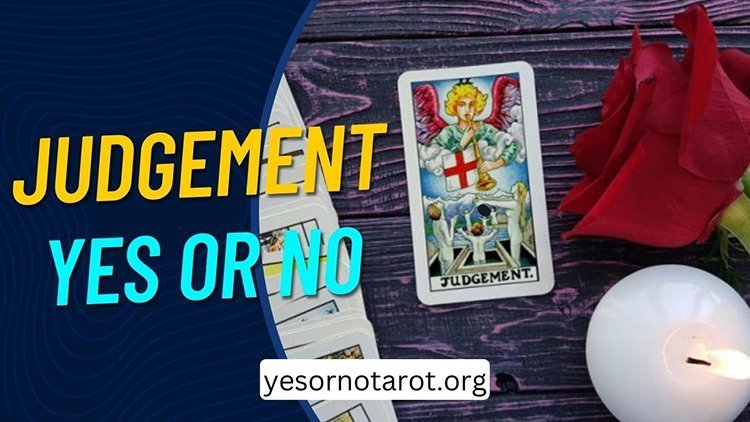 The Judgement card symbolizes new beginnings and is most often depicted with the image of an angel holding a trumpet, surrounded by humans emerging from their own graves.
Before delving into the yes no meanings of this card, let's have a look at its keywords at first…
Upright: Judgment, spiritual reflection, change, transformation, self-knowledge, important decision, choice
Reversed: Lack of confidence, inconsideration, self-doubt, disappointment
So, what is the answer of this card in a yes or no reading?
In most tarot readings, Judgement is considered as a neutral card. It will be prone towards a yes if other cards in your spread look positive or promising. In addition, as I just mentioned, prominent qualities of Judgement include change and transformation which mean your acts will change things and leave consequences.
See also: Justice meanings in a yes no reading
For those getting a reading on a life-changing matter, the appearance of Judgement means: "Yes, it's time to step forward. Stop being hesitate and do what you have to do. But be prepared well to give it a beautiful closure."
Overall, you're in a stage that your mood could be affected in a positive way. Your intuition will lead you on the right path, so with questions about your life-changing decisions, the answer is yes.
Interpreting Judgement in a Tarot Reading
1. The upright position
Judgement evokes the moment of reflection and self-evaluation. Through the process, you can understand common situations throughout life and what you can do or change to avoid these circumstances in the future. This card is a reminder telling that you are very close to reaching an important phase in your personal journey.
The meaning of Judgement indicates that you have experienced a mind-opening process or n "awakening" moment, specifically when you suddenly realize that you need to live your life in a different way.
Be honest with yourself and your own needs.
You have opened up yourself for a new potential allowing you to create a life that can satisfy your needs and demands fully and inspire people around you. It's like life is calling on you, and you're getting closer to the moment where you need to take action.
Representing the awakening of life, the Judgement card shows that you've considered and evaluated past experiences and learned lots of lessons from the past. All the pieces in your life finally come together to form a complete picture of your own life. Now is the time to leave the past behind!
Memories will no longer hurt you, and you will be able to understand and respect things happened from the past. Get ready to face any kind of problem in life, to erase all misunderstandings, and to look forward to a peaceful future.
Read more: The Magician yes or no meaning to know
If you've endured many challenges recently, Judgement implies that you can take a break for a while. You may actually feel more comfortable sharing what you've been through with your close friends or family and finding ways to heal yourself.
There are a lot of people gone through the same experiences, so they can give you advice on how to get yourself out of trouble.
Don't hesitate to ask for guidance and help!
2. The reversed position
When the card is in the reversed position, you are letting doubts and criticisms swallow you up. Being cautious makes you lose many new opportunities waiting ahead!
The motive that has been accumulated after all of your achievements will help you go further. If you take action at the moment, those motivations will not be lost. So, this is not the time to be too careful or withdrawn from life, instead, move forward with confidence and pride in yourself.
On the other hand, Judgement is also a sign that you should take a break from your daily routine and busy work to think about your life so far, as well as the lessons you have learned.
The reversed card is trying to tell you that you are not giving yourself enough time and space to really look back from the past. Besides, it shows that you may be being too hard with yourself when it comes to past mistakes.
It's better to see them as rewarding experiences rather than serious failures or mistakes.
Maybe you have had a bad time, been isolated, or struggled with overcoming barriers in life. You could be forced to deal with the consequences of your past decisions in order to learn valuable lessons. Some are afraid of making big decisions, as changes are inevitable.
If you are not willing to accept change, then you yourself will not be able to grow, but instead, stagnation will drag you backward.
Meanwhile, unwanted changes make you feel out of control or overwhelmed.
Summary
With the Judgement yes or no card, you may find yourself searching for spiritual ideas and directions that you never even thought of.
Moreover, you can discover deeper truth and wisdom there that you've not dreamed of before. Be open to new ideas and experiences as they can help you in unexpected ways. You will hardly realize it until you actually get a chance to experience!
At the same time, this card wants you to carefully consider your decision making. If you keep making hasty conclusions, it's better to stop right away. Sometimes, there are some judgments seemingly unfair at first, but it turns out to be the best option for you in the end.
For more answers about Judgement, leave your comment below.