What does it mean when the Seven of Cups shows up in your reading?
This is the card representing a strong sense of indecision and uncertainty. It can hide both opportunities and potential dangers. These Cups are filled with occult symbols and illusions that can put us in danger.
With the Seven of Cups yes or no, keep in mind that what lies ahead could be just the figment of your imagination.
Be aware of reality and illusion!
The Seven of Cups: Is It a Yes or a No?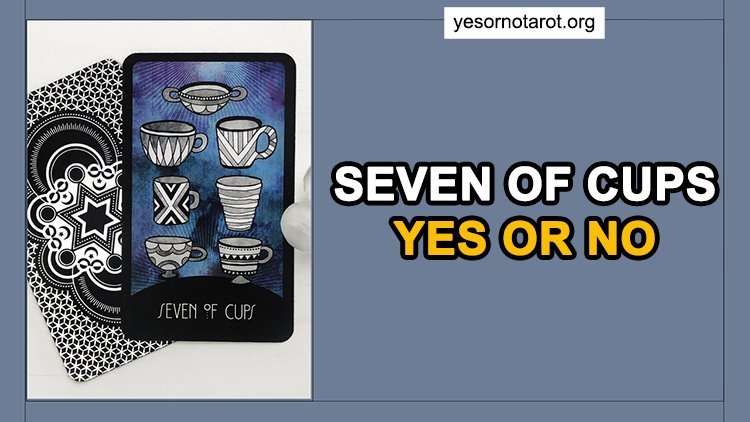 Are you looking for a clear 'yes' or 'no' answer from this tarot card?
Well, then the interpretation here may surprise you.
Upright: Shallow, tempting, vague
Reversed: Determined, decisive, clear
See also: Page of Wands as feelings
Seven of Cups is a multifaceted card; so, its presence in a yes no tarot reading gives you a 'maybe' answer to your question. It is the indicator of choices and a sense of indecision. Once appearing in your tarot spread, it wants to remind you that now is the right time to listen to your intuition and trust yourself so that you can make wise decisions.
It seems like you've been out of touch with your feelings for too long; thus, Seven of Cups offers you this opportunity to tune into your intuition.
Rather than spending your valuable time on daydreaming and living in your illusions or fantasy, let's go out and focus on getting what you want. What is your goal? Anything is possible as long as you have the right mindset, patience with a strong sense of action.
In addition, Seven of Cups also represents a daydreamer having great plans for the future. However, all of that are just in their mind. Take this card as a reminder to stop daydreaming and start taking action. Real results will never show up if you don't put in your effort and determination.
Overall, the Seven of Cups card can be confusing and frustrating when it comes to seeking a clear 'yes' or 'no' meaning.
In-depth Look into Seven of Cups
The upright position…
Seven of Cups offers many options, but all are quite superficial and not really suitable for the Querents. Remember not to get tempted, seduced, and make thoughtless choices; otherwise, you will regret later. You need to think carefully, and sometimes you don't have to go with any of all the options displayed.
Unlike The Devil, the Seven of Cups card doesn't carry much energy of inner struggle.
If you draw it from the deck, now think about your situation, you have been single for a long time despite being surrounded by many. It's not that you don't want to settle down but you can't find anyone suitable. However, you can't resist the temptation of having a lover like others; that's why you say yes quickly without any consideration. As a result, your relationship ends up with separation and regret from both sides.
Sometimes, Seven of Cups also implies that you are pursuing goals that are too superficial or materialistic, such as money, fame, etc. making you forget the true meaning of life as well as your true self.
1. Your career
Seven Of Cups gives predictions about plans and ideas that seem to be somewhat delusional. You need to be rational and conscious to survive in the reality instead of drowning in hopes and dreams.
Avoid yourself from being tempted by fanciful and unrealistic things. If you get influenced, you won't be able to make choices. This card is the warning about dangers threatening your finances. Right now you may be confused between options, so it's necessary to stay realistic for promotion chances in career.
When putting illusions into work, you accidentally help others take advantage of you. Don't be too delusional, or you will trust wrong persons – that's what Seven of Cups wants to tell you.
A wrong choice will cost you financially and even your future opportunities.
2. Your love
Seven Of Cups urges you to quickly get rid of illusions and return to reality. You keep daydreaming without taking any action and that behavior of yours makes people interested in you feel down.
Are you demanding too much?
This card tries to let your know that you're missing out on many good people. Reflect on yourself and consider your requirements again fairly. For those who are attracted to someone absolutely perfect, from head to toes, then the high possibility is that you are immersing in an unreal illusion. Nobody is 100% perfect!
In case you are in a long-term relationship, the Seven of Cups card means that you have raised your bar way too high. You dream and always yearn for perfection. That will make your partner suffocated and disrespected. If you don't feel satisfied with the present, you will soon lose the relationship.
Daydreaming without stopping will lead you to an unhappy ending.
The reversed position…
When appearing in the reversed position, Querent is finally able to stay away from temptation and to make wise decisions as well as have clear goals. You know what you want to do and need to do. This reversed card helps you separate between your own wishes and others'. When someone succeeds, it doesn't mean you have to be exactly like them.
Each one of us has our own way to reach our life goals.
This is a tricky card to read, so learn more with the video below:
The Bottom Line
Sometimes in life you need to make important decisions.
Seven of Cups yes or no is the sign of consideration of what is right and most important to yourself. But, if you take too long to think it through, you will miss the opportunity to get the best things.
This is the card of illusions and desires. It could be a sign that you are completely daydreaming with your imagination world. Bear in mind that things are never like what you want them to be!