Is Two of Cups yes or no positive or negative?
In the Tarot deck, this is one of the most positive cards for love relationships. If you see Two of Cups in your spread, it indicates togetherness, harmony, and teamwork that a couple must fulfill for a blissful relationship.
Once the feelings, respect, and understanding are mutual, you will feel content and empowered. Sharing a strong bond, nothing or no one can separate you and your partner.
Have you recently been in a love romance or just started a new friendship?
Interpreting the Two of Cups card will reveal if your relationships brings positive changes to your life.
Two of Cups Yes No Meanings
Before discovering deeper the yes no meanings of Two of Cups, let's have a quick look at some significant words related to this Minor Arcana card…
Upright: love, relationships, attraction, desire, happiness, sharing
Reversed: strained relations, sorrow, arguments
Two of Cups is a card full of love and affection. As I already said, it symbolizes togetherness and positive partnerships; therefore, the answer to your yes or no questions is a big yes.
The appearance of this card in a love Tarot reading reflects the love story between you and your partner. In general, it delivers joyful and uplifting news related to your romantic partnership as well as other relationships.
Be assured if you draw Two of Cups from the spread after the shuffle, especially spreads for love relationships. The overall meaning is likely to answer yes to most of your inquiries.
If you want a reading focusing on partnership and you got this card, it's perfect because no other cards can give you connotations about love, positive relationships, and togetherness at the same time as Two of Cups. It discusses about your happy, positive, loving feelings in different stages of a relationship.
Two of Cups yes or no in free one-card Tarot readings:
Two of Cups Upright

Two of Cups Reversed

When you get this card face up, this means:

You want to be in a serious relationship with your potential partner at this moment.

– Go for it as Two of Cups showing up means the best time to take action.

– Everyone within your circle is willing to share with you and give you the help you need; thus, you will soon encounter your true love soon.

– Don't hesitate to try out anything because you have a great force (your family, partner, and friends) got your back and supporting you completely.

Things will be settled in a balance way for you to keep moving forwards.

When you get this card face down, this means:

Right now is not a suitable time to fasten or rush any stage in your romantic partnership, as well as other relationships.

– Perhaps there is a lack of equality between two involved individuals. Both must take some time to sort out all giving and taking issues. Until it's balanced again, then you can consider moving ahead.

– You may suffer separation in a relationship in the near future.
As a positive card, Two of Cups generally reveals close bonds, worthy friendships, and mutual love and respect you deserve in life.
See also the meaning of the Moon reversed love with a click!
Brief Look at Two of Cups General Meanings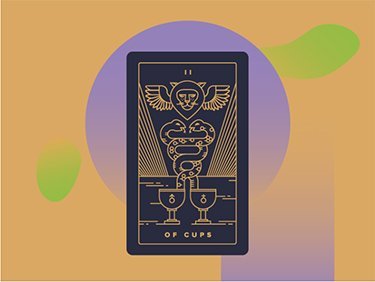 1. Two of Cups as a person
If this card represents someone, how will that person be like?
Two of Cups as a person is caring, loving, and tender. Their ultimate goal in life is to build committed, long-term relationships, whether it's romantic, professional, with friends or family. They will do everything possible to keep their relationships going strong. This means the Two of Cups person will look for a partner who is warm and devoted.
The relationship goal of this person is a nurturing relationship. Therefore, in real life they make a great buddy to hang out with, a nice sibling to communicate to, and a sincere lover to go through thick and thin.
As an amazing listener and the capacity of offering good advice, they are considered as natural healers in Tarot.
2. Two of Cups positive meanings
When this card appears facing up, it represents the connection and flow between two individuals.
A relationship must be nurtured by compassion, true values and unconditional love of both sides to generate deep connections. The strong bond will keep the partnership survive for a very long term.
In some cases, Two of card can indicate relationships that are in the early stages. It may be new but still can grow and develop stronger as time passes, so no need to worry. If you and your partner share appreciation and mutual respect for each other, then your relationship is unbreakable.
Put it simply, the Minor Arcana card delivers a win-win scenario, meaning you will receive as much as how to give in return.
3. Two of Cups negative meanings
What does the Two of Cups in reversed mean?
Once this card in the upside down position is present in your spread, it's a sign that you should reflect inwards. Before loving anyone as well as expecting to be loved by others, you need to love yourself first.
Take a break from the chaotic life and focus on learning to respect, value, and honor your true self. As long as you're willing to accept flaws of your own and embrace them with understanding, you will be able to love and build strong relationships with others.
Final Words
Two of Cups yes or no is a very special card, especially if it shows up in a 3-card, one card, or Celtic Cross reading. From the meanings interpreted above, you can tell that it is a good sign to your new relationship or reminds that a blissful period for your current love relationship is coming.
However, things change if the card is reversed, so consider the connotation carefully.
For any related question about Two of Cups, please leave your comments below.